When I first read on my JayWay Travel itinerary that I would be going on a Bog Walking adventure in Estonia on my up coming trip through the Baltics I wasn't quite sure what to think. 1) I had never heard of such an experience before 2) It sounded like I would be getting wet 3) Would I have to worry about bog monsters?
Our bogshoeing tour guide Urmas shows us a blueberry plant
On the morning of tour we were picked up by Elin from the Estonia Tourism board and loaded into a van for our roughly 90minute drive to the Kõrvemaa Nature Reserve Area from Tallinn, where we would go bogshoeing in the Kõnnu Suursoo vaatetorn bog. There we were met by Urmas, a friendly tour guide from 360 Adventures and we were handed our bog walking shoes.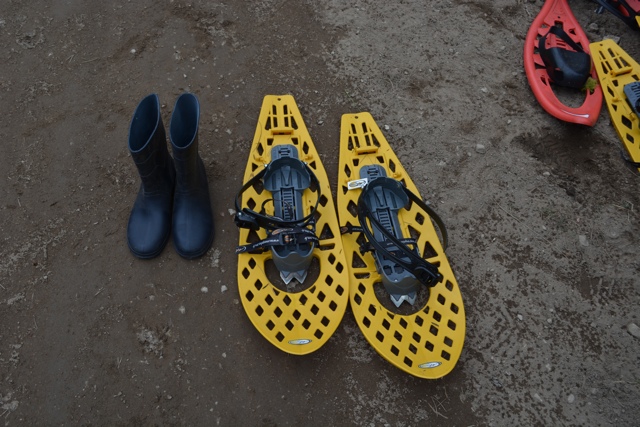 Or at least they told us with a smile that they were called bog walking shoes that you use to go bogshoeing. In actual fact they were rubber boots and I believe just snow shoes which they called bogshoes.  (Note: on their website they do also offer snowshoeing tours in the winter months.) Either way being bog shoes or snow shoes they have found a very smart way to use this gear and give tours all year round.
Funnily enough, even as a Canadian I have never actually snowshoed before so this was actually going to be my first time in snowshoes and there wasn't any snow to be seen. I doubt snowshoeing is as fun as bog walking though, it seems like it would be a lot more effort walking on snow then squishy bogs.
A couple of tart cranberries grow in the bog
Back in the day Estonians would wear bog shoes when they went berry picking in the bogs looking for blueberries, lingonberries, cranberries and more. Or they would wear them just out of convenience to get to somewhere like a neighbour's house quicker without having to walk around an entire bog. Over 22% of the country is bog land so I can only imagine how useful bogshoes have been. Today more commonly bogshoeing is done as a outdoor adventure activity by locals and visitors alike.
The narrow winding path through the bog to the watchtower
When we arrived at the bog we were handed our rubber boots and bog walking shoes and we trekked into the forest until we reached the edge of the bog. We then were led down a long and narrow, two plank wide path over the bog until we were almost in the middle of it. From there we gingerly balanced on one foot to the other as we attempted to step onto the bog for the first time and tried attaching our bogshoes.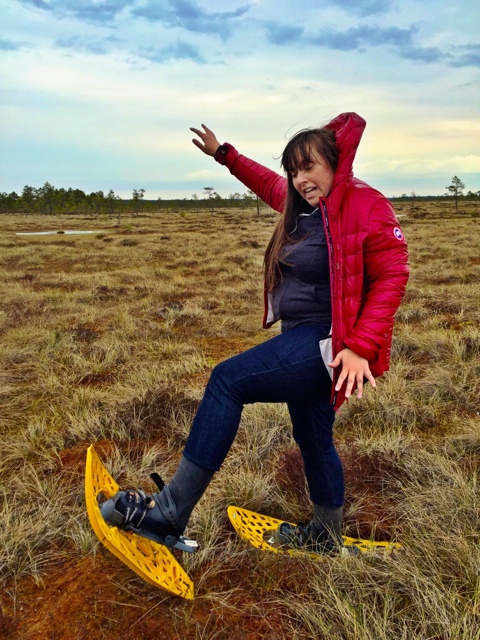 My bog walking skill level = HIGH
Surprisingly no one fell over or lost it in the bog. I was convinced someone, if not myself would be going down. I definitely gave it my best effort at one point unintentionally. Bog Walking Tip 1) Do NOT try to walk backwards, instead make a 360 turn. 2) Do NOT try to lift your foot high into the air for any reason.
Chris narrowly escapes the bog monster
As we wobbled and mushed around on the bog Urmas told us that without the bog shoes on we would probably sink right in and then we would be in trouble. I kept my eyes down for most of the trip navigating to areas that I suspected were higher ground and less marshy, trying to avoid the areas of open water, streams and creeks. It was slightly terrifying to watch yourself as you slowly sink into the bog but exhilarating at the same time. Bog Walking Tip 1) Don't walk too close to your friends because if you start to sink you don't have anywhere to move to easily if they are in the way, and you can't go backwards!
Tawny was getting hungry at this part in the tour
We tromped around some more and Urmas told us about the sponge like moss that covered most of the area. We also learned about the berries that could be found around there and even though it was early in the season Tawny still managed to find a delicious handful of tart cranberries. He also taught us about various plants, mosses and lichens in the area that Estonians use for medicine and we even later enjoyed a tea made of lichen which was good for sore throats.
After bog walking for a bit we headed back to the narrow wooden path that cuts through the bog and removed our bog shoes and walked to the Kõnnu Watchtower. From there you could see just how large and vast the whole area was. You could go bog walking for days!
Bogs as far as the eye could see
When our tour was over ( and we had survived the bog monsters) we headed off for lunch that the tourism board had arranged for us at a unique home restaurant called MerMer and ate wild beaver for lunch… more about that unique experience in another post. However also provided with a tour with 360 Adventures is hot tea, sandwiches and a snack if we had so preferred.
I personally would of loved to have bogshoed all day. It was a pretty cool experience and I would definitely do it again if ever visiting Estonia on another trip. I am also contemplating finding a bog near my house and attempting it here…
To learn more about my bogshoeing experience watch my newest video!
Have you ever heard of bog walking or bogshoeing before? Is it something that you would try?
Special thanks to JayWay Travel and the Estonian Tourism board for hosting me on this trip. As always all opinions and views expressed are my own.