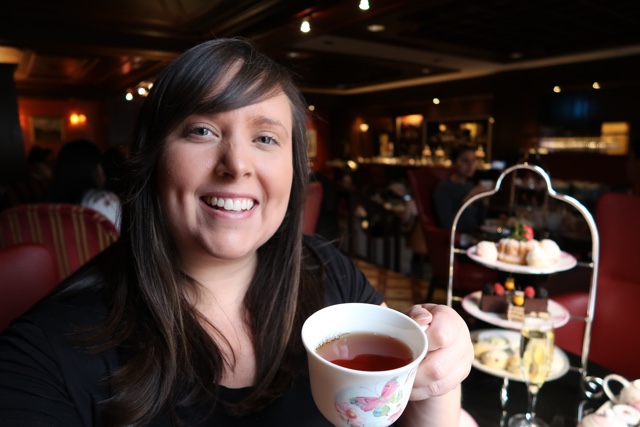 Afternoon tea at the Fairmont Royal York Hotel Toronto is probably one of the fanciest things that you can do in the city. Who wouldn't enjoy a casual afternoon sipping champagne and fancy teas along with delectable scones, sandwiches with hints of truffle, and desserts that are the favorites of royalty? Enjoying afternoon tea in Toronto is simply a must!
High Tea at the Fairmont Royal York
Afternoon tea has been taking place at the Fairmont Royal York for over 90 years. Not to be confused with High Tea. Afternoon tea was originally for the elite and consists of small sandwiches, scones and desserts along with tea to hold you over until dinner. Whereas high tea was originally meant for the working class after a long days work and consists more of hearty foods like meats and cheeses. You will not find High Tea at the Fairmont Royal York. You will not even find High Tea in Toronto. But you will find a delicious Afternoon Tea at the Fairmont Royal York.
When is Afternoon Tea at the Fairmont Royal York served?
Afternoon Tea at the Fairmont Royal York Hotel takes place every Saturday and Sunday in the Library Bar. Each day there are four seatings offered at 12pm, 12:30pm, 2:30pm and 2:45pm. Reservations are required so make sure you book at least a few days in advance if not more. The afternoon tea seatings last for 1hr 45min to 2 hours. Personally I like a leisurely afternoon tea so would prefer a bit longer but this can definitely work.
When you make your reservation also let them know if you have any food sensitivities in advance.
The Library Bar
The Library Bar at the Fairmont Royal York has a casual dress code for afternoon tea. The room is somewhat dimly lit, and filled with dark woods, fabrics and of course books. It is definitely a comfortable place to lounge. The Library Bar is also known for serving the best and most expensive whiskey in Toronto and some fantastic martinis.
Afternoon Tea at the Fairmont Royal York
When you arrive for your afternoon tea at the Fairmont Royal York you are first given a menu to decide the type tea you would like and the style of afternoon tea you want to enjoy. I went for the very best and had the Royal Champagne Afternoon Tea featuring a glass of Moët Brut for $85 total. After-all the fanciest of all teas should come with a glass of champagne with gold flakes floating in it shouldn't it?
There are 12 teas available for your selection and I went for the Creamy Earl Grey. Other options of tea include: oolong sweet watermelon, 1907 orange pekoe, Imperial breakfast and more.
The regular afternoon tea without a cocktail or glass of bubbly is $55. Add a mimosa or non-champagne bubbly for $62 total. The afternoon tea menu at the Fairmont Royal York changes seasonally. You can find the menu online here. When I visited it was spring time and this was the menu:
Traditional Finger Sandwiches:
Smoked salmon, egg & truffle, English cucumber, smoked pastrami and a mini wild mushroom tart. (Additional sandwiches $4 a piece or $16 a plate.)
Selection of Pastries:
Citrus & elderflower bunt cake, gâteau Opéra, key lime meringue tart, Queen's Chocolate biscuit cake, Traditional 1929 coconut macaroons and cranberry scones with Devonshire cream and preserves.
Notes about the Fairmont Royal York Afternoon Tea menu: Their traditional coconut macaroons are made from the same recipe that they were first made from on opening day in 1929. (Not to be confused with macaron.) The Queen's Chocolate Biscuit Cake that is often featured is a favorite of Queen Elizabeth's. Apparently she has a slice every day in the afternoon. The Gâteau Opéra cake that they serve was so loved by Prince William that he served it to his groomsmen on his wedding day to Kate!
Afternoon Tea Etiquette
It is said the proper etiquette for enjoying an afternoon tea is to first eat the sandwiches and savouries, followed by the scones, then desserts. Keeping things fancy and dainty, you of course drink your tea with small sips while enjoying everything. However I come from the school of eat it however you want and drink all of the tea. They will always bring you more hot water if needed.
Many afternoon teas consist of three tiers of food, but at the Fairmont you get three tiers and another plate. The first thing you receive is a plate of savoury sandwiches. My favorite by far was the tiny egg croissant with truffle. I liked it so much I asked nicely for another and I could have probably eaten 12 more.
Following the sandwiches I enjoyed the cranberry scones, served from a unique warming dish that is pushed around the Library Bar. The scones were small but delicious and served with Devonshire cream and jam.
Next we got to the desserts. There were so many desserts.
My favorite was probably the key lime tart. I've become obsessed with Key Lime pies since eating my body weight in them in the Florida Keys. The Queen's Chocolate biscuit cake was also divine. Honestly everything was quite delicious.
There is so much to enjoy at the Royal York afternoon tea. Don't worry if you can't finish it all though as they have great reusable bags to take home any leftovers. You can also purchase their tea to take home as well.
To learn more about Afternoon Tea at the Fairmont Royal York watch my video:
The afternoon tea at the Fairmont Royal York is by far one of my favorite afternoon teas in Toronto. I also recommend checking out the
Omni King Edward
for their delicious afternoon tea and the King's Cheese. Stop by Kitten and the Bear for delicious scones on the go. Lastly for live music and more of a lounge vibe check out the afternoon tea in the lobby of the Shangri-la Toronto.
Like this post? Pin it for later!
Special thanks to Toronto Tourism for hosting me on this trip. All opinions and views expressed are my own.