Afternoon tea at the Omni King Edward Hotel in Toronto has been a tradition for over 115 years. Dating back to when the hotel first opened in 1903. This quite possibly makes it the oldest afternoon tea in all of Canada. I recently visited Toronto to try some of the city's best afternoon teas which of course included the Omni King Edward Hotel. If you don't know already, I proudly consider myself to be quite the afternoon tea connoisseur. I have had many delightful afternoon teas around the world and I was excited to add the Omni King Edward to the list.
Many people search for information on the Omni King Edward High Tea however high tea is quite different from afternoon tea. The Omni King Edward hotel does not serve high tea, but they do serve several options for afternoon tea. Afternoon tea is fancy and was started by royalty. High tea was for the working class looking for a large meal after doing labour intensive jobs all day. Afternoon tea is tiny sandwiches and desserts to hold you over until dinner time. High tea is more hearty and savoury items like meats and cheese and is more of a meal in itself. Both of course are served with tea.
When does the Omni King Edward Hotel serve afternoon tea?
The Omni King Edward Hotel's afternoon tea takes place in the bright, white linen table filled Victoria Restaurant just off of the hotel's lobby. The afternoon tea changes seasonally and is served Friday to Sunday from 1:30pm to 5pm. If you want a bit more of a casual experience you can also have the same service in the hotel's lobby. Whichever you decide definitely make sure you arrange a reservation ahead of time.
Jester's Tea, High Cheese and more
The afternoon teas and Sunday Brunch in the hotel are overseen by Toronto born and raised Sous Chef Elaine Wong. She has been a master at creating these delicious food experiences at the hotel for the past 30 years.
The regularly featured afternoon tea however isn't the only tea related feature at the property. They also celebrate Mother's Day with the Queen's Tea as a Mother's Day afternoon tea, as well as the Nutcracker tea during the holidays. In October there is also a chocolate themed tea with proceeds donated to a cancer charity during the city's chocolate festival.
Year round the Omni King Edward also features a fun Jester's Tea for kids 12 and under. Instead of tea they are served with hot chocolate and marshmallows. This menu changes seasonally but kids can expect mini grilled cheese sandwiches, cookies, cupcakes, or maple chicken and waffles, maple drizzled scones and more. If the kids are lucky they might even get a fun crown to wear.
There is also a the newly added tradition of King's High Cheese. I literally NEED the King's High Cheese in my life. Also known as the The Mouse King's High Cheese during the holidays. Fancy tea served with a cheese plate, savoury cheeses, and scones with cheeses from around the world. As a bonus the King's High Cheese is also served in the hotel's bar in the evenings daily. Learn more about all of their specialty teas HERE.
Omni King Edward Traditional Tea Experience
Let's talk about the Traditional Experience Spring Tea. One of the unique features of the tea menu is that there are 24 types of tea available coming from two Canadian tea companies. Tealeaves teas of Vancouver and Sloane Fine Tea Merchants from Toronto. The teas are brought to you in a sampler box where you can see and smell each one to help you chose the right tea for you. Sometimes the descriptions of teas can be confusing, and I am a much more tactile person so I really love the option to be able to see and smell the tea. If you ask nicely they might let you try more than one tea as well. I started with the oolong crème tea by Sloane then finished with the Mountain Berry by Tealeaves.
During my tea service the waiters were quite attentive and worked as team always checking to make sure everything was alright and filling up my tea pot with more hot water. They made sure to know my surname from my booking and addressed me as Ms. O'Neil often. There were also a few birthdays being celebrated by other guests and the waiters sang them various birthday songs. They had quite the great voices.
After selecting my tea of choice I was served with a glass of Moët & Chandon Brut Imperial champagne as an extra add on to the tea. To begin the tea I was first served with a cherry blossom bubble tea amuse bouche as a palate cleanser. It was a nice little shot of fruitiness and was quite refreshing.
Finger Sandwiches
Following my amuse bouche I was presented with a plate of delicious looking finger sandwiches. They were an egg mimosa and asparagus pinwheel, smoked salmon & shrimp remoulade, crisp cucumber & watermelon radish on mint & dill Cream Cheese,
spring chicken fricassee, and Ontario maple mustard pulled pork. You can never go wrong with a tiny egg sandwich, but I think the pulled pork was definitely my favorite.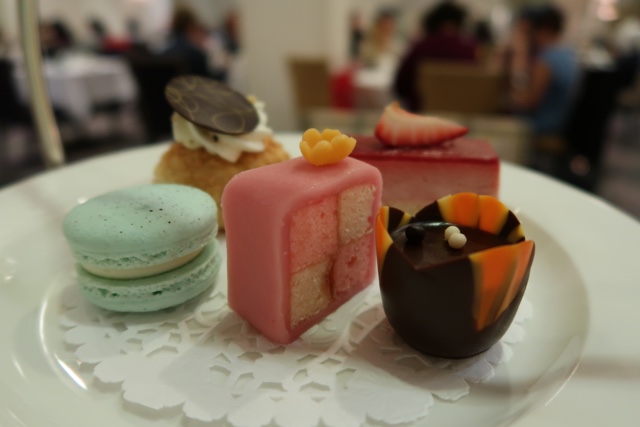 Scones and Desserts
Then came a three tiered tea stand with scones, clotted cream, jam and desserts. The desserts were a Robin's egg coconut & lime macaron, strawberry & rhubarb shortstack,
maple walnut craquelin choux bun, chocolate gianduja tulip, and a shades of pastel pink Battenberg. All of these were quite delicious, however I avoided the Battenberg cake. It is a classic item served during afternoon tea, but I'm just not the biggest fan of them. The chocolate tulip was to die for and I probably could have eaten five more of the strawberry rhubarb shortstack. Yum! The maple walnut craquelin choux bun was also nice and creamy. Such a treat!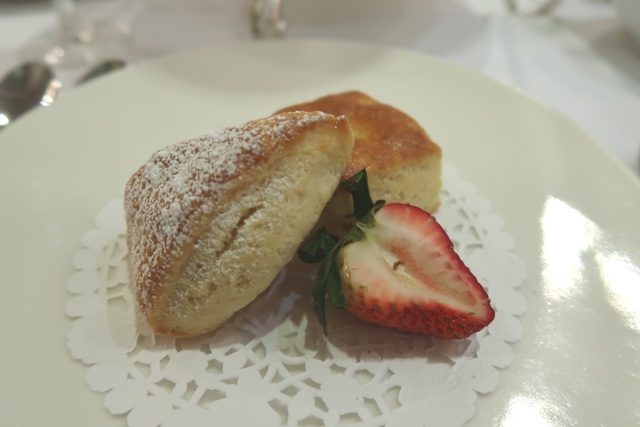 I was served two scones, which were a pretty decent size. Most often at afternoon tea you are served miniature scones, I appreciated that these were larger. One was a classic cream plain scone and the other was a chamomile, lemon & turmeric scone. Flavourful but not overpowering and quite delicious especially with some freshly made clotted cream.
Omni King Edward Afternoon Tea Review
I really enjoyed this afternoon tea and although it seems like quite the formal location it had a nice casual atmosphere. I was the only solo diner that I noticed but there were many different groups of people there. From a father and daughter to a mother, her kids and a grandmother, and even a large group of ladies celebrating a 50th birthday. They definitely cater to many tastes. It was the type of setting where people aren't afraid to be boisterous.
My tea experience was also quite leisurely. The staff checked on me frequently however there was never a sense that they were hinting at me to leave. It's nice when you can have an afternoon tea experience and just go at your own pace and not be worried about having to finish in a certain amount of time. I especially like this because I take so much time photographing and filming everything.
I'm not sure if this is unique to Toronto / Canada or not but I found with every tea I had in Toronto including the Omni that they always served the sandwiches first on a separate plate from the tower. In many other places that I have had tea however the sandwiches are often featured on the bottom of the tower instead. I don't hate this though as it seems like you might even get served more food than normal because of this.
My afternoon tea at the Omni King Edward Hotel in Toronto was definitely enjoyable and I would recommend it. I can't wait to visit again and try the High Cheese Tea and the Nutcracker Tea around the holidays.
If you enjoyed this post, pin it for later!
I was a guest of  Toronto Tourism for my visit to the city. However as always all opinions and views expressed are my own.