Nova Scotia lobster is some of the best lobster in the world and in February 2018 it was celebrated with the first ever South Shore Lobster Crawl. From Peggy's Cove to Barrington, Nova Scotia there were many of lobster related events and activities as well as a lot of lobster to be eaten in many different ways.
The most popular feature of the South Shore Lobster Crawl however were the lobster rolls. With 13 of them being featured up and down the Atlantic coast for the lobster fest, I went in search of the best lobster rolls on Nova Scotia's South Shore.
Before I tell you my favourites, lets learn a little bit about lobster in Nova Scotia.
When is Lobster Season in Nova Scotia?
Many people might be surprised to know that it is always lobster season in Nova Scotia. The biggest lobster season in Nova Scotia is on the South Shore in sections 33 and 34 from the last Monday of November until the 31st of May. These sections also land over 40% of all of Canada's lobster. Part of this area, known as Barrington, is also the Lobster Capital of Canada. Throughout the rest of the year the fishing season rotates around to other areas in the province and Atlantic Canada.
To see a map of all of the lobster season dates and locations in Nova Scotia and the Atlantic provinces click HERE.
When is the Best Time to Eat Lobster in Nova Scotia?
If you ask me, I would say any time is the best time to eat lobster. Most commonly though, the summer months and around the Christmas holiday season until the end of February are the most popular times to eat lobster in Nova Scotia.
The lobster prices fluctuate depending on the time of year and weather events as well. As of winter 2018 Nova Scotia lobster prices are about $12-$13 a pound in the grocery stores and around $8 a pound from the fishermen directly.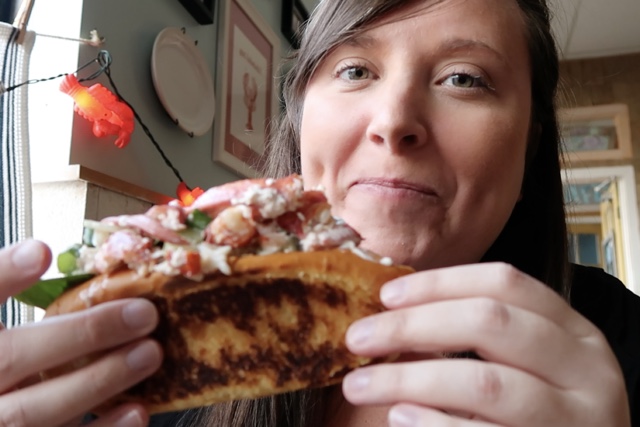 What Makes a Good Lobster Roll?
The best lobster roll buns and lobster roll bread are ones that are fresh. Roll, bun, bread, you name it, if it's fresh and combined with fresh meat, a dab of mayo, sprinkled with some green onions, and maybe a little bit of celery then you have a winner in my opinion. If the fresh lobster roll bun is also lightly toasted and slathered with a bit of garlic butter, then even better. Keep it simple and it will be delicious.
While traveling around the South Shore of Nova Scotia in search of the best lobster rolls, I kept coming across the same brioche lobster roll. This roll/bun was oblong in shape, soft, fresh, and buttery. I quickly learned that they were from the bakery, Boulangerie le Vendéenne in Mahone Bay, Nova Scotia. I was in love with pretty much every restaurant that I visited that used one of these for their lobster roll.
Make sure you enjoy one of their lobster roll buns when you visit Nova Scotia. You can even order a fresh package of them for yourself as long as you call a day ahead. They are located just off of Highway 103 at exit 11 in Blockhouse / Mahone Bay. Their address is #7651 on Highway 3, phone number 1-902-531-3090. You can find them on Facebook HERE.
Ultimate Guide to the best Lobster Rolls on Nova Scotia's South Shore
Enough about lobster itself, lets get down to where you can find the very best lobster rolls on Nova Scotia's South Shore. As mentioned above for the South Shore Lobster Crawl there were 13 lobster rolls to taste and I tried them all. All of them were pretty decent, but I have now selected my top five favourite lobster rolls. These are the MUST eats if you are visiting.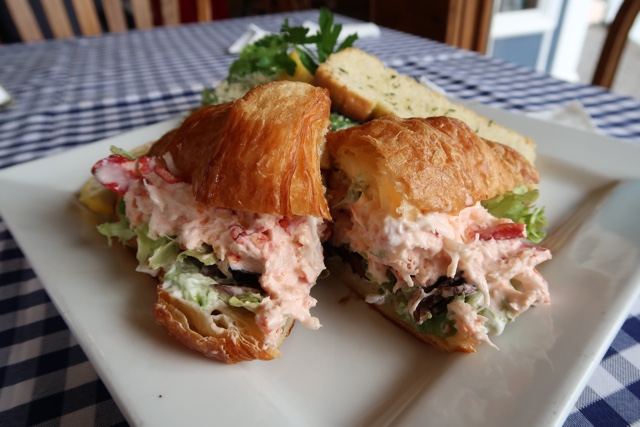 #5 The Fo'c'sle Tavern in Chester, Nova Scotia
The Fo'c'sle Tavern is the oldest rural pub in Nova Scotia dating back to 1764. Their lobster roll is unique in that it is actually served on a croissant. I have had this lobster roll a few times and it is always delicious. Sometimes there can be a tad too much mayonaise for me, but that has never stopped me from finishing one. The croissant adds a nice buttery taste to the lobster and is always jam packed with meat.
#4 Captain Kat's Lobster Shack in Barrington, Nova Scotia
Before you even step in the door of Captain Kat's you know you are in for a treat because of the huge lobster hanging over the door. Inside the decor is full on lobster with lobster lights strung about, boat decorations here and there and even a Captain's table for eating. They also feature a fresh lobster tank with some unique lobsters for you to see. There are lobsters with funny patterns, insanely blue lobsters and even HUGE lobsters.
Their lobster roll was packed with lobster meat almost making it tricky to eat, it was quite appealing to the eye and quite tasty. The bun was toasted nicely and it was a good mix of lobster meat, mayo and other toppings. The one thing that I wasn't too fond of though was the spinach used instead of lettuce. It just wasn't the right texture for me for a lobster roll. Delicious none the less but I would just ask for no spinach next time.
#3 Mateus Bistro in Mahone Bay, Nova Scotia
This was the first lobster roll that I tasted on my lobster quest and it was AMAZING. This is partly a winner because the lobster is served on a brioche roll from the above mentioned Boulangerie le Vendéenne. It is mixed with a house made aioli that had a nice taste of pepper, lemon and garlic to it. The lobster is then combined with red onion, red pepper and topped off with some micro greens. Slightly messy to eat, but worth it.
As this was my first stop I later realized that I needed to go back a second time to get some extra footage. On my second visit however the lobster roll wasn't as fantastic as the first time unfortunately. Somehow a chunk of lobster roe got into my roll and the micro greens had a few bits of dirt on them that threw me off. At least I know it was fresh! Every place has its off day though right?
#2 Kiwi Cafe in Chester, Nova Scotia
I had never been to the Kiwi Cafe before and honestly wasn't expecting too much from this lobster roll. I was surprised however to see that it is featured on their menu year round. The lobster was served to me on a toasted and still warm brioche lobster roll from the Boulangerie on a fish shaped plate with just a simple side salad.
The menu described it as being mixed with dill mayo but I hardly tasted the dill at all. It was lobster, lightly mixed with mayo on a buttered and toasted brioche roll. The lobster was incredibly fresh, probably the freshest tasting of any of the lobster rolls that I ate. I would definitely go back here again and again.
Their ANZAC cookies are great too!
#1 Port Grocer in Port Medway, Nova Scotia
Without a doubt the Port Grocer lobster roll is the best lobster roll on the East Coast. It was so simple, yet so delicious. The lobster was extremely fresh, having been just picked up from the nearby wharf that morning. It was tossed in a small amount of mayo, on a lightly toasted brioche roll from the Boulangerie, and slathered with garlic butter. It was garlic heaven.
The Port Grocer lobster roll was almost like eating lobster on top of garlic bread. It was out of this world. It was probably the simplest of all of the lobster rolls too. Served with just a tiny fruit cup on the side.
Honourable mention goes to the lobster rolls at the U-Cook Lobster at Peggy's Cove and the Quarterdeck Beach Grill. Also it sounds weird but you have to give the lobster beer a try as well. Hell Bay Brewing Co. will be making their South Shorer Lobster Ale again for next years Lobster Crawl and Saltbox Brewery will be bringing back their Crustacean Elation beer for the summer. Yes lobster infused beer, to learn a bit more about it click HERE.
To see more about my lobster adventures during Nova Scotia's South Shore Lobster Crawl watch my video:
To learn more about the Lobster Crawl and to plan a visit for the next one check out LobsterCrawl.ca
If you LOVE LOBSTER please give this post a pin!
Thank you to Visit Nova Scotia for having me take on this monumental task. As always all opinions, views and full bellies are my own.