DEEP DISH PIZZA!!
One of the most common known facts and associations people have with Chicago (aside from the wind and Oprah) is that it is known for its deep dish pizza. I had never tried a deep dish pizza myself so when researching things to see and do in Chicago I learned that there were several companies offering food tours that feature only pizza! I love food tours and I love pizza. I thought it might of been a dream, but it was true. Here is my review of Chicago Pizza Tours aka 3ish hours of heaven.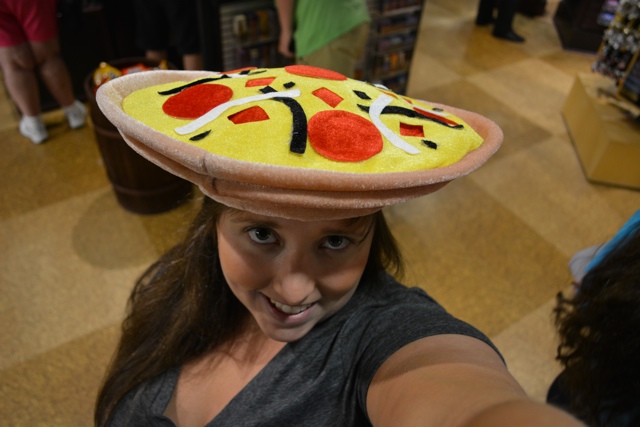 I debated buying this hat and wearing it on the tour…
The pizza tour on this day started at 11am at a pizza shop called Pizano's in downtown Chicago in an area known as the loop. (note: starting locations may vary). After arriving I soon learned that we would be visiting only 4 of Chicago's 2,200 pizza shops on our tour. Sad. However I also learned that they have a large selection of pizza places that they do their tour with so basically I could take the tour a couple of times and I might always try a new place which I thought was cool. Spices things up a bit and gives me a good excuse to take this tour more than once…
Before the tour that morning I had eaten a light breakfast which was smart and in hindsight I probably just should of eaten nothing. Over the next 3ish hours we were to sample eight different pizzas at four different pizza shops (with having seconds almost always being an option) and we were about to learn A WHOLE LOT of information about pizza and Chicago. At the beginning I was afraid of getting too full and not being able to try everything but the tour was well spaced out with time to digest that I successfully completed the mission and then some.
Our tour guide Jonathan… I may have asked him to ham it up for the camera…
Pizza Facts our EXTREMELY knowledgeable pizza guide Jonathan told us:
Pizza is a $32 billion industry in the US
There are roughly 70,000 unique pizza places in the US (all of chains like pizza hut equals just 1 in that count). There are 9,000 pizza places in NYC and 2,200 in Chicago.
The average American eats about 23lbs of pizza a year.
On tour we would each be eating about 3 to 5lbs of pizza…. or was that the weight of pizza we would be served in total? hmmm…
Deep dish pizza was invented in Chicago in the 1940s however there is a dispute over who actually invented it, it was believed to of been first made at a pizza place called Pizzeria Uno.
Before the deep dish came to be pizza was generally just eaten as a snack however at Pizzeria Uno they wanted to change that and make it more of a meal/staple food so they came up with a more heartier version of pizza and thats how we got deep dish. Basically pizza on steroids.
Deep dish pizza is known to outsiders as Chicago's "thing" however in actual fact for every one deep dish pizza eaten in Chicago another 3 flat Chicago Tavern style, more typical pizzas are actually eaten. Deep dish has actually almost now become a touristy thing.
Now lets get to the pizza. Like I said we started our tour at Pizano's Pizza and Pasta in Chicago's Loop about a block from Millennium park. Opened in 1991 by Rudy Malnati Jr. son of Rudy Malnati Sr. who originally owned Pizzeria Uno where the deep dish pizza was born. At Pizano's they make deep dish and thin crust pizzas from a secret dough recipe still today made by Rudy Jr.'s 83year-old mother who is one of the only people who know the exact recipe.
Word on the street is Pizano's makes Oprah's favourite pizza and Bill Clinton once held up Air Force one so that he could get a slice himself while in Chicago.
At Pizano's we tried three different pizzas. First their classic deep dish pizza with their butter infused dough, crushed tomatoes, cheese and basil (there may of also been sausage? It was tasty either way). Eating it you could taste delicious buttery pockets as you bit through the dough, a bit greasy but delicious and it had a nice garlic zing to it too. On the side we ate a thin crust mushroom pizza and a thin crust sausage pizza.
I was on this tour with my good friend and business partner Stephanie and together we helped each other keep pace eating the pizza and by that I mean…. every time there was extra pizza to be had we made sure we each got a slice. I was worried about getting too full at the first place but I was determined to make it through.
Mmmmm pizza
Next we hopped onboard the pizza bus or as they like to call it "Dough Force One" to head to Coal Fire Pizza. This was my first time taking a food tour where we were driven to each location. All food tours I have taken until now we have had to walk, which is good for burning the calories off from the food you are eating but I always feel a little rushed. Having the bus we easily got from one place to the next like a breeze, saw more of the city and weren't limited to pizza places that were just in walking distance from each other.
Coal Fire Pizza is the only coal fired pizza place in the city. While stopping in we got a view of how they made their pizzas and we sat to enjoy what I think was the BEST pizza of the tour.
This was the White Pizza (as in no tomato sauce) – Toppings included Mozzarella, whipped ricotta, oregano, garlic olive oil, pepper, chopped garlic and basil. Served fresh and hot out of the oven. I had never had ricotta on a pizza before and this was fresh hand whipped ricotta made right on site. It was out of this world.
Yes it was even better than it looks.
Our second tasty pie at Coal Fire Pizza was my FAVOURITE of the whole tour. It was also apparently everyone else's favourite too because I could hardly get a photo of it before people were grabbing at it and it was gone.
Pepperoni and whipped ricotta, fresh mozzarella, tomato sauce (made with tomatoes from Italy that grow on the side of Mt. Vesuvius to be exact), thick cut pepperoni and garlic. I could eat this pizza every day for the rest of my life and be a happy lady. This is the kind of pizza a girl asks to marry her.
At Coal Fire Pizza Stephanie and I spilt three slices. We would of gone for another slice but by the time we were ready to grab one it was time to leave. We both let out an audible "Awww" as we were sad to leave. Note to self, must come back here on my next visit to Chicago and eat ALL of the pizza.
Next stop was Pequod's. Every local that Stephanie and I had talked to before going on this tour told us that we MUST go here and basically that if the tour didn't take us here it sucked. Thankfully they took us here.  Pequod's (named after the whale in Moby Dick. Why? I'm not sure.) Is known as having one of the best deep dish pizzas in town, some even call it world famous.
We were served up a deep dish pizza with tons of mozzarella, pepperoni and Chicago style sausage. Pequod's is known for adding extra mozzarella to their crust that caramelizes and slightly burns. When you order one don't think they burnt your pizza it was done on purpose and is crunchy delicious. This was the messiest and ooozeyist of all of the pizza's. Served piping hot I had to tackle this one with a fork and knife.
As we left Pequod's I started feeling full, but thankfully the next and last stop was on the far side of town, the ride there along the lakeshore gave us enough time to digest to make room for the next stop.
Last but not least was Flo & Santo's, known for their mix of pizza, pub and Polish-American fare where we were served two types of South side Chicago Tavern style pizza. The first was Marco's Italian Beef pizza. It was pretty much an Italian beef sandwich thrown on top of a pizza. The toppings included shaved beef, giardiniera (an Italian-American relish made of pickled vegetables) with a kick, fire roasted tomatoes, caramelized onions and cheese.
The second was known as "Flo's Polish" and was basically an Italian-Polish pizza fusion… I will admit I was expecting perogies on top. The toppings included Polska kielbasa (a type of Polish sausage), sauerkraut, and apple wood smoked bacon. I think my tastebuds were getting overwhelmed at this point but my favourite from Flo & Santo's was definitely the Italian beef. I think it was the giardiniera that gave it a nice kick and really made the pizza stand out.
After our last stop the tour wasn't over and our guide gave us a bit more info about the pizza and the city as we returned to Pizano's where we first began. Surprisingly I wasn't "OMG I need to unbutton my pants and have a nap" kind of full after the tour. Don't get me wrong I was definitely full but more of a delightful, "I'm feeling accomplished" kind of full. So basically would I recommend taking this tour? YES. Yes I would. Would I recommend you moving to Chicago and just eating pizza for the rest of your life? Yep! Probably would recommend that too, and am considering it myself.
To learn more about their pizza tours visit www.ChicagoPizzaTours.com
Special thanks to Chicago Pizza Tours for having me on the tour. As always all opinions and views expressed are my own as is my full belly and delighted taste buds.