The White Point Beach Resort is located along Nova Scotia's South Shore, on a beautiful oceanfront property. This makes it the ultimate getaway from Halifax and other destinations for relaxing, and spending time by the ocean with great food and drinks. The White Point Beach Resort is the ideal destination for families, couples, friends and more. It is also one of the best spots in Nova Scotia for a girls getaway weekend.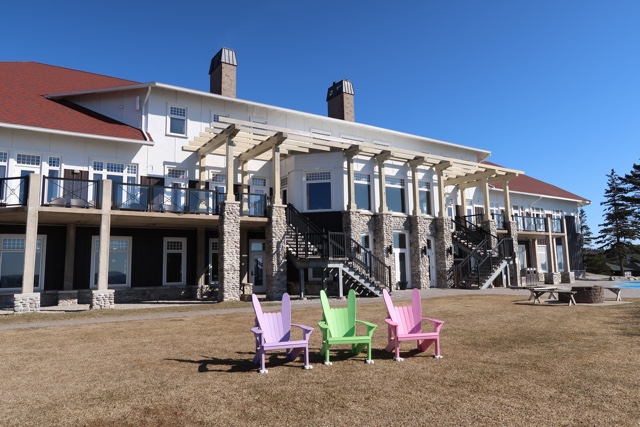 The main lodge building
The property first opened in 1928 and is made up of a main lodge, numerous cottages, guest rooms and vacation homes, a spa and conference centre. All of this encompassing 800 acres of property with over 1km of beach front. There are also so many different activities and things to see, do and eat at White Point whether you want a relaxing or active Nova Scotia vacation.
Check out the map of the property HERE.
Getting to the White Point Beach Resort
The address for the White Point Beach Resort is 75 White Point Beach Resort Rd, White Point, Queens County, Nova Scotia, Canada B0T 1G0. Which is roughly an hour and a half drive from downtown Halifax.
You will most likely be arriving from Halifax for your girls trip and if that is the case then enjoy a leisurely drive on your way. Stop somewhere nice along the south shore like the town of Chester and grab a quick lunch from the Kiwi Café. Or you could visit the top rated Salt Shaker Deli in the UNESCO town of Lunenburg. Then make your way to the resort just in time to check in starting at 3pm to begin your Nova Scotia vacation.
The view from cabin 20 of cabin 19 and the beach front
The master room with king sized bed in cabin 20
The Cabins
While visiting with four of my closest girlfriends for a much needed girls trip we stayed in cabin 20. Cabin 20 apparently has the best views over the ocean of any other cabin on the property. The cabin has three bedrooms, two with two single beds and one with a king sized bed, as well as a pull out couch. Technically the cabin could sleep up to 8 people but more like 6 comfortably.
Two single beds in one of three bedrooms in cabin 20
Our cabin also had 1 and 1/2 baths, and lots of closet space. The living room space was a bit small, but that made it cozy especially once you got the wood fireplace going on cooler nights.
The living room with fireplace, tv, mini fridge, microwave, coffee and tea station and pull out couch in cabin 20
None of the cabins on property have kitchens in them which is a bit of a bummer as you can't make your own food although that also means no dirty dishes! (note: The vacation homes on property have full kitchens.) Each cabin however does come with a mini fridge, microwave and coffee and tea station. Elliot's dining room and the Founder's Lounge bar in the main lodge of the resort offer guests more than enough food options that you don't really need the kitchen. Saying that, I would however recommend bringing some snacks like popcorn, chips, a veggie tray, etc. for your cabin. Especially for those late night wine fuelled chats that tend to happen on a proper girls trip.
The deck and view from cabin 20
A foggy view from the deck of cabin 20
One of the best features of the cabin that goes along with the view is the front deck. The deck is partially covered and is a great spot to sit and enjoy the view and sounds of the ocean. Nearby there is also a crude man made path down to the beach where you can scramble over the rocks and explore. Closer to the main building the beach is more accessible and sandy.
An important thing to also mention is that there is also free wifi to be found on the whole resort which is definitely a bonus.
The Bunnies of the White Point Beach Resort
One of the most popular things that the White Point Beach Resort is known for is the wild bunnies everywhere. Sadly it is believed that the origin of the White Point bunnies mostly come from domesticated pets being abandoned there by their owners years ago. The bunnies seen now are most likely their ancestors and flourish in the area. The resort has fully embraced them and even provides guests with free bunny food to feed them. Don't worry though the natural habitat around the resort can more than enough sustain them as well and they don't appear to be dependant on the humans.
There were definitely a few squeals from myself and my girlfriends when we saw the bunnies. We were excited to get the chance to feed them but they don't come too close to you. It's more like throwing the bunny food pellets near them and hoping they eat it.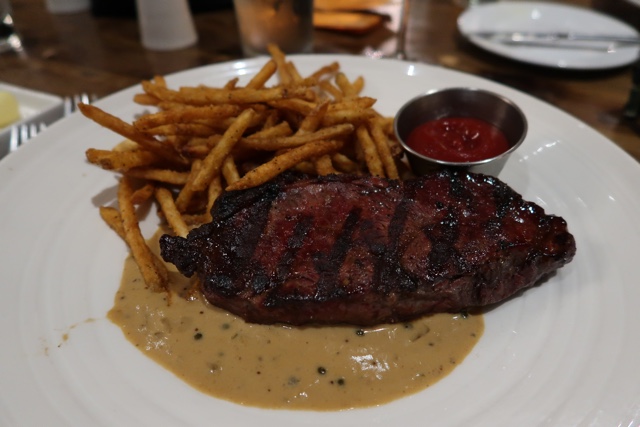 Steak and frites for dinner in Elliot's Dining room
Dining Options at the White Point Beach Resort
Located at the main lodge at White Point you will find Elliot's Dining room and the Founder's Lounge. Elliot's offers á la carte dining for breakfast, lunch and dinner with a buffet option offered on weekends and in the summer months. For dinner I enjoyed a lovely steak while my friends enjoyed some great looking pastas, salmon and seafood chowder. All washed down with a nice local Nova Scotian wine it made for a great evening.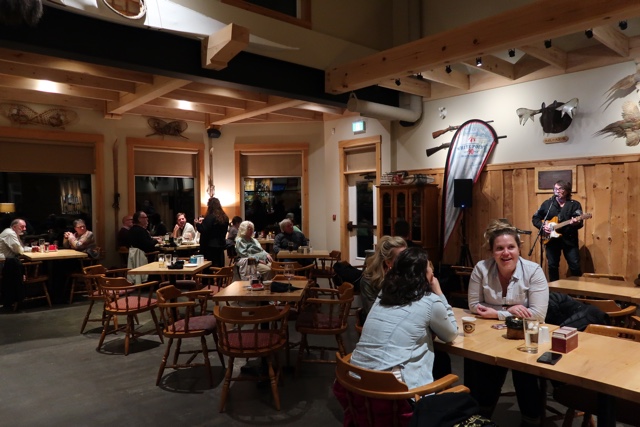 Live music in the Founder's Lounge
For a more casual setting  you can also dine at the Founder's Lounge for lunch and dinner. The menu in the lounge is smaller and more pub food like. They actually call it their "Munchies Menu". It is a good menu but nothing too fancy like you might find in the dining room. On various nights this is where you will also find live music performances.
During breakfast hours and in between 12pm-9pm room service is also available with a small service fee to your cabin. They can also bring you ice and of course anything else that you might require. Extra robes, wine glasses, a hair dryer and more they have it all.
Meal plans are also available with your booking.
image credit White Point Beach Resort
Pedal boats, canoes and kayaks for free use at the White Point Beach Resort boat house on the Dogget Pond fresh water lake
Things to Do at the White Point Beach Resort
Whether you want a relaxing or active girls getaway the White Point Beach Resort has so much to offer. You are able to rent kayaks, canoes, pedal boats and SUP boards for free to use on Dogget's Pond freshwater lake. For a small fee you can also rent wetsuits and surfboards for use in the ocean. They also offer surf lessons during certain parts of the year also for a fee. We were not brave enough to jump in the ocean in April though, even with a wet suit on.
On site there is a golf course open in the summer months so you can play a round or two. They have golf club rentals and lessons available as well.
For more relaxing activities especially suited for a girls trip to the White Point Beach Resort you must go to the spa. The spa onsite offers everything from facials to massages, reiki and more. Enjoy a restful spa treatment then stroll on the beach in your robes or hang out by the fire for the most epic amount of relaxation.
The indoor pool and hot tub
If you are looking to stay fit while relaxing or you just enjoy being "one with nature" then there are also a few nearby trails that are great for hiking and biking. Bring your own bike or rent one for free from the resort. You can also go for a jump in the ocean year round if you are brave enough. Or you might chose to instead enjoy the indoor pool, hot tub and sauna.
Roasting marshmallows in the fireplace of the Founder's Lounge
Lobster claw shaped shortbread cookies with chocolate for lobster s'mores
Events at White Point
The resort always have various events taking place and happening on different nights. When we were staying there they were offering lobster s'mores. Unfortunately the weather wasn't the best for a camp fire outside but they set them up at the fire place in the Founder's Lounge so they could still be enjoyed. No lobsters are actually involved in the losbter s'mores so don't worry if you are allergic to shellfish. The shortbread cookies used to make them are shaped like lobster claws with one side dipped in chocolate. Roast a marshmallow on the fire, smush it in between the cookies and enjoy!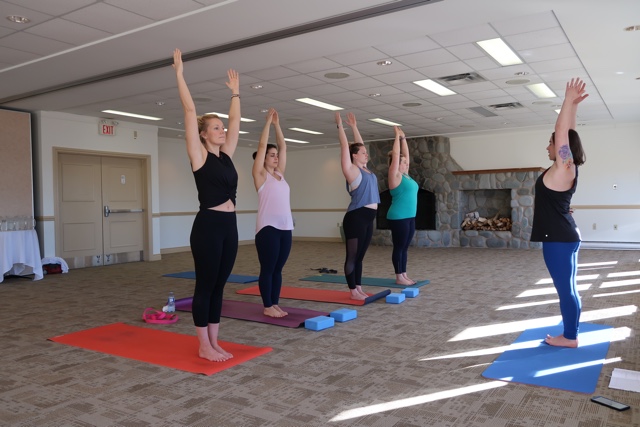 Yoga at White Point
While we were there it also happened to be their gals getaway themed weekend. They were offering nautical wreath making and free yoga sessions which my friends were excited to take part of. To find out what events might be taking place at the White Point Beach Resort when you visit click HERE.
Best tips for the perfect girls getaway weekend
Bring the drinks and snacks – alcoholic or not, drinks and food are always great items to bond over.
As girly as it sounds makeover type items are always fun. On this trip one of my friends brought face-masks. I have been told however that I cannot publish said photographs of this event.
Only invite your most favorite people that know how to relax and have a good time.
Try to have a no-phone rule, but with exceptions… You are there to be present with your friends and to catch up. But phones are great for pictures and swiping left on dating apps for fun.
Have an outlined plan of events but be loose with options and allow plans to change and evolve.
Bring the entertainment! Whether its a great Spotify play list, or games like Cards Against Humanity, chick flicks, scary movies, be sure to bring something to make things entertaining.
Pick the perfect destination, like the White Point Beach Resort!
The White Point Beach Resort truly is one of the best things to do in Nova Scotia so you can't miss it! Book your Girls Trip to the White Point Beach Resort now!
To see more about the cabins and my visit watch this video:
Special thanks to the White Point Beach Resort for hosting me on this trip. All opinions and views expressed are my own.