There is nothing like going for a ride in a helicopter… especially when its a surprise helicopter ride and its your first time EVER in a helicopter ever AND you are getting to fly in said helicopter over the gorgeous city of Cape Town, South Africa AND you are stopping for a delectable fancy meal at a vineyard half way through the flight.
That was my experience in a nutshell one afternoon last year while touring around South Africa. We had driven to the Cape of Good Hope in Cape Town. A scenic look-off spot with wild baboons running around and some pretty unique flora. So unique that that whole area is known as the Cape Floristic Kingdom and is one of six (and the smallest) floral kingdoms in the whole world!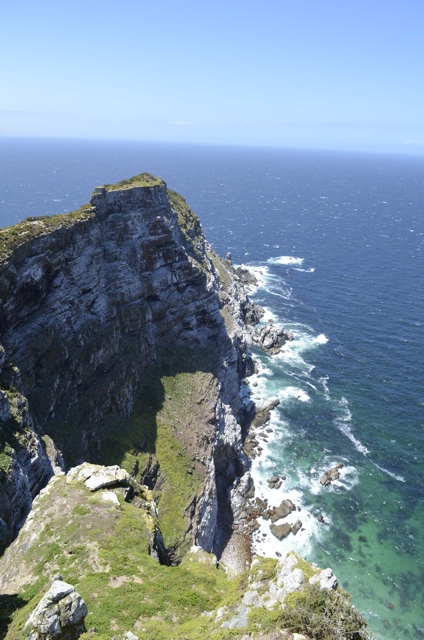 After riding the funicular to the lighthouse at the point and ooohing and aaahhhhing at the pretty landscape we headed back to our van where we were told we had an hours drive to lunch. As we swerved around baboons in the middle of the road leaving the Cape of Good Hope area we made a turn that we hadn't made when arriving. (I have an odd memory for directions.) As we continued driving David the South Africa rep that we were touring around with turned back to us casually and says "Oh by the way… an hour to too far to drive to lunch… so we are going to take a helicopter instead." As soon as the word helicopter came out of his mouth we turned a corner and one appeared in front of us. NBD.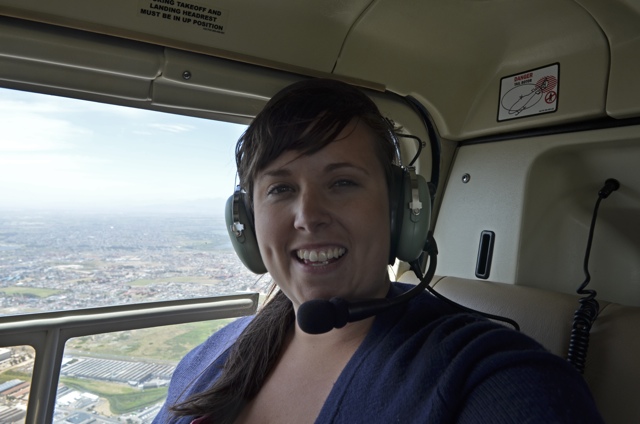 I was excited as I had never been on a helicopter before, I was slightly giddy like a small child. The others were trying to play it cool as they had flown in one before. I like to think they were excited too because who can't not be excited with a SURPRISE helicopter trip?!
It was a windy day but the ride was fairly smooth and the views were awesome.
To make this experience even better we enjoyed lunch at La Colombe which has been voted one of the top 20 restaurants in the world, located at the  Constantia Uitsig Estate. It was the kind of place with a wine list/ book so big you could knock someone out with it.
Kate demonstrating the largeness of the wine list…
The restaurant had a set menu with tasty sounding food. What was put in front of us was different than anything I had ever eaten before in preparation and it tasted so good. My favourite part just might of been the dessert after dessert that we were served.
An amuse bouche.
La Colombe's very own wine.
Salmon carpaccio and tartare, pickled shitake mushroom, seasame crema, salsa verde and nori.
Pan-fried hake, creamed cabbage, smoked white bean puree, sugarsnaps, tarragon buerre blanc and a verjus foam.
Rose and coconut pannacotta, cashew pebbles, orange blossom yoghurt, lime syllabub and rose foam.
Post-dessert, dessert. Maple meringues, rose Turkish delights, lemon financiers, peach marshmallows, and salted caramel truffles.
With our bellies full and feeling quite content we hopped back into "our" helicopter and flew to downtown Cape Town where we all captured that iconic shot of the city. We were lucky to have a clear sunny day where the entire city including Table Top Mountain were visible.
Once we landed we had just a short drive to our hotel for the evening the Queen Victoria. And that was the end to a fabulous and surprising day in Cape Town South Africa.
Watch the video for more highlights from my day in Cape Town with Cape Town Helicopters.
Special thanks to Visit South Africa for having me visit this wonderful country and to Cape Town Helicopters for the lift. As always all opinions and views expressed are my own. At no point did they ask me to scream in glee like a little kid when I saw the helicopter.