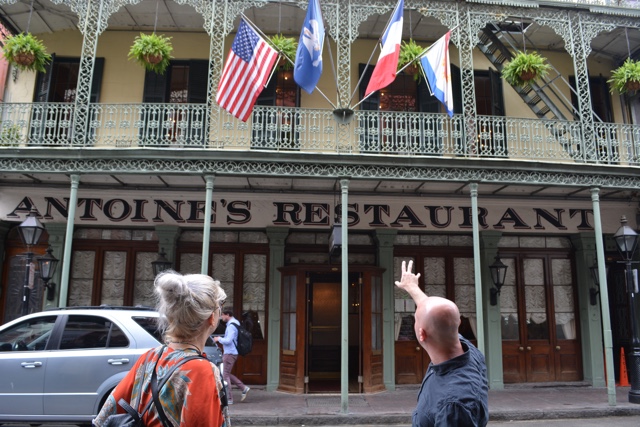 Our tour guide Dylan aka Doctor Gumbo tells Vicky some history about New Orleans
Without a doubt I believe that taking a food tour in a new city is the best way to get to know a new place and of course its cuisine. I have taken food tours in London, Seattle, Costa Rica, Prague, Australia, Italy, Portugal and more and they are always an excellent decision.
Before visiting New Orleans I knew that they were known for beignets, gumbo and crawfish but that was about it. I was traveling with my good friend Vicky and we thought the best way to not only get to know the food of New Orleans but to also have the very BEST food in the city that we should take a food tour and Doctor Gumbo was at the top of our list.
Not only did I learn about lots of delicious eats in the city but I also learned a deep history about the city and how these foods came to be. I had never known how many things originated there or have ties to the city. This was probably the most historical food tour that I have taken and it was awesome. I don't want to give too much away so that you can enjoy the tour for yourself someday so here are the highlights of our tour. (Note items and venues may change per tour).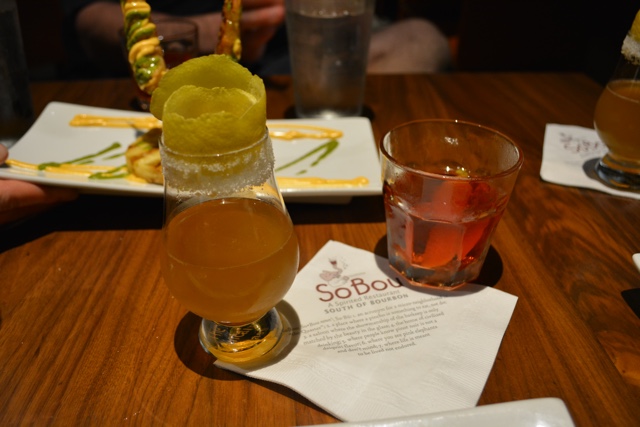 A Brandy Crusta and Sazerac
Our tour started at a restaurant called SoBou, a popular fancy restaurant and bar in the city. We started the tour off right with two drinks and some tasty eats.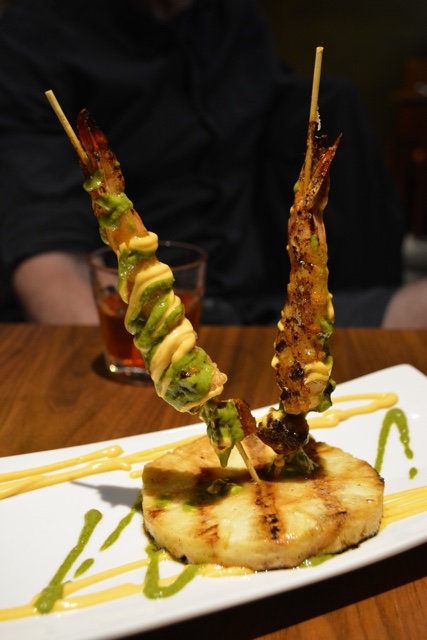 Shrimp and tasso pinchos – omnomnom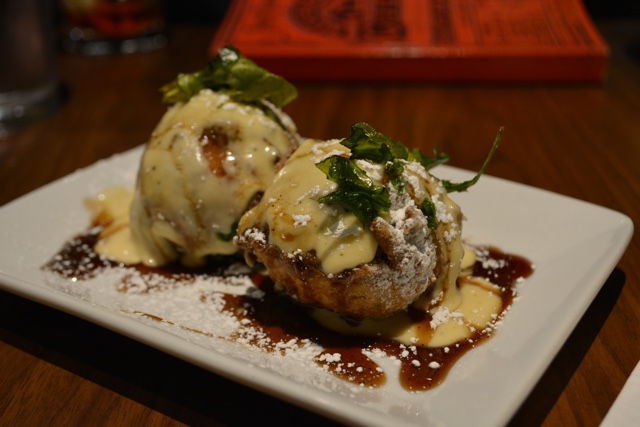 My somewhat first taste of beignets – Fancy beignets with foie gras fondue and sweet potato
An American Praline
One item that I didn't realize was popular in New Orleans was the praline and then I saw them in almost every store and shop I went in to. We visited a place called Leah's Praline and we got to sample the original and a bacon praline. The praline was brought to the city by the French and are slightly different from what you will find being made in Europe.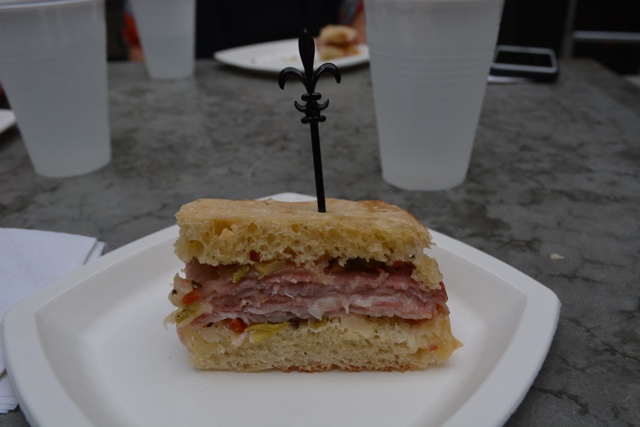 A sample bite of a Muffuletta sandwich at Little Vic's
A food item that I have never even heard of before was the Muffuletta. We stopped by a place called Little Vic's to give them a try and although there were olives on them I really liked it. (Don't tell anyone that I admitted to liking something with olives though…). The Muffuletta is on bread almost similar to focaccia but perhaps a bit lighter, then it is layered with an olive salad, salami, ham, mortadella, provolone and mozzarella. It was brought to New Orleans by Sicilian immigrants and was first created at an Italian shop called the Central Grocery and Deli.
The sign outside of the Central Grocery and Deli
New Orleans is also of course known for Po Boy sandwiches which originated in Louisiana and NOLA Po Boys was one of our next stops. The term Po Boys comes from a time when the street car workers were on strike and a restaurant owner gave them the "poor boys" free sandwiches and they became popular and became what we now know as a Po Boy today.
The Po Boys are served on a New Orleans style french bread that is quite big as you can see in the picture above.
The menu at NOLA Po Boys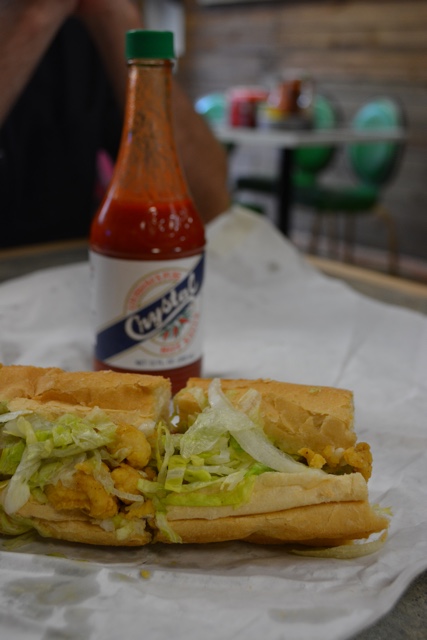 A traditional cat fish Po Boy "dressed". With Crystal hot sauce which is apparently a must.
Tujagues is the second oldest restaurant in New Orleans. It features Creole dining with fancy white tables cloths and waiters wearing suits. There is also a bar in the restaurant that is said to be the oldest standup bar in the city.
Delicious Creole beef brisket with creole mustard sauce. Literally melts in your mouth.
Being the oldest stand up bar in the city we of course had to try a few drinks as well. On the left is a Grasshopper made of creme de menthe, creme de cacao, brandy and heavy cream and it was soooo good. The second was a Vieux carré which was tasty and VERY strong.
Our last stop was to Dickie Brennan's Tableau Restaurant. The Brennan family actually own a few restaurants in the city and are known for creating Banana's Foster.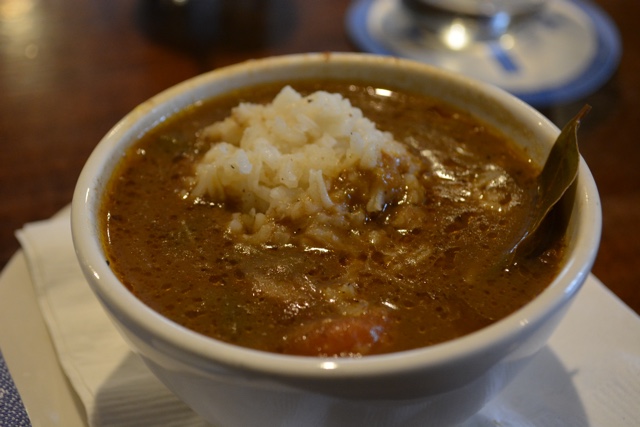 Seafood Gumbo from Tableau
Lastly we got to enjoy a seafood gumbo. This is also where I learned that I don't really like gumbo that much… sorry NOLA! However I think Vicky ate mine and hers so it was definitely good if you are a fan of it.
The food tour with Doctor Gumbo was definitely a highlight of my visit to New Orleans and was just a tiny sample of all of the delicious food that we ate while we were there. In all the tour was about 4 hours long, was really informative and a lot of fun. It's also probably impossible to stump Doctor Gumbo on anything NOLA related but you can definitely try.
Thanks again to Doctor Gumbo for having us, as always all opinions, views expressed and full bellies are my own.