Seeing Icebergs in Newfoundland is one of the "coolest" things that I have ever experienced. The more you see them and the more you learn about them, and the cooler they become as they melt that is… My experience seeing them in Twillingate last summer almost convinced me to move there to work as an Iceberg Tour Guide just so I could see them every day and it is something that I am still contemplating doing at some point in my life.
Iceberg season in Newfoundland begins roughly each year in April and ends at the end of July / beginning of August. If you want a guaranteed sighting your best bet is to visit in late May. Each year as the sea ice from the winter melts, these icebergs break free and make their way south from the north and Greenland.
Once an iceberg breaks off of the northern ice shield it takes anywhere from 3-5 years to make it's way to Newfoundland slowly, melting, catching currents and getting stuck in ice flows as the seasons come and go. Of the icebergs that make it all the way to Newfoundland they are estimated to be anywhere from 10,000 to 25,000 years old. How crazy is that?!
When the icebergs arrive in Newfoundland they can be seen in many of the northern parts of the province in an area known as Iceberg Alley and even as far south as the capital of St. John's. However the small town of Twillingate is apparently where you can see the most and because of that it is known as the "Iceberg Capital of the World".
While visiting Twillingate I took a tour with Iceberg Quest who also operate tours out of St. John's. Their guide and captain were both friendly and knowledgeable and not only did we get to see a gorgeous iceberg but we also go to see a few humpback whales. Seeing those humbacks had been their 46th consecutive trip of seeing humpbacks that summer. A record for sure.
In my opinion they are the best iceberg tour operator in Twillingate as they are also the only iceberg tour operator in the area to have a liquor license, so of course they were an easy choice. There is nothing like enjoying some iceberg beer while on an iceberg tour.
The other tour that I took while there was with Prime Berth and the owner/operator David Boyd. This tour was equally as awesome but wasn't even close to being comparable to Iceberg Quests as they were both very different. Iceberg Quest is a large group tour and Prime Berth was a small private group in a small boat and the tour also included cod fishing.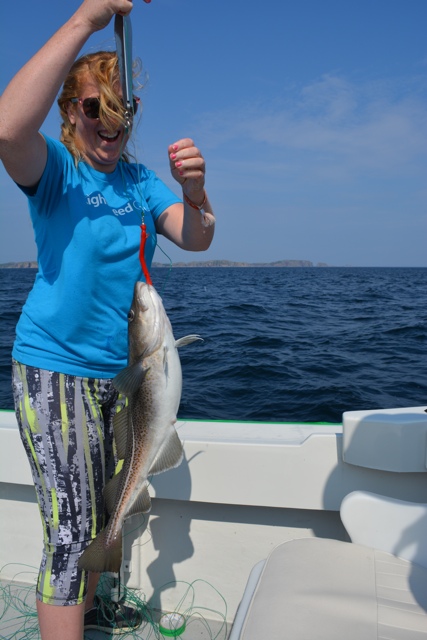 Candice catches a nice cod fish!
The cod fishing was probably the craziest part of our tour as David knew exactly where the fish were and we had them hooked literally as soon as the jig lines dropped. I also caught a 15lb cod, which was without a doubt the biggest fish that I have ever caught. After the tour finished David also cleaned some of our catch and showed us how it was done, he was such a pro.
Safety of course also comes first when iceberg watching as you never know when an iceberg could roll or flip so you need to be careful and not get too close to them. Luckily enough for us however the iceberg that we found with David had been in the same spot for a while and David had been watching it and with his years of experience knew it was safe to approach. Not only on David's tour did we get to touch a huge iceberg but he was also able to chop off some pieces from a berg-y bit for us to save and enjoy in our drinks later that evening.
I only wish we had more time on both tours. I could of stayed on the boats and watched the icebergs and whales forever. Sure in many places you can see icebergs from the shoreline, I even picked up a piece on a beach but there is nothing like seeing them up close on the open water.
To learn more about my experience seeing icebergs in Newfoundland watch my video all about it!
Have you ever seen icebergs in Newfoundland or somewhere else in the world? What was your experience like?
Special thanks to Iceberg Quest and Prime Berth for hosting us on these tours. As always all opinions and views expressed are my own.