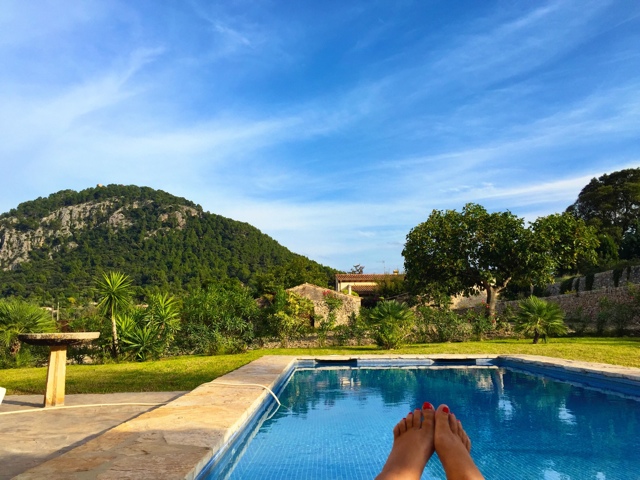 This is my pool and the view from my villa in Mallorca. I wish I could stay here and have this view forever. Without a doubt it is one of my favourites that I have had on my travels.
I am currently writing this from my private luxury villa in Pollensa, on the island of Mallorca, Spain. I am here vacationing and catching up on work with a few of my friends: Kate from AdventurousKate.com, Candice from FreeCandie.com and Victoria from VickyFlipFlopTravels.com.
For a week we have been able to enjoy this beautiful view and a 4 bedroom 4.5 bath villa just on the outskirts of town, booked through Travelopo.com. Costing 650 euro for the week during October (slow season) it is a reasonably priced accommodation. Now if only this gorgeous pool was heated…
In our Villa there were two rooms with double beds like this, and each room had tons of storage space.
There were also two rooms with two single beds each.
Each bedroom had its own full bathroom and shower, one even had a tub and bidet.
There was a large dining room and living room space with 4 couches, one for each of us.
The kitchen was very spacious as well, and included all amenities needed.
For this trip I chose not to rent a car and instead used the frequent bus system that runs around the island to get to our villa. The 45minute drive from Palma, the capital city of the island to Pollensa was less than 6 euro which is a great deal. Since I did not book a car hire I also purposely looked for a property located close to town so that I could easily walk to the grocery store and restaurants. Conveniently where we stayed was also only a 10 euro taxi ride to the nearest beach town which is Port De Pollensa.
A windy day at the beach in Port de Pollensa, Mallorca
Perhaps on another visit however I would rent a car as there is so much more to see on the island than just these two small towns. But for this time it worked out fine. The town of Soller is supposed to be quite nice and you can take an old gorgeous train to there from Palma. There is also a unique cave system on the island that you can visit (one of them is called the Caves of Ham) as well as stunning costal roads and we can't forget the party town of Magaluf.
A fancy Cava breakfast cooked by moi!
What I love about staying in a villa/house/apartment etc. is that I am able to cook my own meals and save money by not eating out everyday 3 meals a day. I have cooked up a small spread each day for my friends and we have been able to save a bunch of money. However enjoying some tasty tapas in town for a couple nights is always lovely as well.
Tasty tapas! Anchovies in vinegar and pimientos (peppers) with sea salt. Nom.
There were some great conveniences with this villa that are worth noting. When we arrived the keys were waiting for us in a lock box that we had previously been given the code for. This was great because then we could arrive whenever we wanted and didn't have anyone waiting around for our arrival. Half way through the week there was also a lady who showed up and exchanged all of our towels, even the kitchen towels, for clean ones, as well as a gentleman who showed up to give the pool a clean.
Not a bad view, while working
This property also came with great wifi until half way through the week when the 4 of us on 8 devices might have eaten up all of the data. Ooops. However surprisingly the rental company was quick to arrive (when requested) with a back up mifi not once but twice. Which was GREATLY appreciated.
The location also could not have been better. We were just on the edge of the town so that our villa had a large property and was somewhat private, yet it only took us 10 minutes to walk into the middle of town, which was great. Also being such a small town it gave us the feeling of being safe and so it didn't bother us much walking down the streets at night to get home from a late night of tapas and wine.
Things that were minor inconveniences, which were not that horrible, was that there wasn't any extra toilet paper, or bath products and the cupboards were completely bare of food aside from some salt in a salt shaker. It's always nice to show up to a rental where there are added touches like those amenities, especially being luxury. Having some essential food items like salt, pepper, coffee, butter, olive oil, etc., are always nice.
I would love to visit Mallorca again sometime and explore more of the island.
Special thanks to Travelopo for hosting my stay. As always all opinions and thoughts expressed are my own. Travelopo also boasts over 100,000 villas, apartments and chalets throughout Europe, if you are looking to rent a fancier accommodation for your next vacation give them a shot.