I leave for Australia in less than two weeks and it is fast approaching! My plans for my time there are coming together and one of the exciting things I will do is take The Ghan from Adelaide to Darwin thanks to Great Southern Rail!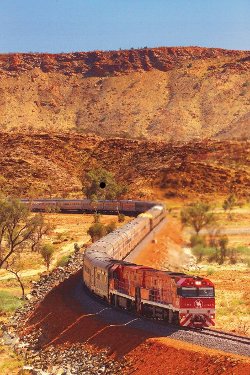 What is The Ghan?
Originally know as "The Afghan Express", The Ghan is a train that goes straight up (or down) the middle of Australia from Adelaide to Darwin. Named after Afghan Cameleers who came to Australia in the late 19th century to help make the red center of this vast country accessible.
As I had said before I have been to Australia a "few" times but have yet to see more than the East Coast so having the chance to ride The Ghan is really exciting!
How long does The Ghan train ride take?
The whole trip takes 54 hours with a 4 hour stop in Alice Springs and a 4 hour stop in Katherine, covering 2,979km in just 2 nights and 3 days.
Up until this point the longest train ride that I have taken was, last June on my cross Canada Road Trip with my friend Candice and that was only 20 hours from Halifax to Montreal. We also did that trip sitting up in uncomfortable seats the whole time, thankfully while on The Ghan I will be in my own cabin and will be able to actually sleep this time. However I'm not sure how much I will want to sleep as I can just imagine how beautiful the landscape will be and the night sky is breathtaking I'm sure as well, I won't want to miss it. (Must pack lots of RedBull…).
More Ghan Facts:
The original rail tracks would often get washed out due to flash flooding and the train actually had a caboose full of track repair gear so if needed the crew and passengers could act as a rail crew and get things back together.
People tell a story of the train once getting stuck in the middle of no where for 2 weeks straight and the engine driver shot wild goats to keep everyone fed… yikes! Lets hope that doesn't happen to me… although it would make for a great story…
The trains first departure was on August 4th, 1929 and ran only between Adelaide and Alice Springs with the intention of it eventually stretching all the way to Darwin in the Northern Territories. Almost 75 years later on February 3rd, 2004 the railway was finally completed and The Ghan made its first trip all the way to Darwin.
Here is a video to catch a glimpse of what I will be enjoying and filming myself.
Do you like trains? What was the longest journey you ever took?