Recently I've been spending more time exploring my hometown of Halifax, Nova Scotia and more specifically I've been exploring it with my tastebuds. This past summer I did the Lobster Roll Challenge with my good friend Candice and my recent feat involved pizza. To be exact I was on a mission with Lindsay from Eat This Town to find the best gourmet pizza in the south end of Halifax aka SOMO.
We chose five different restaurants to make our choices from. Some were known favourites of mine and others were places I had yet to try pizza at before or had even dined at before in the case of Piatto. The plan was to try Margherita pizzas only so we could fairly judge and we definitely weren't disappointed.
Our first stop was the Italian restaurant Cafe Chianti on Barrington Street. Their Margherita came with the typical basil, mozzarella and tomato sauce but it also had a salsa verde dolloped here and there and peruvian sweetie peppers sprinkled about. I had never heard of peruvian sweetie peppers before but I found them quite delightful and they were a nice little burst of flavour. However if you are a pizza purist you might of been appalled at these added toppings on a Margherita but personally I quite enjoyed them. Also the pizza crust was unbelievably thin, almost cracker thin as Lindsay described it and it was quite unique compared to the others.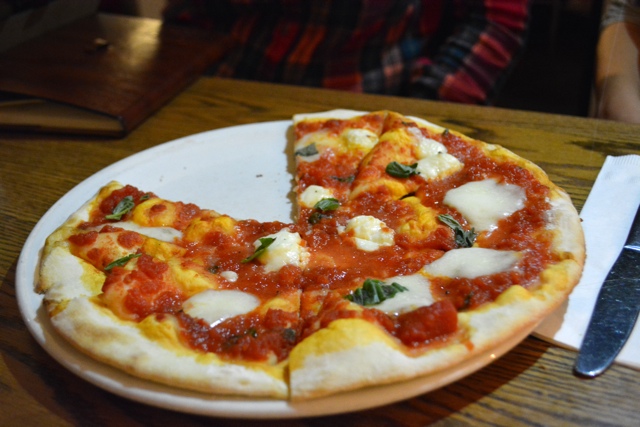 Morris East was our next stop just down the street and around the corner on Morris Street. A tiny location that always seems to be quite noisy and always busy. Every time I have been I have had a great experience and their pizzas always hit the spot, thanks in part to their wood fired oven. Their Margherita pizza was good, my favourite part was the large dollops of stringy mozzarella.
From there we moved towards the harbour down Morris Street to Piatto Pizzeria. Piatto makes the official of all official pizzas in all of Halifax as their have their papers and certifications from Naples, Italy. Basically this means that they are Italy grade certified pizza makers. I had actually just been in Naples a month before eating pizza so I was quite excited to have that level of tastiness and quality at home. This however, while yes it was tasty was nothing like the pizza I ate in Naples or anywhere in Italy. The crust was really fluffy and doughy and was kind of burnt as you can see above unfortunately. This was the type of pizza that I would need to have a second to give a fair judgement of it as they might of been having an off night.
Our fourth stop of the evening was down on the waterfront on Lower Water Street at Ristorante Amano. I am obsessed with their Pollo pizza so I was excited to try their Margherita. It was busy as usual so we sat at the bar which was the perfect place to sit as we got to see the pizzas being made and chat with the pizza chef. This pizza was everything I look for in a pizza. Nice and thin, crispy and full of taste. A bit floppy almost hard to make the decision if you want to eat it with your hands or a fork and knife but great nonetheless. Without a doubt however my favourite of the night.
The last stop of the evening was to the long loved and favourite pizza place of many in Halifax, Tomavino's Ristorante on South Street. We were getting full at this point but we dug in and battled on. The crust was really great as were the toppings however there was something off about it for me. We quickly realized somewhere in there was star anise. I loathe star anise. This indeed was unfortunate. The others loved it but it was not for me at all.
If I had to chose my favourite of the evening I would definitely go with Ristorante Amano which was a leading favourite of the evening. However don't let us make up your mind for you. Go on your own South End Halifax Pizza tour and tell us your favourites in the comments below!
Special thanks to MGyver and Talix for helping us devour all 5 pizzas.
To read Lindsay's thoughts on the quest click HERE.
To learn more and see more of our pizza quest enjoy our SOMO Halifax Gourmet Pizza Quest video!