The people of Jordan were some of the friendliest that I have met on my travels (Yes, I know I say that everyone from every country is the friendliest, but honestly they all are. It's not often that I have a bad experience with locals while I travel.). Being that Jordan of course is in the Middle East I will admit, that at first I had some pre-concieved anxieties about visiting by myself (even though I would be on a G Adventures group tour for the majority of the trip) also I worried about the food and what the people would be like. I had read posts by my friends Ayngelina and Kate and they had only lovely things to say about the people and their time spent there but I still had that fear of the unknown.
However after a few days of settling into this new country and having more than one nice encounter with a Jordanian, that still might be considered a coincidence, I realized that the people here were really very friendly. As I walked down through the streets of Amman by myself, shop keepers wouldn't bug me to enter their shop but rather they would notice I was foreign and instead would say "Welcome. Welcome to Jordan.". That was nice to hear.
Luckily for me a few of them even let me take their photographs.
In the ancient city of Jerash, this man dressed in traditional Jordanian clothing plays the bagpipes for visiting tourists. Who knew that bagpipes were popular in Scotland as they are in Jordan? This comes of course from the British influence.
A local looks to sell me grapes from his fruit stand….. oh wait that is just a mannequin in the Story Museum near Mt. Nebo…. ;)
A man sells souvenirs at a lookoff overlooking the Mujib Dam Valley in Jordan.
Sand art is a popular souvenir in Jordan with most people telling you they can make you personalized sand art with your name in 2 minutes time. This guy tried to convince us he could do it in 30secs. He was pretty fast, but not that fast. It was amusing to see him try though.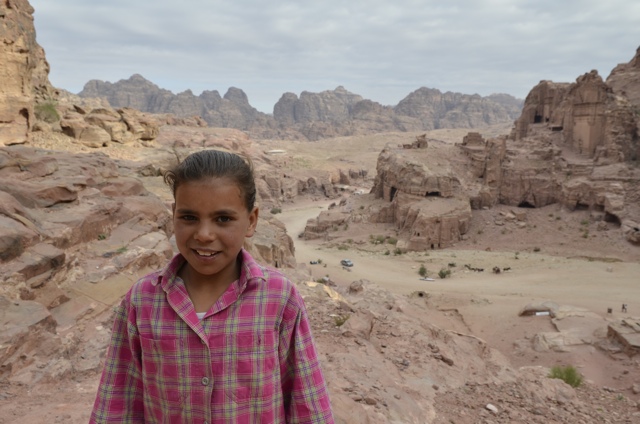 There were lots of bedouin children running around Petra, some begging for a biscuit while others sold 10 postcards for one dinar. I captured this little girl selling postcards on the steps going up to the view from the high place in Petra.
A bedouin woman looks out from the view at the high place over the ancient city of Petra.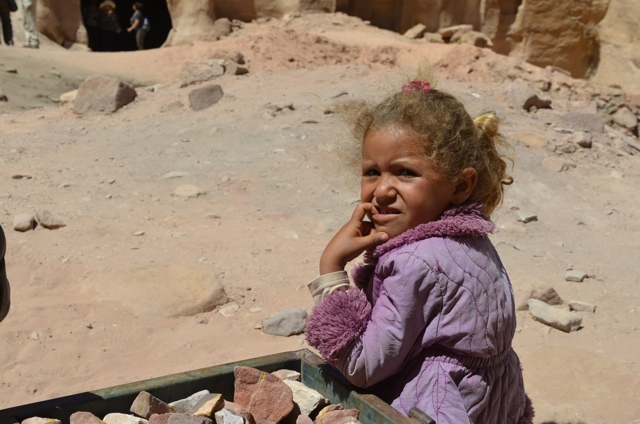 A young bedouin girl sells colorful rocks in Petra.
A young Bedouin man waits for tourists to ride his donkeys around Petra.
Camel. Not a person, but he was making a funny face so he had to be included.
Being served tea in a Wadi Rum dessert camp.This guy had really great eyes.
Being served more tea by a bedouin in Wadi Rum. In Jordan they drink A LOT of tea and I found it to be very tasty.
These two followed us around in Wadi Rum for a bit trying to convince us to ride their camels.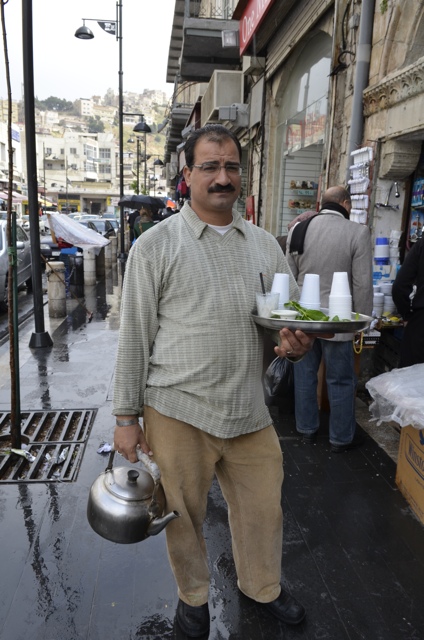 Walking around the streets of Amman on a rainy day I came across this man who walks the street selling hot tea with mint. I asked for his photo and then he gave me a free glass of tea refusing to take my money.
While visiting I asked my G Adventures CEO how many tourists visit a year and was told that before it was around 1 million but since the rise of conflicts in the Middle East over the past few years the numbers have greatly declined and now average around 150,000. This is very sad for the people of Jordan but it gives you an extremely good excuse to visit Jordan now. Get off your butt and go you won't regret it!
My trip was provided for me by the Visit Jordan Tourism Board and G Adventures. At no point did they ask for a favourable view, amazing photos or for me to explore this country with a childlike wonder or people so many kind and welcoming people. All views expressed as always are my own.