My friend Scott captured this photo of me holding a Sloth named Oprah while I attempted to take a self portrait of the two of us with my Samsung Galaxy SIII. Oprah saw her mirror image and got excited about seeing another Sloth.
It's animal week on www.TravelYourself.ca! This is the first post of many! I bring you the adorable, cute and curious Sloths!
In Costa Rica on the Caribbean coast in the small town of Cahuita is an amazing place called "The Sloth Sanctuary", where you guessed it, it is a sanctuary for Sloths. Open 6 days a week (closed on Mondays) the Sloth Sanctuary has tours available and is also a small bed and breakfast. You can take the Buttercup Tour named after the first sloth that started the whole Sanctuary and can still be seen hanging our there today or the Insider's Tour which includes the Buttercup Tour but you also get to hold not one, not two but several sloths! While there they had over 100 sloths that had been saved from danger and brought to them and I was able to hold them of all shapes and sizes and ages from 1month and older. Three toed sloths and two toed sloths.
It truly was an amazing experience to hold these creatures, I can hardly describe it. Hopefully through this photo essay you will see how adorable they are and perhaps you will want to donate to the Sanctuary or at least visit if you ever make a trip to Costa Rica and go on a tour which helps keep them running as well.
Probably my favorite Sloth of them all. "Oprah" was about 9 months old and was the cutest thing imaginable.
Second next cutest Sloth? Mojo. 9 months old but much smaller than the other Sloths, they say Mojo is an FTT Sloth. He has a "failure to thrive" and if it weren't for the Sloth Sanctuary he might not of lived as long as he has but is doing better each day and was so active and curious. Adorable.
When Sloths are in the wild they are solitary creatures unless its a mother raising a baby. This Sloth was so young when his mother died that he locks onto other Sloths that he shares a cage with that are a similar age to him as if they were his mother. Sad but adorably cute. This other Sloth just couldn't get rid of him.
An adorable baby Sloth from the Nursery at the Sanctuary out playing on the jungle gym became curious with my friend Scott's camera.
I couldn't get enough of Mojo hanging out in his incubator. He was so curious and almost jumped out of it!
Mojo being cute again.
This Sloth had a funny name – Sid Wiggin's named after the Sloth from the Ice Age movies "Sid" and  Wiggins because when he was first brought in his hair on top of his head looked funny like a wig. Sid Wiggin's is a three toed Sloth also known as a Bradypus Variegates.
A baby Sloth plays on his jungle gym.
This baby Sloth's name was Pumpkin and was less than a month old. It's believed Pumpkins mother was exposed to lots of farming chemicals and was essentially born similar to what we might call a Thalidomide Baby. He had just little flippers for arms and legs and most likely will loose one if not both of his eyes. Aside from these birth defects, thanks to the sanctuary he was eating and growing like there was no tomorrow.
Buttercup the Sloth. The mascot of the Sanctuary and probably the most photographed Sloth in the world. Buttercup was one of the first Sloths in the sanctuary and is who essentially started the whole thing.
One of the many Sloths being rehabilitated and hopefully successfully released back into the wild soon.
Sid Wiggin's smiles for the camera.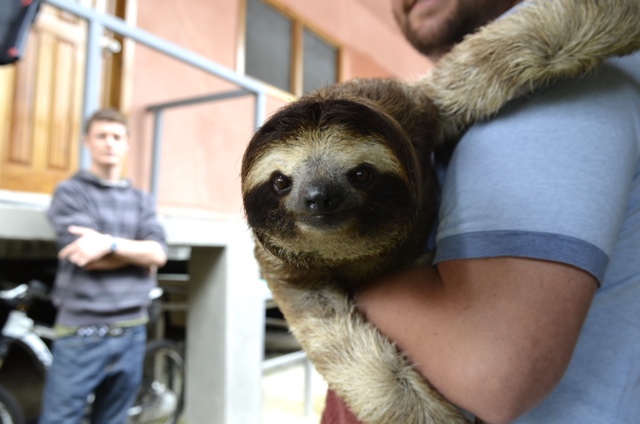 Sid Wiggin's gets a little curious.
The photo I took on my phone of myself and Oprah the Sloth.
A fuzzy funny photo of myself and the curious Oprah.
Sid Wiggin's attacks! Sure the Sloths are cute but their long claws can really dig into you as they hold on.
If you want to donate to the Sloth Sanctuary and help them with their research to better understand and help the Sloths check out their website www.slothsanctuary.com and you can also learn more about the Sloths and the tours available.
Special thanks to www.LatitudesAdventure.com who without my Sloth dreams would not of been able to come true! If you are planning a trip to Costa Rica or want help planning your trip contact them for the best experience possible in Costa Rica.