Now with three amazing theme parks Universal Orlando Resort is by far one of the best theme parks to visit with so much to see, do, eat, experience and explore! At minimum you should spend three full days there (four nights) with a park to park pass but realistically 4-5 days if you can. However if you are short on time and/or money then there are definitely some must do bucket list items that you should conquer when visiting.
Since becoming an ambassador for Universal I have been there quite a few times in the past year and have become somewhat of an expert on the parks. With my knowledge, insider info and keen sense on how to have fun I bring you the ultimate bucket list for Universal Orlando.
This list is a combination of everything in no particular order from the most epic to maybe even lesser known attractions, food and more. From the most popular, to things that are my personal favourites that I guarantee you won't regret.
1.  The ET Adventure Ride
I have to start with this old school throw back. The ET ride at Universal Studios has been around since 1990 and I am pretty sure it hasn't changed since. The ride is a dark ride, fully indoors and is quite mild. On the ride you and your friends ride bicycles with ET back to his home planet to help save his friends. It is a great little adventure ride and the kitschy robots, design, 80's nostalgia and special effects really make it the best. Would rate 5 out of 5 Reese's Pieces.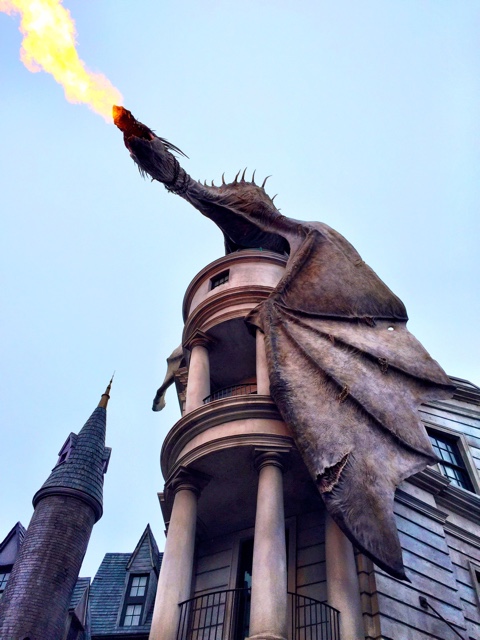 2. ALL THINGS HARRY POTTER
This is of course a no brainer. The Wizarding World of Harry Potter featuring Diagon Alley in Universal Studios and Hogsmeade in Islands of Adventure are definitely the top attractions at Universal right now. Without a doubt you must see and explore all things Harry Potter. If you can I recommend getting a magic wand from Ollivanders so you can do real magic in each location.
There are also a few Harry Potter themed rides. In my opinion Harry Potter and the Escape from Gringotts and Harry Potter and the Forbidden Journey are the best.
Insider tip: When riding Escape from Gringotts request the front seat for an awesome experience. Then if it isn't busy when you get off ask to ride again but this time request the back seats for an even crazier ride.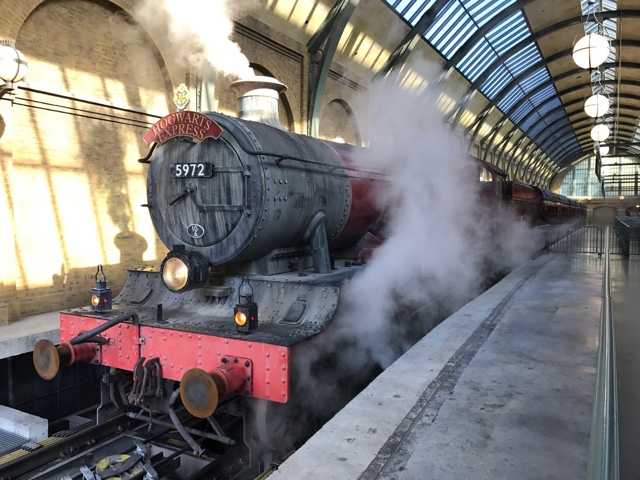 3. The Hogwarts Express
One of the cooler attractions that people often don't seem to know about. I have had friends visit and they didn't even really realize it was a thing. When you have a park to park pass you can ride on the Hogwarts Express to get you from Diagon Alley to Hogsmeade and back again. It is a fun journey on the train with crazy things happening all around you. From Hagrid flying next to you, to dementors in the hallways. I won't give it all away but it is a must do. Also it is a totally different experience depending on your direction of travel which makes it really cool. You also get to walk through the wall at platform 9&3/4, who would miss that?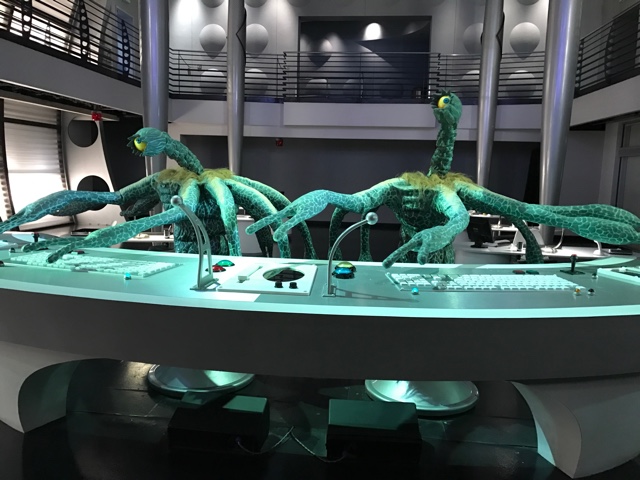 4. MIB
Another old school throwback that can't be missed, is the Men In Black ride. But it isn't just a ride it is also a game where you get to be a part of the action. You are enlisted to help the MIB, given your own gun and are off to shoot some aliens. If you shoot the most aliens by the end of the ride and get the highest points you win! It is the type of ride to just have fun on and scream at aliens at the top of your lungs as you are whirled around.
Insider tip: If you visit the MIB ride when you are on a VIP tour  you get to go down on the main floor and hang out with Idikiukup and Bob.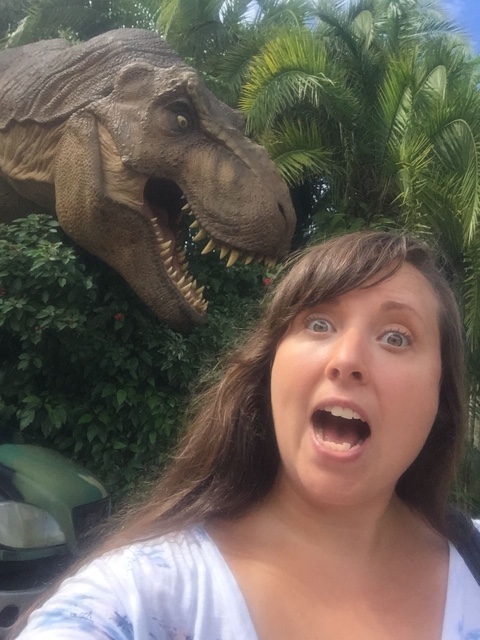 5. Jurassic Park
If you are a big fan of dinosaurs, then 100% the Jurassic Park area at Islands of Adventure should be on your bucket list. Here you can take a T-Rex selfie, meet a Raptor and if you are brave enough go on the flume ride, Jurassic Park River Adventure. This is also a great place to knaw on a turkey leg.
Insider tip: No matter what the ride operator tells you, no matter where you sit, you will get soaked.
6. The Amazing Adventures of Spiderman
The Spiderman ride is one of those rides great for people who are not fans of roller coasters but still want a thrill. (Similar rides are Transformers: The Ride 3D and Skull Island: Reign of Kong). What makes this ride so great is that it is a throw back to the original Spiderman cartoons. It's nice and cheesy and it's 4D!
Insider tip: See how many times you can count cameos throughout the ride by Stan Lee.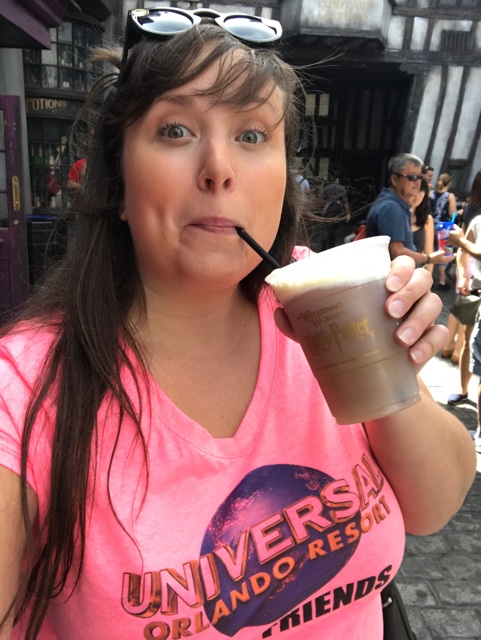 7. All Things Butter Beer
Made popular of course in the Harry Potter books and films, butter beer is probably the number one food in the Harry Potter parts of Universal. However did you know that there is more than just one kind of butter beer and butter beer flavoured things? You can get a standard butter beer that is fizzy like a soda or you can also get it frozen or warm! You can also get butter beer flavoured ice cream, butter beer fudge and even butter beer potted cream.
Insider tips: 1) The frozen butter beer is delicious but watch out for brain freeze. 2) You can avoid lines at the Butter Beer carts and also order butter beer inside the Hogshead pub, The Hopping Pot and inside The Fountain of Fair Fortune to name a few.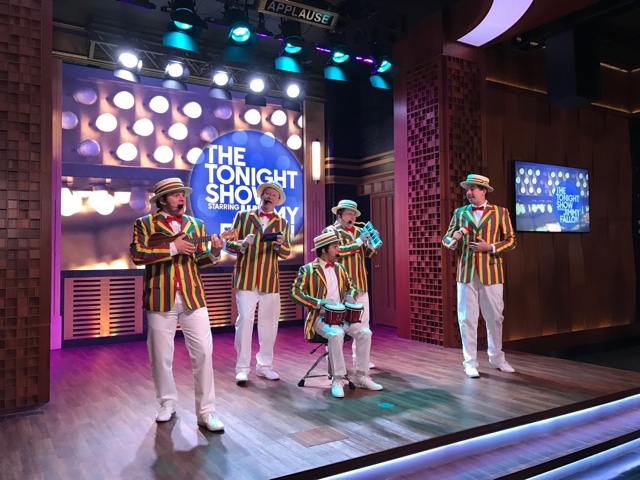 8. Race Through New York Starring Jimmy Fallon
One of the newest rides in the park, if you are a Jimmy Fallon / Tonight Show fan then you can't miss this ride. As soon as you step inside your adventure begins with a museum to all past Tonight Show hosts. Once upstairs you see a performance by Hashtag Panda and the Ragtime Gals before experiencing the ride itself. The ride is a 4D experience taking you all over New York and even to the moon!
Insider tip: See if you can count how many times Jimmy appears as different characters throughout the ride.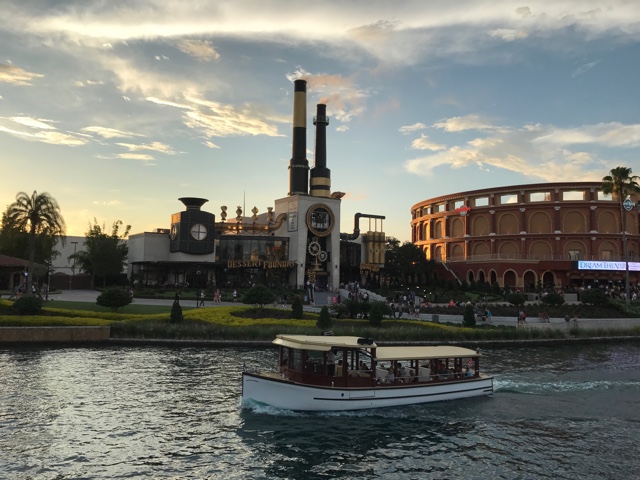 9. The Toothsome Chocolate Emporium and Savory Feast Kitchen
This is probably the hardest restaurant in all of Universal Orlando to get into as it is always busy. Part chocolate shop, part milkshake shop, part delicious restaurant, this is my number one suggestion for food at Universal. The menu features lots of chocolatey things from the bread to chocolate dipped bacon on a pork belly slider to coffee and chocolate stout chicken wings. There is a lot of chocolate there. But also tons of other non-chocolate delicious things. I would recommend the roasted brussel sprouts (my favourite) and totchos, their tater tot nachos. They also feature flatbreads, sandwiches, burgers, pasta and more. Read my Toothsome's review HERE.
The best thing on their menu and what they are most well known for are the milk shakes. With at least 13 different flavours the crazy concoctions could even be considered a meal on their own. My favourite is the salted dulce de leche with salted caramel ice cream, dulce de leche, salted pretzels, fresh whipped cream and chocolate cigars. YUM.
Insider tip: There is a milkshake bar so even if you aren't eating in the restaurant you can still walk in and order one.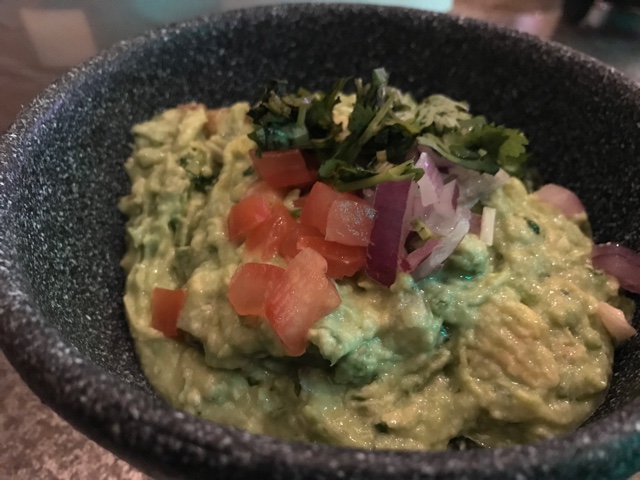 10. Antojito's Authentic Mexican Food
If I can't get into Toothsome's I head over to Antojito's. They feature live mariachi music and the decor is really funky, fresh and colorful with a Dia de los Muertos theme. They also have the best guacamole. The guac is freshly made at your table where you get to choose what goes in it. I could probably eat two full bowls of it myself. They also serve up great margaritas, tasty fajitas and tacos as well as yummy deep fried ice cream.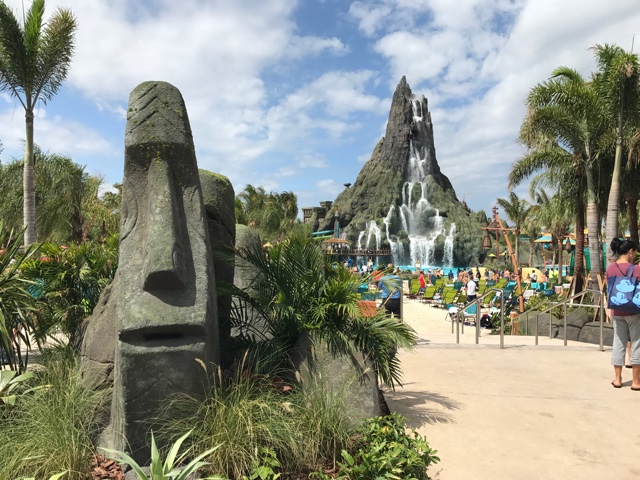 11. Volcano Bay
This park gets it own full mention on this list. Opened at the end of May 2017 the Volcano Bay waterpark is the third theme park at the Universal Orlando Resort and it is quite spectacular. Centred around the epic Krakatau volcano there are over 18 different water slides and attractions, delicious food and great loungers for laying in the sun. For the extreme you can ride on the Ko'okiri body plunge which drops you 125 feet at a 70 degree angle. Or for those who want to relax you can splash about in the huge wave pool or leisurely float down the lazy river.
Volcano Bay also features some of its own unique food. I recommend the Waturi Fusion soft serve ice cream with fruity flavours like banana, blue raspberry, and strawberry. For lunch I would suggest the mango BBQ pulled pork sandwich or the island chicken sandwich.
Insider tip: Get here the earlier the better to be the first in line. Also if you stay at the Cabana Bay Hotel you have your own private entrance.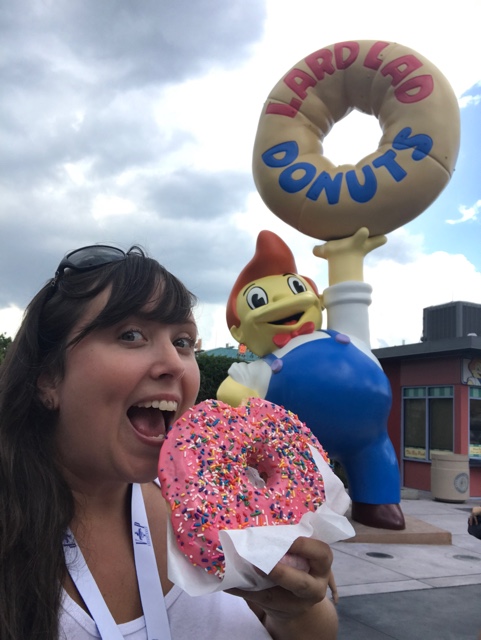 14. The BIG pink donut
All across Universal there are some epic foods to be tasted. One of the most fun is definitely the big pink donut from Lard Lad's in the Simpsons's land at Universal Studios. For every kid who grew up watching the show there is nothing like chomping into one these just like Homer would.
Insider tip: This thing is big.  Either buy it as a snack to eat right away or wait until you are leaving the park for the day to grab one so you aren't stuck carrying it around all day.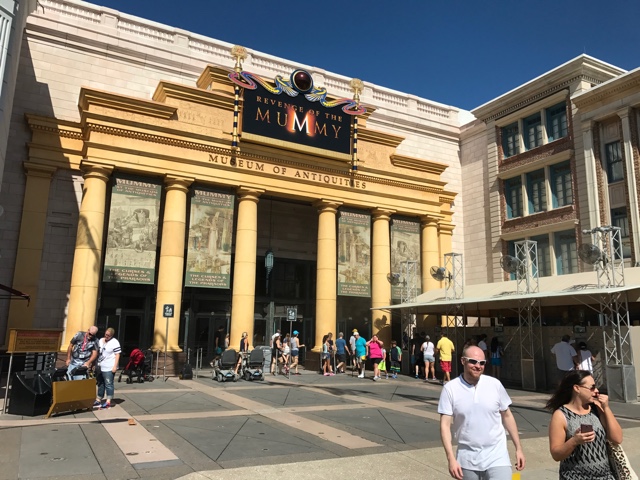 15. Revenge of the Mummy
This is currently my favourite ride in all of Universal. It has quite the involved story so if you have the time, stop to watch the video playing on the TVs in line. The ride is a bit scary, a bit cheesy and slightly hilarious after you had ridden it about eight times. Revenge of the Mummy is definitely a classic, and a ride I can't miss.
I am not a big fan of huge roller coasters, but I can deal with this. This is a roller coaster yes but there are no loops and the drops aren't that big. It also helps that it is indoors and nearly pitch-black so you don't really know what is happening either.
Insider tip: On some VIP tours you get to go behind the scenes and walk under the ride. Very cool.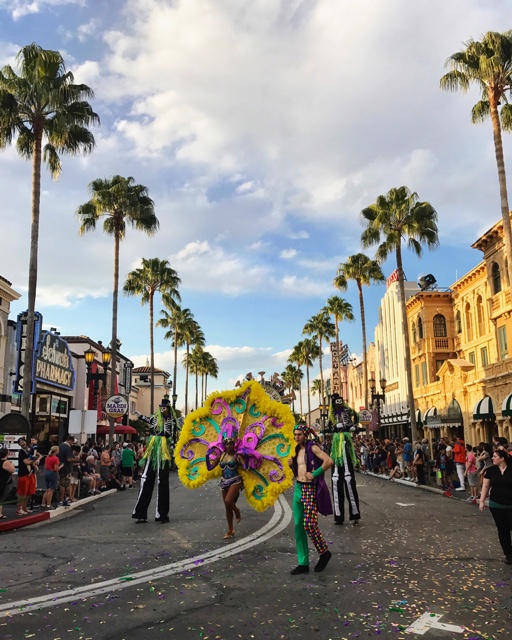 16. Special Events
Universal Orlando Resort is awesome every time of year but if you happen to visit during a special event it can be even better. However warning special events also attract way more people. Here is a list of some of the best bucket list worthy special events at Universal Orlando.
Mardi Gras – The biggest Mardi Gras celebration outside of New Orleans takes place at Universal Studios every February and March. Highlights include cajun cuisine, performances by some of the biggest names in music, and of course nightly Mardi Gras parades with crazy costumes, floats and all. If you are an on site guest you might even get the chance to throw beads from a float yourself!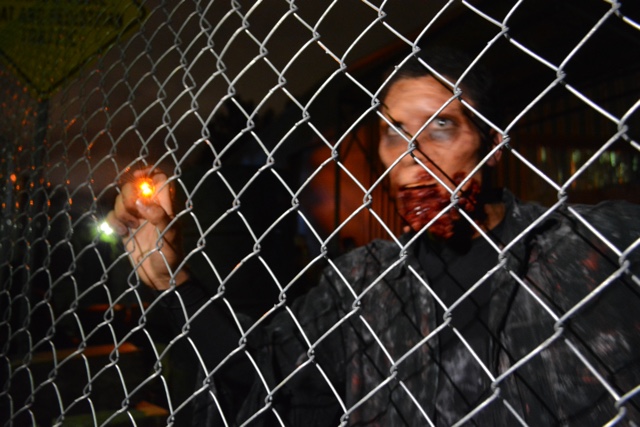 Halloween Horror Nights – On select nights from around the middle of Sept to the first week of November Universal Studios becomes one of the scariest places ever. As night falls the park is transformed into a place filled with horrors. With over 10 different haunted houses, scare zones and more it is definitely a must for those who love to be scared to death. I don't love being scared to death but I do love the adrenaline it gives you. I have been to HHN twice and have loved it.
Christmas / Holidays – Starting in November ring in the holiday season with the magic of Christmas in the Wizarding world of Harry Potter. Both Hogsmeade and Diagon Alley will be decorated for the holidays, feature holiday food from the stories and have unique live entertainment. There will also be a nighttime light show experience at Hogwarts Castle that you can't miss. Universal Studios will also feature the Universal Holiday parade with Macy's with floats featuring the Minions, characters from Madagascar, Shrek and more. Santa will be there too!
What else?
**Honorable mention to the Hulk and Hollywood Rip Ride Rockit roller coasters. I'm not a fan of rollercoasters so I left them off of my list, but I know they are fan favourites.**
I know this seems like I have pretty much just named everything that there is to see and do in the parks but literally there is so much more. Also all of it is so awesome that you just have to do it all!
Have you been to the Universal Orlando Resort? What are your big bucket list items for when you visit? Did I forget anything? Let me know what else you would recommend!
Thank you for Universal Orlando Resorts for having me as an official member of the Universal Blog Squad. As always all opinions, views and full bellies are my own.