If you are looking for one of the best high end luxury apartment rentals in all of London I highly recommend checking out the Cheval Residence's Thorney Court Apartments. Located near Hyde Park and Kensington Palace, the apartments are just a short tube ride from the Thames and from being right in downtown London.
If I ever stayed here again I would definitely have a LARGE party on this patio
Luckily for me I was upgraded to a two bedroom, two and a half bath penthouse suite with the biggest patio for a rental apartment/condo that I have ever experienced. If you are going to stay here you are going to have quite the amount of pocket change but if you can afford it I highly recommend it.
Enjoying a nice chicken parm and feeling at home in my apartment
The location is ideal with many grocery stores nearby including a Whole Foods. The concierge are friendly, quick and at your service 24/7. It's definitely nice when you travel as much as I do when you can go to a grocery store then cook* a meal for yourself in your own kitchen with every utensil imaginable. It is then doubly nice when you realize you don't have any salt and the concierge brings you a huge container of it in the blink of an eye.
*I may have bought the chicken parm at Whole Foods then just heated it in my oven, but you get the point…
A comfy king sized bed in the master bedroom with large windows
Lots of mirrors and storage in the master suite
My master suite in the apartment had a comfortable king sized bed, flat screen TV, lots of closet/storage space as well as a large window with a view of the neighbourhood. This apartment was so large that I am pretty sure had I been staying with someone else that they could have been yelling in the living room and I wouldn't have heard them all the way in the master bedroom. Extremely spacious.
The master bathroom is large with double sinks, tub/shower, bidet and towel warmer
The master suite also had its own bathroom with two double sinks, a bidet, towel warmer, tub/shower and more of the great smelling bath products that the Cheval properties always have. It is nice that they set you up with amenities just as if it was a hotel, the little things like a towel warmer and quality bath products really make a place and bring it together for me.
The second bedroom / guest room is also spacious and can be turned into two single beds
The guest bedroom also has a full sized bathroom
The second bedroom was a great size as well and its beds could be separated into two single beds if needed. It also had its own full sized bathroom with bidet, warming rack, tub and shower.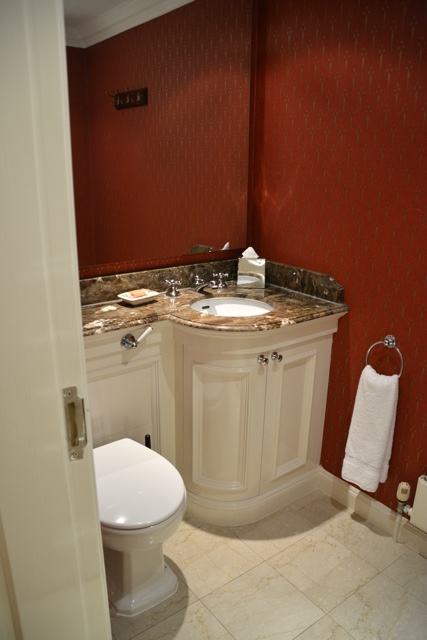 The powder room for visitors
The BEST shortbreads along with tea, granola and popcorn. A nice treat to receive when you check-in
Extras in the property include a powder room, great for if you have visitors to entertain keeping them out of your main bathroom. Also one of the things that I love most about Cheval Residences is that you don't come into the apartment empty-handed without any food. The property provides you with a few essentials so that you don't have to run out to the store right away. Various apartments that I have stayed in have provided me with bread, butter, milk, water, tea, coffee, biscuits, popcorn and granola.
The penthouse also has an extremely large kitchen with everything you could want
Another great thing about the Cheval Residences is that they don't skimp on appliances in the kitchen either. There is always a washer and dryer combo, dishwasher, full sized fridge, coffee maker, tea kettle, stove and oven as well as toasters, coffee makers and more. The drawers are also full of all of the utensils necessary.
The large and comfy living room
Porcelain dogs on the mantle place make you feel like a royal
A fancy dinning room 
Lastly my penthouse suite also had a large living room and a separate dining room area. Just imagine the parties that you could have in this place. The decor to me was very english and made me feel kind of like royalty especially the adorable porcelain dogs on the mantle piece.
For a more in depth look at this property watch my video review below:
 To book at stay at the Cheval Residences Thorney Court luxury apartment immediately check it out on
Booking.com HERE
.
I have also stayed at the Cheval Residences Phoenix House and you can see my review HERE and at the Cheval Residences Gloucester Park which you can view HERE.
My stay was hosted by Cheval Residences, however as always all opinions, views, and dreams conquered are my own.