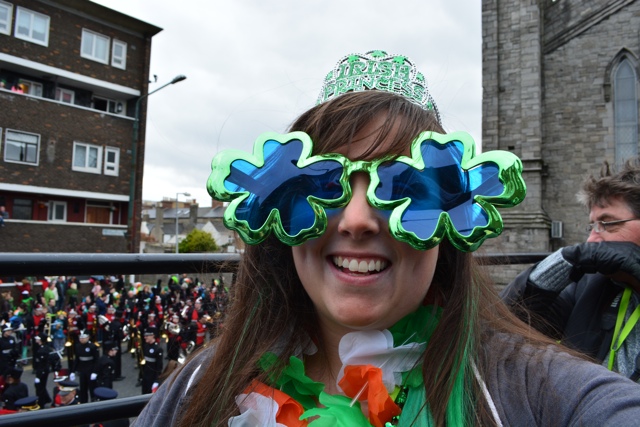 The Irish Princess… 
Celebrating St. Patrick's Day in Dublin, Ireland has always been something that I have wanted to do in life. I wanted to go partly because of my Irish ancestry and partly because I could only imagine how great of a party it would be. Dublin is definitely the best place in Ireland to celebrate St. Patrick's day. My trip was an amazing experience and I have created this post to share with you my best tips for celebrating St. Patrick's Day in Dublin, Ireland.
Before I get into the tips and tricks I learned for getting the most out of celebrating St. Patrick's Day in Dublin I must share some interesting history and facts about Saint Patrick himself and St. Patricks day.
A modern day St Patrick 
The History of St. Patrick's Day:
Who is St. Patrick?
Saint Patrick was a missionary and is believed to have brought Christianity to Ireland.
March 17th is the day Saint Patrick died in 461AD and is celebrated as a holy day of obligation. It is also a day to celebrate Ireland and now of course the love of the Irish and the craziness that ensues around the world.
St. Patrick's Day weekend is traditionally the potato planting weekend in Ireland.
St. Patrick's Day is a public holiday in all of Ireland as well as in Newfoundland and Labrador in Canada.
St. Patrick was born British and first visited Ireland when he was taken there as a slave by Irish raiders whom he later escaped from. After returning home he became a priest and later returned to Ireland to turn the pagan Irish into Christians.
Why is green the color of St. Patrick's day?
The color of St. Patrick was originally blue, but was later changed to green in reference to the shamrock he wore. The shamrock was used to explain the holy trinity to the pagans and it also relates to Irish nationalism.
What are the origins of St. Patricks Day?
St. Patrick's day began as a religious holiday and until the 1970s bars and pubs in Ireland weren't allowed to even be open on St. Patrick's day. Rumour has it that Americans are the ones who turned it into somewhat of a drinking fest and are the first to celebrate it with a parade.
The first St. Patrick's day parade in New York dates back to 1762 and it is the largest and longest in the world.
My view of the parade from the double decker bus that I got to ride on IN the parade!!
7 Best Tips for Celebrating St. Patrick's Day in Dublin:
1. Book everything far in advance. Like with any other big festival around the world like Mardi Gras in New Orleans, Carnival in Brazil or Oktoberfest in Germany people plan to visit these events far in advance. Book your flights and accommodations in Dublin as much in advance as possible. (See below for my hotel suggestions.)
2. What to wear on St. Patrick's Day in Ireland? The Irish love St. Patrick's Day and wearing everything green to celebrate. Bring ALL of your green stuff with you. Before you fly to Ireland go shopping and pick up green clothes and accessories.  There are many places to buy green things in Dublin but you can probably get them for cheaper at home. Also if you have it in advance you won't be scrambling at the tourist shops the day of.
3. Plan at least five days in Dublin. The St. Patrick's Day festivities in Dublin last longer than just one day. The 17th of March is the traditional holiday but leading up to the big day is the St. Patrick's Festival. There are so many more things to see and do in the city aside from just drinking and enjoying the parade.
Dublin's Christ Church lit up in green for the St. Patrick's Day festivities
St. Patrick's Festival Events Dublin 2019
Many iconic buildings around the city are lit up in green lights each night. Known as "Greening the City", take a stroll around town and check it out.
Have a few tasty bites of food and enjoy some delicious local brews at the the Irish Craft Beer Market.
Learn some Irish dancing at the Festival Céilí.
Solve clues and puzzles around the city as you explore some of Dublin's highlights while competing in the St. Patrick's Festival Treasure Hunt.
Take one of many walking tours around the city. My favourite was the food walking tour I did with Fab Food Trails.
Walk the streets and catch a street performers show or a busker doing something crazy and entertaining.
Watch the Irish University boat races on the river Liffey.
Burn off some Guinness in a 5k run on March 18th if you aren't too hung over.
Take in some musical and artist performances.
and a whole lot more!
Make yourself a leprechaun, as seen at a busker stall on Grafton Street in Dublin
Don't forget to drink Guinness!
4. If you are planning on going to the Guinness Storehouse while in Dublin, try to do this before or after the 17th. St. Patrick's Day is literally their busiest day of the year. Trust me going on any other day of the year it will be a lot less busy and your experience will be better because of it.
5. You don't need to get a spot in a pub early in the morning before it gets full. When celebrating St. Patrick's Day at home in Canada there are long lines outside of the Irish pubs in the city starting as early as 7am. If you aren't there early,  you might not get in. People go crazy for St. Patrick's Day, they start drinking ridiculously early in the morning and the majority of the people drink way too much. THIS IS NOT THE CASE IN DUBLIN. Or from at least what I saw. Also every pub in Dublin is an Irish Pub, so there are a lot more options for places for you to go. There is no need to get up early to hold a spot anywhere. Wake up, go to the parade, then head to the pubs.
Unlike at home I didn't notice any crazy drunk people until later that night and I had to go searching for them. I found MANY in the Temple Bar area. My advice to you is to not go crazy and waste your day drinking on St. Patrick's Day in Dublin. Get out, walk around the city, wear your green clothes and enjoy the atmosphere.
The beginning of the St. Patrick's Day parade on O'Connell Street
Can you find Waldo?
6. The St. Patrick's Day Parade in Dublin starts around 10am. My suggestion to you is to wake up early and hit the streets by 9am at the latest to get a good spot to watch the parade from. Over 500,000 people or more will be out watching the parade. The streets will be PACKED with people. Get out early to get a good spot. The best place to watch St Patrick's Day parade in Dublin is on O'Connell street or Dame street. Click HERE to see the parade map for the St. Patrick's Day festival parade.
7. Be prepared. On St. Patrick's Day it is best to explore the city by foot. It is hard to get taxis and there are tons of roads blocked off because of the hoards of people and the parade. It is best to wear comfy shoes and clothes. Make sure you are wear closed toe shoes. Late at night if you find yourself in the Temple Bar area it will be full of trash and bottles on the ground from the masses of people. Closed toe shoes help prevent any crazy injuries.
8. Go to an ATM the night before and grab some extra cash for food and drinks. Almost everyone will be searching for an ATM the day of so it is better to be prepared. Cash is also faster when there are big lines and things are busy.
Happy St. Patrick's Day! Sláinte!
With these tips you will be well prepared for this once and a life experience of celebrating St. Patrick's day in Dublin, Ireland. To find out more things to see and do in Dublin check out my video "Dublin In a Minute".
Where to stay in Dublin for St Patricks Day?
Here are my recommended hotels to stay in in Dublin for St. Patrick's Day:
Buswells for that old Europe charm click HERE.
For a more modern, hip and elegant hotel check out The Marker Hotel click HERE.
If you are traveling on a budget check out the Generator Hostel Dublin the best hostel in Dublin, click HERE.
If you liked this post, please give it a pin!
Special thanks to the Ireland Tourism board for making a dream of mine come true. As always all opinions and views expressed are my own.