The Giant's Causeway in Northern Ireland is a unique rock formation that juts out into the ocean on Northern Ireland's east coast. Facts about this UNESCO World Heritage site will tell you that the causeway is a 60million year old rock formation created by volcanic activity in the area. Irish Folklore will tell you it was part of a bridge to Scotland created by a giant named Finn MacCool. Either way it is really cool rock formations that you should add to your list of places to visit in Northern Ireland.
Here are my best tips for exploring the Giant's Causeway in Northern Ireland
My itinerary had me scheduled to be there for about two hours before a big day full of driving to castles, the nearby Carrick-a-Rede rope bridge and scenes right out of a TV show, like Game of Thrones. However I ended up going to the Giant's Causeway earlier than planned and in total I probably stayed for 4 or so hours.
That to me was still not enough time and I still didn't get to see everything there. Granted I was filming and taking a zillion photographs, so to the average person you might not need that much time, especially if you find rock formations boring. You could very well visit, take a picture ~click~ and be on your merry way and spend 20 minutes there. Or you could be like a kid in a playground and stay forever and not want to leave. Like me.
To make the most of your time whether you have 5 minutes or a full day here are some of the best tips that I learned on my visit for visiting the Giant's Causeway:
1. Stay overnight nearby
The Giant's Causeway is easily reachable on a day trip from Dublin in just a 3 hour drive. If you are staying in Belfast it is only a 1 hour drive by car. In my opinion spending the night in the Irish countryside near the Giant's Causeway is a much better option. This way you get to enjoy the countryside and you can go at your own pace.
While visiting I stayed at The Causeway Hotel and you literally can't find a place to stay any closer than that. It is located right next door to the Giant's Causeway visitor centre and the trail that leads down to the beach to get to the Giant's Causeway. Staying here also saves you money because parking and visitor centre entry along with a tour or audio guide are included in your stay. The park itself is free to visit.
For more Giant's Causeway accommodation recommendations jump down to the bottom HERE.

2. Get there early to beat the crowds
A lot of people visit the Giant's Causeway on tours from Dublin or Belfast, because of that it can be quite crowded between 11am and 3pm as they arrive. Since my hotel was so close I decided to wake up early and head down to the Giant's Causeway at 7:30am so that I could enjoy it to myself. I didn't head straight down though, rather I took the red cliff trail that goes above and around the Giant's Causeway overlooking it from above. I often stopped only the way to film, take pictures and enjoy the view, so I probably didn't get down to the actual shore until 8:30am. Surprisingly at that time in the morning there was already 1 or 2 other people down there exploring with me.
The longer I stayed at the Giant's Causeway the more people arrived. I visited in mid-May and the weather was a bit nasty so the crowds averaged around 30-60 people. Far from being overcrowded but I assume there would be many more people there in the summer months.
However to get some good photographs without a ton of other people in them, the earlier you go the better.

3. Take the red trail first
At the information centre they hand out maps which show the various trail options in the area. There are two main trails to take to get to the Giant's Causeway. Your first option is the Blue Trail which takes you straight down along a paved road and sidewalk. The second option is the Red Trail which takes you along the cliff tops above and past the Giant's Causeway and then leads you down a set of 162 steps, a long winding trail and then eventually to the rocks.
In my opinion I highly suggest taking the red trail first not only for the gorgeous views from above but also so that you can go down the large steep steps instead of going up them later if you decide to take the red trail back.
Taking the red trail first then the blue trail back also gives you a nice little circle route to follow.
If you aren't much of a hiker, it's raining or you don't have much time I recommend taking the shuttle bus. For £1 one way the shuttle is your quickest way to see the Giant's Causeway. The bus departs frequently from the visitor centre parking lot just through the short tunnel at the back of the building.

4. Be smart and stay safe!
Don't rush over the rocks, watch your step, don't climb too high and don't get too close to the water's edge. These are rules that should be posted around at the Giant's Causeway but they aren't. Be smart and use your common sense, especially if it has been raining and the rocks are wet. There are park staff in the area trained in first aid who also warn you if you are getting too close to the water or going too and can help you if needed.
Unfortunately while I was there an older gentleman fell and slipped on the rocks and smashed his face giving him a bloody nose but the trained staff were there to help him right away. They told me some days there aren't any incidents and other times there could be 5 or 6 trips and falls so be careful!

A freak hail storm
"May the road rise up to meet you. May the wind be always at your back." One of my favorite Irish travel quotes.
5. Dress warmly
While walking the red trail and exploring the rocks I experienced every kind of weather from warm sun to hurricane force winds, rain and even hail! (I was visiting in mid-May.) This was definitely one of those days where the Irish say you experience 4 seasons all in a matter of minutes. Be prepared with a jacket or windbreaker, maybe a scarf, and even rain gear depending on how long you are planning to visit. FYI an umbrella would pretty much be useless here.
Aside from just seeing the main formation of rocks there are also a few other unique things to see when visiting, like the Giant's boot rock formation and another area on the cliffside with rock pillars known as the amphitheatre.
Frequently Asked Questions about the Giant's Causeway:
How much does it cost to see the Giant's Causeway?
It is free to go to the Giant's Causeway as long as you skip going to the visitors centre. When you arrive in the parking lot head towards the small tunnel at the back of the visitor centre and it will lead you down to the rocks.
Depending on how you visit however you may incur some fees. To park at the top of the hill at the visitor's centre there is a fee, also for entrance to the visitors centre, for an audio guide as well as a 45min walking tour there are additional fees. These prices start at £8.50 for adults and £4.25 for children with family packages offered as well. If you want to take the bus down the hill and back it is an additional £1 each way.
Often people suggest parking at Bushmills and walking 2 miles to avoid parking fees or taking a shuttle from there to the Giant's Causeway. What's important is that you don't try to park on the side of the road as you will get ticketed and towed.
How long do you need at the Giant's Causeway?
30 minutes minimum, but I myself could have stayed there all day. If you want to bus down, see the rocks and go 30 min will do. If you want to walk the red trail, take in the nature and beauty and explore the rocks then you probably want to give yourself a couple of hours.
What is the best time of year to visit the Giant's Causeway?
The best time of year to visit is in the summer months as the Giant's Causeway is located right on the open ocean and it is always windy.  If you want to avoid the crowds, consider bundling up and visit in shoulder season. For the brave you could visit in the winter time as there would be much smaller crowds, but it would be very cold.
What are the best tours to see the Giant's Causeway?
Whether you are in Dublin, Ireland or Belfast in Northern Ireland there are plenty of options for tours to see the Giant's Causeway. For €60 you can take a day trip from Dublin to the Giant's Cause with PaddyWagon Tours. Not only will you see the Giant's Causeway but you will also see the carrick-a-rede rope bridge, visit the Dunluce Castle, you will have time to explore Belfast and more. For more information click HERE.
The most affordable option for tours to the Giant's Causeway from Belfast I would book with Allen's Belfast Bus Tours. With prices starting from €20 you can explore everything along the Antrim coast from the causeway to many castles, the rope bridge and even a visit to the Bushmill's Distillery. For more information click HERE.
If you are comfortable driving on the left side of the road you can also easily rent a car and navigate your way there as well.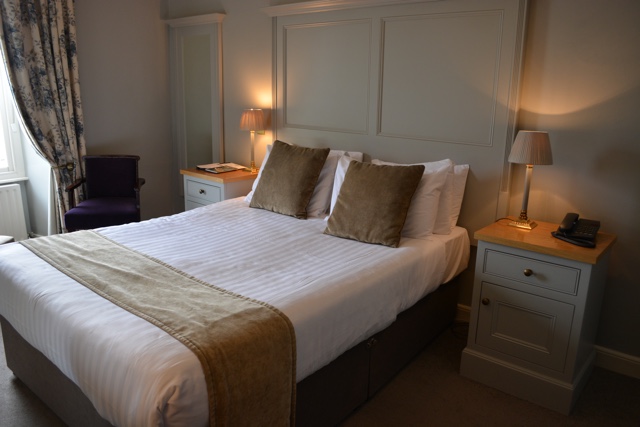 Hotels near the Giant's Causeway
The Causeway Hotel – Prime location, you can't get any closer to the Giant's Causeway. Parking and visitor entrance fees included in your stay. Book HERE.
Finn McCool's Hostel – The closest budget accommodation that you will find near the Giant's Causeway. Prices start at $37 a night. Book HERE.
The Pyjama Factory – High end 4 star property self catering apartment rentals. Located close to shops, restaurants and 2 miles from the Giant's Causeway. Book HERE.
The Giant's Causeway is one of the top attractions to see in Ireland. To learn more from my time there watch my newest video and tour the Giant's Causeway with me! 
Like my scarf that I am wearing in this video? It is a Speakeasy Travel Scarf and it has a secret pocket to stash my passport, money, and even fits my phone! They come in many colours, if you are interested in buying one for your travels click HERE!
Special thanks to Tourism Ireland for hosting me on this trip. All opinions and views expressed are my own.