Halifax, Nova Scotia is home to a popular and favorite "street meat-esque" dish known as the donair. The donair is loved by so many locals that in December 2015 it was actually declared the official food of Halifax. This declaration made Halifax the first city in all of Canada to have an official food. Being that I was born and raised in Halifax, I too am a fan, have been eating them for a long time and am excited to share it with you all.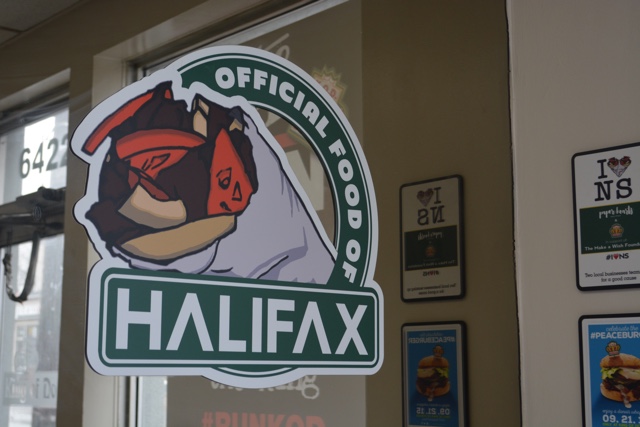 The donair is similar to the gyro, doner and kebab but is its own unique dish. Invented in Halifax in the 1970's the donair meat is made from beef and various "secret" spices. A quick google search suggests these spices might be pepper, onion powder, garlic powder, salt, paprika, cayenne and oregano.
The meat is cooked on a rotating spit, then is shaved off, and cooked again on a grill. A pita is dipped in water and heated up on the grill as well, and then the donair meat is placed on the pita and topped with onions, tomatoes and donair sauce.
The donair sauce is another thing that makes the donair uniquely different from other doners around the world. Made up of evaporated milk, vinegar, garlic and sugar this sweet sauce really brings the whole donair together. The pita is then folded and the donair is eaten like an ice cream cone.
This isn't the only way to enjoy the donair meat however it is also popular to eat on pizza, in a panzerotti, in eggrolls, in poutine and even on a sub bun open face grilled with mozzarella cheese. In recent years places around the city have been coming up with even more unique ways to enjoy the donair by making donair cupcakes, donuts, cake, soup and more.
Enjoying a donair with my King of Donair crown on
The donair is most popular with the after midnight crowd, often known as a drunk food. In recent years that stigma has begun to change and now it is more of a lunchtime or dinner food as well.
The donair is featured in everything from NatGeo to Archie comics
People have come from all over the world to try the donair including Anthony Bourdain. It has been written up in Nat Geo and was even featured on the local comicon-cover of an Archie comic.
Come to Halifax to enjoy one for yourself and to learn more about one of my favorite foods, watch my video HERE:
Special thanks to the King of Donair and Tourism Nova Scotia. As always all opinions and views expressed are my own as are my delighted taste buds and full belly.