Prince Edward Island is known as Canada's Food Island. Popular for its nutrient rich red dirt, potatoes, plenty of other vegetables and fruits as well as some of the best seafood in the world. After my recent visit in search of the best PEI oysters I think it should also be known as home to the best oysters in Canada or even the BEST oysters in the world!
I had previously visited in search of the Best Lobster Rolls in Prince Edward Island. While on that road trip I could not avoid trying an oyster or two. These delicious molluscs inspired my next road trip to PEI to find the best PEI oysters. I knew Prince Edward Island was home to tasty oysters but I hadn't realized just how many great oysters there were. Or just how large the oyster farming industry in PEI is. They harvest over 8 million pounds of oysters each year and grow 30% of Canada's oysters.
For my road trip around PEI I had three and a half days. I visited a couple of oyster farms, took an oyster cooking class and tried as many delicious Prince Edward Island oysters as I could. Part way through I lost count, but I think in the end I ate at least 70 PEI oysters if not more. It was a tough job but someone had to do it. Out of those 70 I ate at least 19 different types from various farms and producers around the province. After eating all of those oysters I don't even think I've tried half of what is available in PEI.
How to eat an oyster
Before we talk about the best PEI oysters that I ate lets go over how to eat an oyster. Naked is best so you can truly taste the merroir and saltiness of the oyster. (Merroir is to the ocean what terrior is to the land. The water the oyster grows in can really affect its taste.) Other additions tend to mask the taste of the oyster and then whats the point? Saying that though there are some lovely toppings that can be added.
I suggest getting multiple oysters of each kind so you can try each naked and then top the rest with whatever you like. Topping options that you will find around PEI include lemon juice, fresh grated horseradish, seafood sauce, hot sauce and mignonettes. My favorite is a rhubarb mignonette with some shallots. A mignonette is typically a vinegar based sauce with shallots and pepper. They are often infused with other ingredients like rhubarb, red wine, champagne or whatever you can come up with.
However you dress it the next step is tipping your head back and giving it a big slurp. If shucked right the oyster should slide right out nicely and into your mouth. Try to avoid getting shell pieces in your mouth if possible however often unavoidable. At the recent Halifax Oyster fest I saw a couple slurping their oysters from above. They would hold the oyster flat then lean over it from above and suck it straight up. It was an odd hoover manoeuvre but perhaps a cleaner way to slurp? This way you might avoid the dribble on your chin or shell mouth? Or maybe just no one told them how to do it properly? Whatever you do as long as the oyster ends up in your mouth you are doing it right.
NOTE: Some people often drip off the water that is sitting in the shell of the oyster. Don't do this. This water is the fresh salt water the oyster grew in and really adds to the taste.
Where to find the best PEI oysters?
Now that you know how to eat them here are some of my suggestions on where to find the best PEI oysters. There are over 800 oyster culture sites nearing almost 3,000 hectares of leased ocean space in PEI. But where can you try these for yourself? Well first you start with the farmers. On my visit I was lucky enough to meet two of the many PEI Oyster farmers.
Raspberry Point Oysters
At Raspberry Point I met with General Manager and Head Oyster Farmer James Power. Raspberry Point is owned by the famous PEI company Cows known and loved across the province and Canada for their cheese and ice cream. Who knew they were in the oyster business as well? Part of the production facility for Raspberry Point Oysters is located just north of Stanley Bridge, PEI. Here there are a couple of farms that you can see from the road and a processing plant. Currently it is only open to scheduled tour bus visits however you can find their oysters at various restaurants around the island.
While visiting Raspberry point I got a look into how they process their oysters and even visited a huge grading machine they use in North Rustico. I also got out on the water with James and learned more about oyster farming. They have a huge oyster farming operation in PEI and even harvest in the winter time, cutting through the ice to get their customers the freshest oysters.
Raspberry Point Oysters have multiple farms across the province and the oysters from each farm have different names because of their unique merrior. Then depending on the size and age they might have another name as well. Here are a few of the Raspberry Point Oyster brand names: Lucky Limes, Daisy Bay, Irish Point, Pickle Point, Raspberry Point and Shiny Sea.
Where can you find Raspberry Point Oysters? Sims Steakhouse and Oyster Bar, Water Prince Corner Shop and Lobster pound, Merchantman Fresh Seafood and Oyster Bar and Lobster on the Wharf all in Charlottetown. You can also pick them up to take home at MR Seafood and MacKinnon's Lobster pound. If you really fall in love with Raspberry Point Oysters they also ship Canada wide from their website.
PEI Oyster farmer George Dowdle offers up a fresh oyster straight out of the ocean
Green Gables Seafood Oysters
Green Gables Seafood is a smaller producer than Raspberry Point but they have been oyster farmers for decades. They produce three brands of PEI oysters: Green Gables, Cape Tryon and Fisher's Dream oysters. I had the chance to visit one of their farms in New London, PEI as part of the Table Culinary Studio Oyster Obsession cooking class. I also got to meet the Green Gables Oysters owner and farmer George Dowdle. Conveniently George's production facility is located across the street from the culinary studio.
As part of the class you learn everything you could possibly ever want to know about oysters and oyster farming. With George you get eat the oysters fresh from the sea shucked by the man himself. You also get to try George's homemade mignonettes, visit one of his oyster farms, and even learn how to shuck oysters yourself. Along with a professional chef as part of the cooking class you also learn some of the best ways to cook oysters.
Grilled oysters in the half shell with a black garlic cream sauce and bacon jam that we learned to make in the Table Culinary Studio's Oyster Obsession Cooking class!
We ate many oysters fresh from the ocean with George, then we also grilled and fried them. For the grilled oysters we topped them with a black garlic cream sauce and bacon jam. DROOL. We also deep fried the oysters to make Oyster Po' Boy sandwiches. The chef chose to make them with a corn flour which wasn't the best in my opinion. If they had been made with regular flour they would have been 100% fantastic.
Getting to spend that much time with George and learning about his process and history was really rewarding. The cooking class was a great experience as well, and now I can't wait to make more bacon jam. Delicious!
The Best Oyster Raw Bars in Charlottetown
If you don't have the chance to meet an oyster farmer or take a cooking class don't worry. There are still so many places and other opportunities to enjoy the best PEI oysters. Most likely if you are visiting Prince Edward Island you will be in the capital city of Charlottetown. Pretty much every restaurant in the city has an oyster raw bar with the freshest PEI oysters. I wasn't able to go to all of them but here is my list of the best oyster raw bars in Charlottetown.
Keep in mind that these restaurants tend to sell the best oysters available that day. So while I might have had one kind at a restaurant you could go another day and they would have totally different kinds available. If you are looking to try a certain type always be sure to call ahead before you go. No matter what you find, you will get the best PEI oysters imaginable.
When choosing a restaurant for oysters a good sign of their quality and freshness is if you can see them on display by the bar. Most likely you will see them on ice next to a list of what the restaurant has available that day.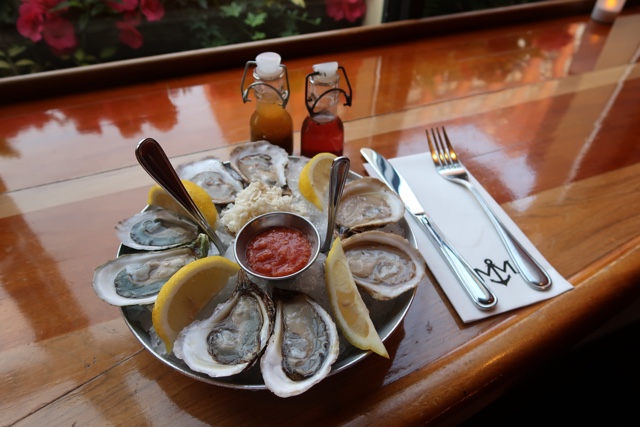 Merchantman Fresh Seafood and Oyster Bar
My first stop in Charlottetown was the Merchantman Fresh Seafood and Oyster Bar. Be sure to get a reservation before you visit as it can be quite busy especially in the summer months. If they are busy check next door at their sister restaurant called "MM Next Door", which serves a similar menu. Both restaurants have nice outdoor patios for nice weather days and each serve the same delicious oysters.
At Merchantman I tried two of each oyster they had that day. Their PEI oysters available were Savage Blonde, Red Head Select, Blackberry Bay and Dukes at $3 each. They were served with lemon wedges, seafood sauce and freshly shaved horseradish as well as a jalapeño sesame mignonette and a rhubarb mignonette. On their menu they also had baked oysters with spinach, breadcrumbs, butter and parmesan cheese at $4 each.
The oysters were delicious and fresh and the Savage Blondes were my favorite. I liked the baked oysters as well although they were a bit harder to eat as the cheese sticks them to the shell.
The Olde Dublin Pub
The Olde Dublin Pub is probably the best place in the city for buck a shuck oysters. They offer them daily from 4-6pm with purchase of a drink. The oysters they feature are Little Willy's and are small cocktail sized oysters. Although delicious buck a shuck oysters aren't necessarily sustainable and are not as great of a quality as other larger oysters. This is a great place to visit if you are trying oysters for the first time, so you don't spend too much if you aren't a fan. It is also an ideal location if you are craving a large amount of oysters as it is your best value.
Many people go to the Olde Dublin Pub just for the buck a shuck oyster so make sure you arrive 10-15 minutes before 4pm to get a seat and let your server know you are there for the oysters. Then you can place your order as soon as it is 4pm and get your oysters pretty fast leaving you time to enjoy them and order more if needed.
Located below the Olde Dublin Pub you will also find the Claddagh Oyster House. I didn't have a chance to visit here but they have a great oyster menu featuring six different oyster types daily and offer a premium oyster special as well.
Sims Corner Steakhouse & Oyster Bar
Sims Corner Steakhouse & Oyster Bar is one of the fancier restaurants in the city. They are known for their PEI raised beef and PEI oysters. While I was there they had six tpyes of oysters on their menu for $3 each. The oysters that day were Shipwreck, Gownbrae, Sand Dune, Pinette River, Cascumpec Bay and Island Kiss. I had previously had the Sand Dune oyster and I was starting to get oystered out at this point so I skipped that one and ordered one of each of the other oysters getting five oysters total.
The oysters were shucked fresh per order at the bar. They were quite delicious and were served with lemon, horseradish and seafood sauce. I also couldn't pass on the opportunity for PEI raised beef so I also enjoyed a great filet mignon, frites and a fancy cocktail. This was definitely my fanciest oyster meal on the island.
Honorable mentions for other oyster raw bars in Charlottetown: Water Prince Corner Shop and Lobster Pound, Claddagh Oyster House, The Gahan House.
Best Oyster Raw Bars in Prince Edward Island
You can find lots of great PEI oysters outside of Charlottetown as well. Here are a few of the great spots to add to your road trip list for the best oyster raw bars in Prince Edward Island.
The Landmark Oyster House
Located in the adorable seaside town of Victoria by the Sea, the Landmark Oyster House is a great place to stop for PEI oysters. Not only can you enjoy raw oysters here but also Oyster Po' Boys and even a Caesar cocktail with an oyster on top. (The Canadian version of a Bloody Mary.)
Explore the town, get a lighthouse selfie, enjoy the chocolates at Island chocolates then eat all of the oysters. The staff are very friendly and some of them even compete in the Tyne Valley oyster shucking competition so they really know their oysters.
When I visited they had six types of PEI oysters available, four of which were new to me. I tried the Goose Berry, Pearl Valley, South Lake and Sand Dune oysters. The oysters were $3 each or $32 a dozen. The Landmark Oyster House also offers a daily oyster special for $2 each from 3-5pm.
The oysters were fresh and delicious. Their take on the Po' Boy was also great, as was the Caesar cocktail with oyster on top that washed down nicely.
I also recommend swinging by the Lobster Barn for their delicious lobster roll located on the main wharf in Victoria by the Sea.
The Wheelhouse in Georgetown Restaurant
The Wheelhouse is located on the east coast of PEI in Georgetown. It is a great place to detour to if you are coming or going to the island by ferry. They have a great outdoor patio with a view of Geogretown Harbour and the Brudnell River where they get fresh Brudnell oysters from daily. Your oysters don't get much fresher than that. They also offer various other oysters from around the island. When I was there they also served Savage Blondes, (which are some of my favorites from my trip), and Colville Bay oysters. I enjoyed six oysters total for $16,50. You can order a dozen for $29 or 100 for $227. Or just $3 for one.
While at the Wheelhouse I also enjoyed their Fish and Chips and a fresh blueberry lemonade made from their very own blueberries. The Wheelhouse also operates the Terry's Berries Food Truck in Charlottetown. Visit them for their Salt Daddy Lobster Melt.
Malpeque Oyster Barn
The Malpeque oyster is one of the best in the world and was actually voted exactly that at the world's fair in Paris in 1900. The Malpeque oyster originates in Malpeque Bay, PEI and have been indigenous to the island for thousands of years. Due to disease in oyster stocks in the 1910's many of PEI's oysters were depleted. The malpeque oysters that survived were used to re-seed the rest of the island and replenish the industry. Because of that essentially all of the oysters in PEI are malpeque oysters.
At the Malpeque Oyster Barn they serve all of their own Malpeque oysters from Malpeque Bay that are called Malpeques. You can dine in and enjoy many oysters in various sizes shucked right before your eyes. Or you can also purchase them and other seafood to go from their seafood counter. The Malpeque Oyster Barn is open seasonally in the summer months.
They Malpeque oysters shucked in the restaurant are $13.95 for six or $23.95 for 12 for the small size. Or you can get large Malpeque oysters for $18.95 for six or $30.95 for 12.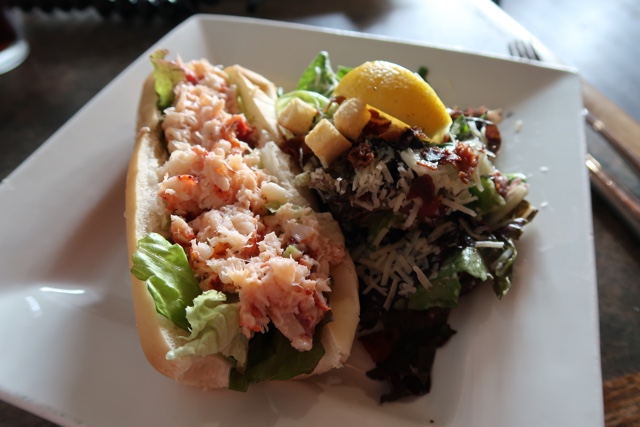 The Malpeque Oyster Barn has a few other items on their menu aside from oysters as well including mussels, haddock chicken burgers and more. On the menu you will also find a lobster roll which many people told me that I needed to try. The lobster roll came with a side caesar salad and was quite enjoyable.
Honorable mentions for other great oyster options around the island: Point Prim Chowder House, Blue Mussel Cafe, and Carr's Oyster Bar.
The Tyne Valley Oyster Festival
Held every summer in Tyne Valley, PEI is the Tyne Valley Oyster Festival and shucking competition. This just so happened to be taking place during my visit so of course I had to go. During the festival the whole area of Tyne Valley has oyster related events going on in the community from soapbox derbys to a music festival to even the Miss Oyster Pearl Pageant and more.
During the Tyne Valley Oyster Festival the Fireman's club also serves up fried oyster and scallop suppers. For $20 you can get a plate of fried oysters and scallops with potato, coleslaw and a bun. This also includes a drink and pie for dessert. Without a doubt these were the best fried oysters that I had on my trip.
At the oyster shucking competition anyone can enter to try to win the prized trophy. The winner gets to go to Ireland for the world oyster shucking championships. The great part about the shucking competition is the audience gets to eat all of the oysters shucked and thats a lot of oysters!
Of course the Tyne Valley Oyster Festival is only once a year so plan ahead now for the next one July 29th to August 2nd, 2020.
Another great oyster related event not to miss in PEI is the Prince Edward Island International Shellfish Festival. Taking place next year from September 17-20, 2020.
How much do oysters cost?
On average, everywhere that I ate oysters in PEI they were $3 a piece. This is a pretty standard price for oysters in most cities. If you get a baked oyster or a larger than normal oyster expect to pay a bit more for the time and effort put into it. $3 or more each might seem expensive but considering the time it takes to grow an oyster and all of the work that goes into growing them it is a more than fair price.
As mentioned above some locations do also offer oyster happy hours where you can get buck a shuck oysters. These oysters are smaller than the government regulated size. They also aren't sustainable for all producers and they can actually harm the industry. So if you can pay a little more and you will get better oysters and happy oyster farmers.
To learn a bit more about all of the oysters I enjoyed, watch my video:
After eating all of those oysters it's hard to say which were my favorite as I liked them all. I also learned that it is really hard to describe how oysters taste. You need an excellent palate to differentiate their delicate differences. I think my favorites were definitely the Savage Blondes and of course the Green Gables oysters, especially with the bacon jam and black garlic cream sauce. However every single oyster I ate in PEI was delicious and I hope you enjoy them too.
Hopefully my post and video will help you explore all of the delicious PEI Oysters for yourself. Let me know in the comments which are you favorites!!
Like this post? Pin it for later!!
Special thanks to the Tourism PEI for hosting me on this trip. All opinions and views expressed are my own as is my belly full of oysters.