The Wittenberg Aparthotel Amsterdam is one of the newest boutique hotels in the city. Located in a freshly renovated 18th century building it is a great spot to relax after a long day exploring. Whether you are visiting and looking for a holiday apartment, staying for a few weeks or visiting for business the Wittenberg hotel can easily cover all of your needs. Here is my review of the Wittenberg Aparthotel Amsterdam.
The check-in desk with the House Host
What is an Aparthotel?
The first question you might have is what is an Aparthotel? An Aparthotel is essentially a short stay apartment rental complex that is run like a hotel. As they say themselves the "Wittenberg combines the attentive service of a boutique hotel with the convenience and independence of residential living."
Specifically with the Wittenberg and other similar SACO Rentals, they require a minimum 7 night stay. Not only does this help them run the property more efficiently,  you get to know the staff, but also it is more environmentally friendly as less cleaning and change over is needed to be done with the rooms. Short stay apartments like this can also be cheaper than a regular hotel and offer more amenities than a hotel room. Definitely be sure to check them out when looking for Amsterdam holiday apartments for your next trip.
One bedroom apartment with high ceilings
Wittenberg Room Review
The Wittenberg Amsterdam offers 115 apartments in 13 various sizes from bachelor apartments all the way up to three bedroom apartments and even a small house. While staying I was in a one bedroom apartment on the corner of the building with a great view of the canals. The apartment was very spacious and brightly decorated with multicolored carpet and a big orange couch. Fresh flowers were on my dining table for two which they refresh for you often during your stay.
Dining table for two with fresh cut flowers
The living space, bathroom and kitchen in a one bedroom apartment. (The dining table is to the left and the bedroom behind me)
The apartment had nice high ceilings and accents to remind you of the building's history. My apartment also had a full kitchen with stove top, oven and mini fridge. A nice thing the Wittenberg does before arrival is filling up your fridge with some essential breakfast items like milk, tea, coffee, yogurt and more. I was also welcomed to my room with some traditional stroopwafels, yum!
The bathroom was small, typical to Europe, with a stand up shower and a great rain shower head. They also provided soap, lotion and shampoos like a hotel and fluffy white towels. A bonus item was the a hairdryer. Hotels almost always have them but apartment rentals sometimes do not, so it was nice to have.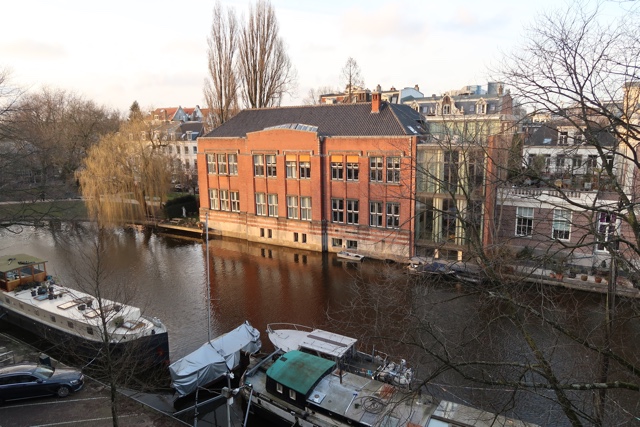 A view of the canal from my room
With your stay you also have access to free high speed wifi, TV with multiple channels and even Apple TV access. The rooms are not serviced every day unless requested. The front desk is open 24/7 however so if you need new towels or other items at anytime they can quickly bring them to your apartment.
Breakfast delivered to my room by Chef Nana a plant based culinary artist
Sprouted Rye Bread with tahini, avocado, watermelon radish and tograshi and a raspberry date bar by Chef Nana
Extra Hotel Amenities offered at the Wittenberg
There aren't any restaurants or cafes to eat at on site, but the property does offer services with local partners to provide various meals for you if booked ahead. The House Host (what they call the concierge) can an arrange breakfast from a local cafe and have it delivered to your room. They can also arrange items for dinner and can also stock your mini fridge with almost anything that you require.
Located on property there are also a couple private courtyards and a garden area for you to relax in. With your stay you also have access to a fully equipped gym and lounge. The Wittenberg is made up of two buildings connected by the Glass House. Inside the Glass House you will find the main lobby with a welcoming lounge area. Upstairs from the lobby in the Glass House is a bar area and lounge to meet in where the property often offers guest meet and greets as well as providing guests more info about the city and activities.
The two buildings that make up the Wittenberg from across the canal
Delicious pizza from the nearby by De Pizzabakkers restaurant
Where is the Wittenberg located?
The Wittenberg Aparthotel is located directly on a canal on the eastern side of Amsterdam in the Plantage district. The hotel is close to the city center which is a short walk, taxi or bike ride away. It is a quiet neighborhood with grocery stores nearby as well as some great coffee shops and places to eat. One of my favorite places to eat at when I stayed was across the canal at the De Pizzabakkers restaurant. Often busy at night you can dine in or take out and bring it back to your apartment. Their pizza is so delicious.
Three bedroom apartment with a loft
Other Rooms at the Wittenberg
While staying at the Wittenberg I also had the opportunity to view some of the other rooms. Since it is such an old building with a large history and originally built of other purposes many of the rooms are different from each other. Every other room I saw offered the same amenities but had various different layouts. Rooms on the higher floors had unique ceiling beams and circular windows, while other rooms have mezzanines and lofts. All of this of course adds even more to the charm of the property.
Enjoying the fresh flowers in my room
The Wittenberg is is kid and family friendly, however the furry friends have to stay home. To see a video review of my room hit play below:
I was a guest of the Wittenberg for my stay however as always all opinions and views expressed are my own.