(photo above: Myself and one of my favorite Aussies Beth with the Opera House.)
You might not know this, but I have been to Australia 6 times. Of those 6 trips 4 of them were from Canada and the other two were while in Australia I flew to New Zealand and back and then on another trip I flew to Fiji and back. In the next couple of months I plan on visiting again for my 7th time.
When I was younger I always dreamt of visiting the land down under and then in 2007 on my first trip to Europe I was on a Contiki tour with 30 Australians for 2 weeks. Suddenly I had 30 friends living all over the country, friends to visit and be my tour guides as I was just starting out on this solo travel thing. Some of those Australians actually became some of my best friends and from my returning travels I met even more Australians and other travelers that lived there helping me fall in the love with the country.
I've been up and down the east coast more than once and have spent a lot of time in Sydney. Even though its big and can be slightly expensive I have fallen in love with Sydney and its awesome skyline and of course the Opera House. I'm starting a series of posts about my love of Australia to get myself excited for my next trip there and this is just the beginning. Enjoy Me & The Opera House.
Me & the Opera House in April 2008, my first trip to Australia.
Me & the Opera House November 2008 on my second trip to Australia.
November 2008 wearing the horrible outfits they made us wear as we climbed to the top of the Harbour Bridge in Sydney. Another one of my best Aussie friends Henry and I.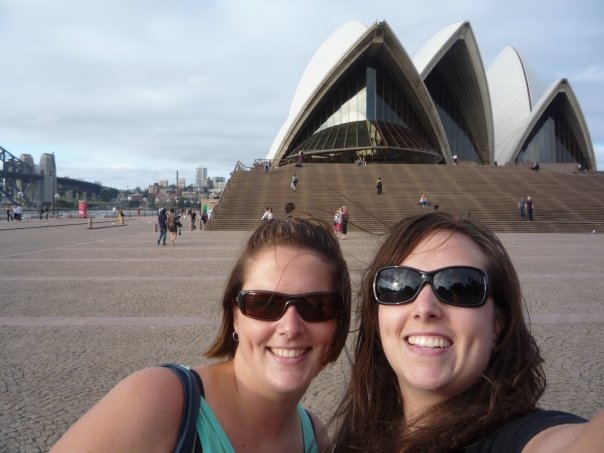 January/February 2009 I met up in Sydney with a Erin a Canadian friend from high school for some crazy Australian adventures.
January/February 2009 – My parents and sister who were now sick of me going to Australia so much flew over for a week to check it all out. My dad was in  AWE of the Opera house I tells ya.
Me & the Opera house February 2010 It looks pretty on a foggy day.
Me & the Opera House February 2010 – and it looks pretty on a sunny day Note: pay attention to shadows…
And now I leave you with one last photo of Sydney, Australia's number one icon. Hopefully soon I'll be sharing many more with you.
~Cailin