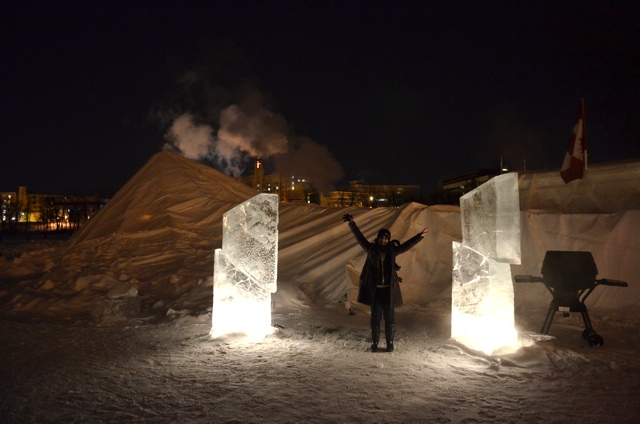 Illuminated ice sculptures mark the entrance into the tent / teepee of the Raw: Almond Restaurant 
It sounds like a fancy star studded event with ice skating, glitter and eating combined doesn't it?
What I'm referring to however is a one of a kind experience. Take away the stars, throw in some of Winnipeg's top young Chefs, remove the glitter and add some logs for seats, faux fur and a tent on a frozen river in the middle of a city and you have "Raw: Almond".
Raw: Almond is the brain child of Chef Mandel Hitzer (chef and owner of the restaurant Deer + Almond) and his friend Joe Kalturnyk a gallery director for the RAW art gallery in Winnipeg. Hitzer is known for a trend of pop up restaurants around Winnipeg and when he got together with Kalturnyk (also known for pop-up art galleries) they came up with the idea for a new pop-up restaurant. An idea that hadn't  previously  been done anywhere else in the world. They would create Raw: Almond, a restaurant at Winnipegs famous Forks where the Red River meets the Assiniboine River. But this restaurant wouldn't just be over looking the Forks it would actually be on the Forks, right on the ice. Open for only 21 days.
Raw: Almond has only one table that seats 20 people for a cozy community like experience.
Recognized by the Guinness Book of World records as the longest skating rink in the world when these two rivers freeze, they really freeze. Previously there have been warming huts along the river for skaters to warm up while skating and now there is the first ever restaurant on the ice of a frozen river.
Made of scafolding and poles and covered with a large tarp, Raw: Almond has a teepee like shape which covers a long table where dinners sit on logs for seats, covered in faux fur right on the ice, while multiple Chefs cook an amazing 5 course tasting menu at the back of the teepee where it is more of a square shape and is raised from the ground to keep things warmer. The fridges are used not only to keep things cool but also to keep things from freezing. Outside of the tent there are heated bathrooms connected to a generator to keep them warm.
Ayngelina and I meet Chef Mandel Hitzer, all bundled up.
Raw: Almond was the main reason for my visit to Winnipeg and it was one of the coolest (literally and figuratively) restaurant experiences I have ever had. The evening I went there with my friend Ayngelina it was -45 celcius with the windchill (a cold I have never previously experienced before in my life) and after scurrying onto the frozen river behind the famous Forks market we slid down the ice to the tent. Once inside we were greeted by lots of smiles and laughter and shots of whiskey and jäger to get us warmed up.
Chef Mandel Hitzer, along with Chef Aron Epp and others quickly plate the courses in their make shift kitchen, trying to get things out as quickly as possible before they go cold from the winters chill.
We were then served a unique 5 course meal while making new friends, instagramming everything and marvelling in the fact that we were actually sitting on the ice of a frozen river eating dinner. It was definitely an "unreal" moment.
The menu is a surprise and different every night with different Chefs from Winnipeg being featured with support in the kitchen from Hitzer himself. The night we were there our food was made by Chef Aron Epp from "Elements" restaurant in Winnipeg.
While there we were treated to the following:
The 1st course. Duck & daikon cake – bok choy, hoisin, foie gras, pickled radish
2nd course. Manitoba congee – bison, soft egg, smoked whitefish roe
3rd course. Pork belly – Yam, pickled mango, sesame, snap peas
4th course. XO Beef & black cod – Wasabi mash, creamed leeks, turnips, horseradish, carrots
The 4th course was probably my favourite of the night, even though I am not that big of a fan of wasabi the beef and cod were "cliché" melt in your mouth delicious. Also there is nothing like a hearty food like beef to warm you up when its cold outside/inside.
5th course. Carrot cake, goat cheese parfait, wild blueberry sauce, toasted walnuts, candied carrot chip, fennel greens, blueberry citrus dust
Doesn't that food look worth it to brave the cold temperatures? I loved the experience but am now lead to believe that ice fishermen must be nuts, sitting in small shacks for hours at a time on the ice like that. Hmmm… thats a good idea, maybe next year they should cut a hole in the ice where they can catch fish live in front of the dinners to cook up for the meal? You must admit, that would be pretty cool.
Check out this video by McLeans.ca to learn more about Raw: Almond :
This was the first year for Raw: Almond and it sold out quickly
however it is already being planned to be a yearly event in Winnipeg giving you one more reason to visit in the winter time. If you do ever get a chance to try out this unique experience I of course
highly recommend  you dress warmly
, even though heated it can still be quite chilly.
For more ideas for click through for a list of all of the best things to do in Winnipeg.
Thanks to Tourism Winnipeg and Travel Manitoba for inviting me to experience this great restaurant. As usual all opinions and thoughts expressed are my own as are the contents of my stomach.