Traveling around Maui, Hawaii I kept seeing signs for "shave ice" everywhere and a lot of people suggested to me that I try it. It didn't sound that exciting to me just some ice with flavored syrup on it similar to what we call snow cones back home. At the very least I knew it would be refreshing on a hot day, but I couldn't quite understand why it almost seemed to be like an obsession in Maui.
Until I tried it.
The first time going in to try the Shave Ice, I was by myself, I didn't have any guidance and I just got some ice with three different flavors of syrup on top.
This thing was huge.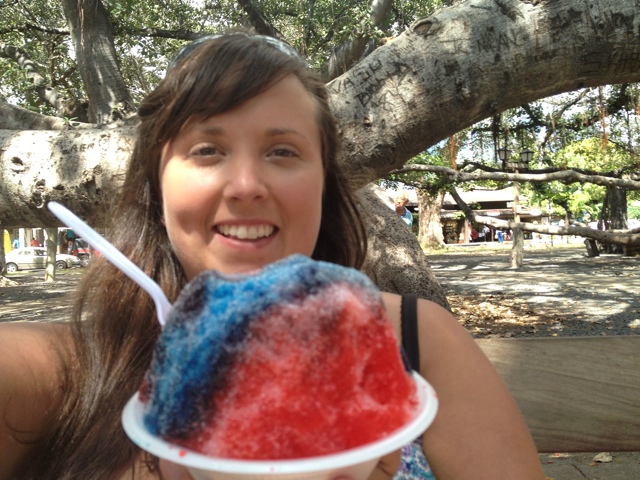 The thing was bigger than my head!
Immediately I noticed that the ice was a bit different than the ice in snow cones back home. This ice was of course "shaved" ice and was more like snowflakes where the stuff I had eons ago at home was more like ice pellets. I ate it. I tried not to make a mess and it was pretty good.
Later that day I triumphantly told my friend Wendy who arranged my trip to Maui with the visitors bureau about my success in finally having a shave ice.
Wendy then asked me "Did you get ice cream on the bottom?"
To which I replied "Huh? No way."
and then she asked "Did you get the Kauai Cream (sweetened condensed milk) on top?"
I hung my head in shame, as a newb I had gotten it all wrong.
I was then sent to the BEST place for Shave Ice on Maui called "Local Boys". Local boys was a bit tricky to find as I was expecting a big sign and storefront. Instead they were a tiny little kiosk facing the street in the Kihei Kalama Village area amongst some of the tour operator and souvenir selling kiosks. (They also have a location in Lahaina).
Look at all of the flavors!!
I went all out, I bottomed my Shave Ice with vanilla ice cream and had three syrups added to it, one of course being called "Tiger's Blood". (Honestly who wouldn't get Tiger 's Blood if they saw that as an option?). I then found a bench and enjoyed this tasty treat. This was no simple Canadian snow cone. This was SHAVE ICE.
Sadly I think it has ruined me from ever wanting to eat a regular snow cone ever again and now I'll be craving the day until I can get back to Hawaii and have another.
Have you ever tried Shave Ice? What did you think?
My trip to Maui was provided by the Maui Visitors Bureau. All thoughts and opinions are my own. At no point did they ask me to devour multiple shave ice for research.