While on a recent trip to Florida I stayed at the Renaissance Vinoy Resort & Golf Club in St. Petersburg and while laying by the pool one sunny afternoon I discovered THE BEST summer drink. Previous to my stay this drink had been recommended to me by a friend on one of my social media channels as a must try.
While lying by the pool at the Vinoy a server came up to take my order and he was surprised when I asked for the drink by name. "How did you hear about that drink" he asked. I explained how it had been suggested to me. It turns out that that very waiter was the one who invented said Arnie Palmer at that very hotel.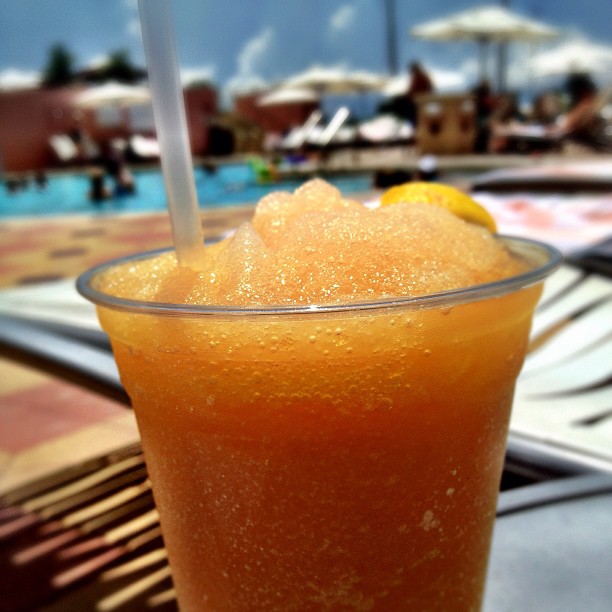 The Arnie Palmer is similar to the widely popular in the US – Arnold Palmer drink. Named after the famous golfer the Arnold Palmer is an equal mix of Ice Tea and Lemonade. The Arnie Palmer puts a little spin on this drink by not only adding some vodka (which is also often called a John Daily after another famous golfer) but the ice tea and lemonade mxiture has also been frozen so the drink is similar it a slushy or daiquiri.
Not too strong and extremely refreshing the Arnie Palmer is the PERFECT drink for lying by the pool in the summer.
Have you tried one? What is your favorite summertime drink?
My trip to the Renaissance Vinoy Resort & Golf Club by Marriott was sponsored. However at no time did they ask me to enjoy delicious drinks by the pool. As always all opinions and views expressed are my own.