In August of 2009 I spent two weeks in Spain visiting Madrid, Barcelona, Malaga, Valencia and Bunol for the La Tomatina tomato fight food festival all while filming the first episode of my travel TV show for www.TravelYourself.ca . While in Spain I had some of the best food of my life. An old Spanish man in Bunol made us an amazing salad grown in his own garden, he had even made his own olive oil. In Malaga I had the best Mojito of my life and had more amazing Spanish food made by a German friend of mine living there at the time. I fell in love with gazpacho and enjoyed my first taste of horchata. Oh and the paella and tapas and the seafood! I could go on.
Ever since that trip I've been dreaming of returning to Spain and my stomach has been craving a trip back. At home I've attempted to recreate the meals I had, I even might of brought a kilo of sea salt home with me from that trip… but still it's just not the same as the real thing.
And then there was Tenerife.
On my recent trip to Europe I ended up spending two nights in Tenerife an island in the Canary Islands which are of course, part of Spain.
I wasn't there very long but I was able to squeeze in two amazing meals.
First was at Restaurnte La Laja at the Costa Adeje Gran Hotel. I was joined by Linda of islandmomma.wordpress.com and the two of us were thrilled from the moment we walked in with the gorgeous decor and place settings, I was even impressed that the waiter held the chair for me as I sat (yes I'm easily amused). Linda was admittedly wary of the place at first as she is a "local" (British Expat) and doesn't often frequent the restaurants at any of the hotels but her ideas on that changed very quickly.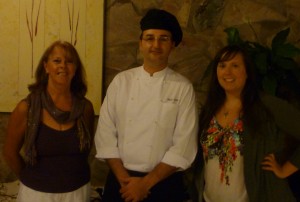 We got to meet with the chef who only seemed to speak Spanish but when it comes to food that is somewhat of a universal language isn't it? Not often have I had the experience of getting to speak with the chef of the restaurant I'm in so I asked for every suggestion from him on what I should have for each course and I wasn't let down. I'll let the photos do the talking from here.
Yes that is popcorn on my appetizer! The menu said "maiz" I assumed it would be corn, had no idea it would be popcorn, it was delicious!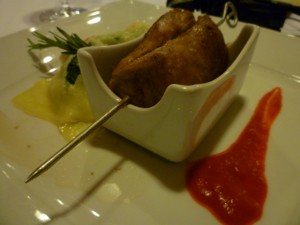 Main course after it was flambeed and before I ineloquintly made a mess at a fancy restaurant. (You can't take me anywhere.)
Dessert with their own ice cream om nom noms.
To say the least this was a great dinner, thanks again to La Laja for having myself and Linda for dinner. If you ever find yourself in the south of Tenerife make sure you stop by for a bite.
The second meal I enjoyed in Tenerife will have to wait for my next post. You can't have too much of a good thing all at once can you?
Have you visited Spain? Or do you have any "best meal ever" stories?
I received a complimentary meal from La Laja but as always all views expressed are my own.