When you think of typical English food not the tastiest or most exotic of items come to mind. There is the classic fish and chips or a Sunday dinner with Yorkshire pudding and a warm ale. However London, being the metropolitan city that it is goes above and beyond the traditional English food. Sure there is a pub on every corner but if you look a bit deeper you might be surprised with the various different kinds of food that the city has to offer and in particular in the east end of London.
Recently while visiting London I had the opportunity to take a food walking tour of the east end with Eating London Tours and I was quite literally blown away by both the typical English and non-English the food that was on offer.
London's best bacon sandwich
The tour began in the heart of London's east end in the Old Spitalfields Market, a convenient four minute walk from my Liverpool Street Tune Hotel. From there our first food stop of the day was at a restaurant called St. John Bread and Wine where we ate what is said to be London's very best bacon sandwich. After the previous night out that I had, had this was exactly the greasy, meaty goodness that I needed. Served with their own homemade ketchup, I only wished that the serving was a bit larger, but by the end of the tour I realized that it was just the perfect size.
Bread and butter pudding
Stop number two was at the English Restaurant, which is steeped in history and has been around in the Spitalfields area for a very long time, originally known as the Market Coffee House. Here we were served traditional bread and butter puddings. Originally known as a poor mans food, the dish was created as a way to use old stale bread. Served warm with a rum custard, you can almost taste the calories, this would be the perfect treat on a cold and rainy London day.
Our guide Oli teaches us some history about the neighbourhood 
As we digested we had a bit of a break with eating and walked around some of the side streets of the neighbourhood seeing a location where one of Jack the Rippers victims was found and learning about some of the unique architecture of the area. We also learned some interesting facts about why Spitalfields is called Spitalfields in the first place… but you will just have to take the tour as well to find out the answer.
Tasty cheddar cheese from some passionate French cheese mongers
Located directly inside of the Old Spitalfields Market our next stop was the Androuet Cheese shop which is home to 80+ farmhouse cheeses at any one time and over 200 cheeses annually. Owned by some of the most passionate french cheese mongers I have ever met, here we tried three different kinds of cheese, blue stilton, ogleshield cheese and the UK favourite cheddar. Cheddar cheese makes up 51% of the cheese eaten in the UK and it actually comes from a village called Cheddar located less than three hours from London. I had NO IDEA that there was an actual place named Cheddar and I now want to live there forever and ever.
The best fish and chips in all of the United Kingdom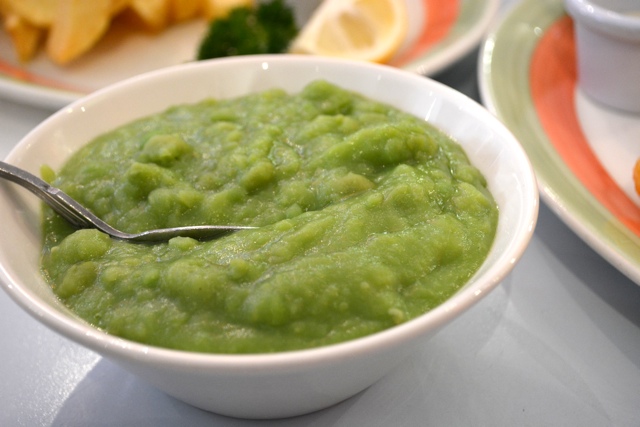 Ew! Mushy peas!
As the tour went on, a trend was starting to appear and that was that we weren't just tasting great food but it was the best London has to offer and the next place we visited wasn't any different. Poppies Fish and Chips was voted the BEST fish and chips shop in the entire UK, we loaded them up with malt vinegar and tartar sauce and dug in. They were delicious ( I even went back again on another day ). The only problem I had with them was that it was highly suggested that I try the mushy peas as well…. yuck. I tried a tiny taste, that is all I'll ever need again in my life.
Lenny
Following the fish and chips we headed for the Brick Lane area stopping to see more interesting architectural parts of the city and some of the areas best street art and graffiti. Finally it was time to wet our whistles, at the Pride of Spitalfields Pub. We walked in and said hello to the celebrity cat of the pub, Lenny the Pub Cat and then we enjoyed an English Ale and a tasty cider.
Vegetable curry bhuna on Brick Lane
You can't do a food tour of London's east end without stopping and enjoying some curry on the city's famous Brick Lane. With 55 curry houses on Brick Lane alone it is definitely hard to decide which one is the best however apparently one of the owners of the Eating London food tours took it upon herself to taste test the curries at every shop to determine who makes the finest curries of them all. The winner was a curry shop called Aladin's (they however pronounced it Ala-dean, and not like Aladdin from the Disney film). The same chef has been cooking up curries at Aladin's on Brick Lane for the past 25 years and he gets it right every time. We sampled the vegetable bhuna, lamb pathia, and chicken madras with a side of my favourite, warm naan bread. The meats were tender and juicy and the curries weren't too spicy or overpowering, it was just right.
The growing line outside of the ever popular Jewish Bakery, Beigel Bake
Peering in the window of Beigle Bake at the tasty bagel and salt beef sandwiches with mustard and pickles.
At this point many of us thought the tour was over, we were getting full and the curry was a nice way to finish it off but then our guide informed us that we still had two more stops to make. Off we went for another spin around the block, we saw some more street art and even a famous Banksy piece, eventually we came to a stop further down Brick Lane far from the curry shops. We were now standing in front of a Jewish bakery called Beigle Bake and there was a line of about 15 people coming out the door that just seemed to keep on growing as we stood there.
Open 24/7 Beigle Bake has been a popular staple in London's food scene for the past 50 years, freshly making their own bagels (beigles?) by hand daily along with many other breads and desserts. However the most popular thing to have on their menu is their bagels with hot salt beef, mustard and pickles. We each got to sample half a salt beef bagel and boy did that mustard have a tang to it. I can definitely understand why this place had a line going out the door. If you eat anywhere while visiting London you should put Beigle Bake at the top of your list.
Heaven. Salted caramel and chocolate tart.
A great food tour in my opinion ends with some tasty form of chocolate and the Eating London food tours got it right with our last stop. Oddly enough we headed to a pizza restaurant called Pizza East, not for pizza but for a salted caramel and chocolate tart. I am pretty sure that even though everyone on the tour, including myself, was extremely full at this point we could of all easily finished off a whole tart each to ourselves. This was heavenly delicious. I'm not sure the photo does it justice.
Overall my tour with Eating London was really great. There were bathrooms available at almost every stop on the tour and we always had water or some form of liquid available for drinking. Our guide Oli was really friendly and out going and it was obvious that he must be some kind of theatre major as his descriptions and stories were quite theatrical in the best of ways. If you don't have much time in London and are looking for something fun to do I highly recommend taking a tour with these guys, you won't regret it. Apparently they have more tours around Europe as well…. I guess I'll just have to try them all…
 Are you a fan of food tours? Where in the world is your favourite?
To see more of my food tour reviews click on one of these: Flavours of San Juan, Foods of New York, Savour Seattle, Rome Food Tour with Walks of Italy
Special thanks to Eating London for having me on this tour, all views, and opinions expressed and full bellies and happy taste buds as usual are my own.