If you know me and you know this site you will know that I LOVE food walking tours.
I've taken one in Seattle, two in New York, and even one in Puerto Rico. When I had the opportunity to do a Rome food tour with Walks of Italy I was beyond excited.
Previously the food tours I had been on focused on a variety of foods. With the tour I took in Puerto Rico focusing on more Puerto Rican foods which are typically lesser known with some of the things not readily available to eat or make outside of Puerto Rico itself. Never had I had the chance to take a food tour focusing on one of the most popular and most delicious foods in the world -Italian!
From delightful Olive oils and aged balsamic vinegars to fresh pastries, cheeses, gelato and cured meats this tour was an Italian food lovers dream, and I even got to make my very own pizza at the end!
My tour guides name was Simona, a friendly, passionate and knowledgeable Roman that knows how to enjoy great food like buffalo mozzarella. I met up with her and the group at Campo dei Fiori where there was a beautiful food market and from there we walked around the surrounding neighbourhood until our bellies were full.
The market in Campo dei Fiori.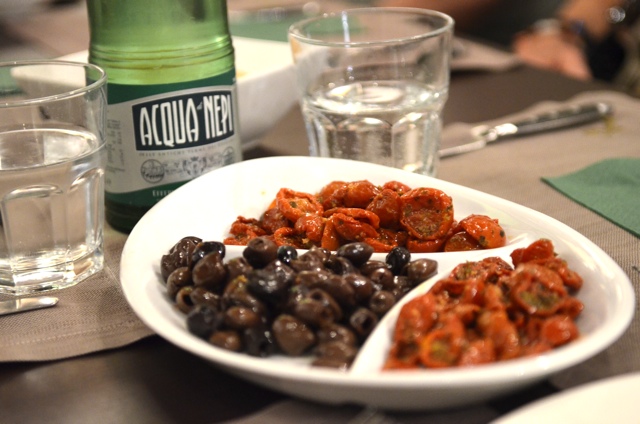 Tomatoes and olives for the tasting.
Buffalo mozzarella MEGA NOMS.
Parmesan reggiano… I might of had more than one piece…
Mmmm nectar of the gods, olive oil!
Simona hands out fresh bread from the bakery for us to taste test the olive oils and balsamic vinegars in the market.
Mmmm italian bread fresh from a bakery in Rome.
Sundried tomatoes from the market in Rome.
A plate full of delicious cured meats at the butchers near the market in Rome.
Window shopping at the bakery in Rome.
More bakery window shopping, tortine al pistachio.
Can you tell I was enamoured by the bakeries window display?
My very own Roman pizza, cooked by moi! 
And of course we had to finish off with gelato!!!
The Rome food tour with Walks of Italy was the type of food tour that after it is finished you go back to your hotel and have a nice nap. The tour group was small and a nice size, there wasn't too much walking and there were a few convenient options for washroom breaks along the way. If you love italian food and happen to find yourself in Rome, this tour should be at the top of your list.
I was a guest of Walks of Italy for this tour, however they did not request a favourable review nor ask that I eat so much delicious food that I almost made myself sick but boy was it worth it.