It's ANIMAL WEEK here on Travel Yourself – so far this week I have already shown you photos of adorable Sloths in Costa Rica, Giraffes in South Africa and I have given you a learning lesson on The Collective Nouns of Animals on Safari. Today I bring you KOALAS!!
Even before I had ever visited Australia I was in love with that country, the kangaroos and of course the Koalas. My earliest memories of liking Koalas go back to a stuffed animal Koala / hang puppet that my sister had when we were kids that she affectionately called "Hi Teddy". But Koalas aren't bears!! Silly, Meghan. Any way the point is I have liked loved them for a very long time and one of  the main items on my list when visiting Australia for the first time was? Seeing koalas!
My first visit to Australia was in April 2008. I went on a Contiki Tour down the east coast of the country from Hamilton Island to Sydney. On our way down we visit the Currumbin Wildlife sanctuary and not only did I get to see Koalas but I got to hold one!
Lets just say I was a little more than excited… Currumbin is actually one of the only places in the country where you can hold them. In the whole state of NSW its illegal to hold them and in the whole country at the Zoos and Currumbin and similar places each koala is only allowed to work 30mins (or some small amount of time like that) a day. Because of course strangers stress them out and they sleep 18-22 hours a day as well.
Previous to visiting Currumbin near to Surfers Paradise we had visited the small town of Noosa. A surfing town they are also known for their wild Koalas that can often be spotted hanging out in the trees. I tried my hardest t find one but all I saw was this sign.
Cute sign! But I would of preferred a real Koala spotting. I have now been to Australia 7 times and I still have yet to see a Koala in the wild. They are elusive I tell you!
On that same trip in April 2008 I visited the Taronga Zoo for the first time and while you can't hold or touch the Koalas there for a small fee you can get up really close to them to have your picture taken. At first I thought it was too expensive just for a picture, and you couldn't even hold them. I think it was $20. But as soon as I saw them I quickly changed my mind and I was happy about my decision as you can tell.
Aren't they just adorable?!
On my third trip to Australia in Jan/Feb 2009 my family visited as well and one of the first things I did was take them to Taronga Zoo to see how awesome it is and of course to meet the Koalas.
Awww Koala family photo!
They have a hard patch on their backs that makes it more comfortable for them to sit in the trees and wedge themselves in for a good nap.
In April/ May 2012 I went back to Australia for my 7th time and of course got another photo taken near a Koala because if you haven't figured out by now… I'm a crazy person.
But it was worth it because this time I had a very nice camera with me (my Nikon D5100) and I was able to take these photos of the adorable Darwin.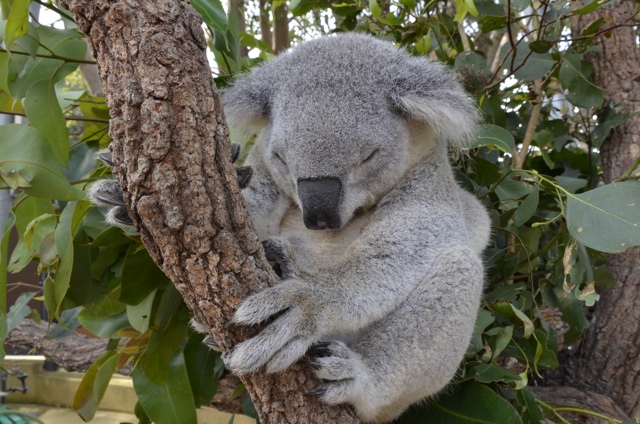 He looks so soft and fluffy! It took everything I got for me to not just jump up and give him a big hug. Even though you might want to when you see a Koala for the first time, please don't. For a few reasons 1) You will stress the poor guy out 2) They are cute but their claws are MEGA sharp 3) They kind of smell funny. Truth. They have a brown smelly patch of fur that they rub on trees to mark their scent and its kind of yucky smelling.
Have you ever seen a Koala up close? What is your favorite animal that you have seen on your travels?