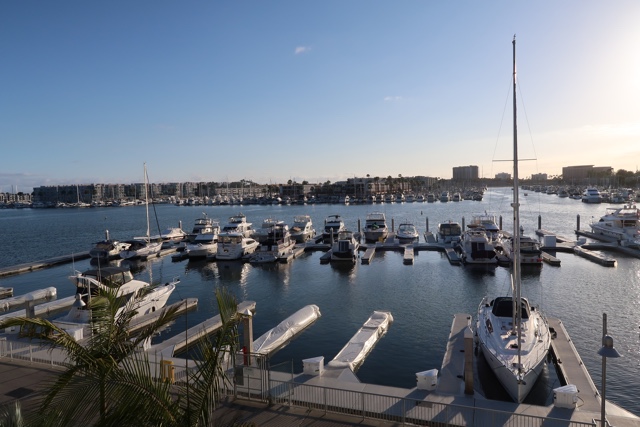 The Marina del Rey Hotel is located in Marina del Rey, Los Angeles which is the world's largest man made small craft harbour. The hotel is located less than 4 miles from LAX and less than 2 miles from Venice beach, making it the ideal beachside location in LA. I recently got to stay there and loved it. Here is my Marina del Rey Hotel Los Angeles Review.
Marina del Rey Hotel Los Angeles Review
The hotel is located almost right in the middle of the marina at the very end of Bali Way. The building is a somewhat Y shape which maximizes the views of the marina from most rooms. After going through a $25million renovation in 2015 the hotel is really fresh and modern feeling with fully updated amenities. It has a nice beach-y / marina vibe to it with lots of white and blue throughout the design of the rooms, hallways and main areas.
With both LAX and Venice Beach a 15-20minute drive away it is an ideal oceanside location to stay in when visiting LA. Central LA, Koreatown, Downtown LA and the more "touristy" areas are a bit further away, but nothing more than a 30min uber ride. While there I visited Universal Studios Hollywood and did a Warner Brothers Studio tour on two separate days. It is a bit of a longer and more expensive drive to get to them from the marina. If you have plans on going there I would suggest staying somewhere closer. If you are traveling with friends/a group and they are must see locations for you then its not that bad of a price to pay and share to then get to come back to a beautiful seaside hotel.
What are the Marina del Rey Hotel Rooms Like?
I stayed in a Marina View King room with a gorgeous view from the balcony of the marina. The room had a split bathroom with the sink separate from the toilet and shower. The closet was also in the bathroom across from the sink, which is a good use of space in the room. The rest of the room was quite spacious with a comfortable king sized bed.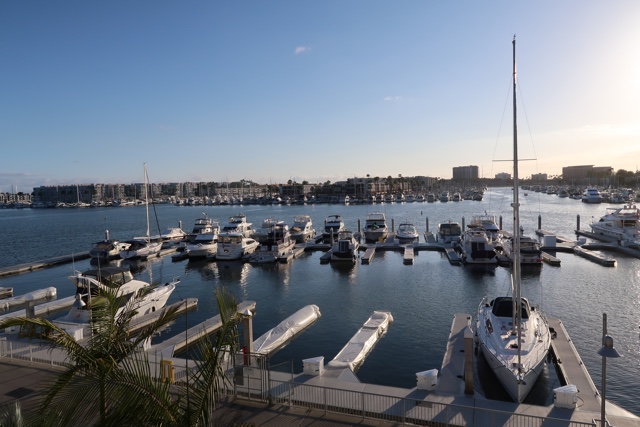 The view from my balcony of Marina del Rey
Next to the bed there was a chair to lounge in and also a desk to work at if needed. The room features a 55″ LED HDTV, large sized mini fridge and on the desk were snacks and a couple of drinks for a fee. One of the most impressive things in the room however was the Amazon Echo Plus.
Technologically Advanced
The first thing I noticed when I walked into my room made me so excited. Sitting on the desk past the TV and mini bar amenities was an Amazon Echo Plus with Alexa. (check it out HERE). Yes I'm a nerd, but it was so exciting to have one of these in my room. My Echo dot at home is the best and I honestly miss it when I travel, mostly because I always have random questions to ask.
I had never seen a hotel before with one of these and I think it is so smart to have in a hotel room. Some people might be worried about them and how they listen all the time, but if that is the case for you then just unplug it. Be kind to the next guest though and plug it back in before you check out.
This isn't just a regular Echo Plus however. Aside from doing most of it's normal functions (it can't shop on your account or use many added skills though) it also has extra hotel features. The Echo could tell me the hours of the hotel's restaurant Salt and even recommend some of the best dishes like the avocado hummus and lobster pasta. It was also able to check out for me with a simple voice command. This took me a couple tries to master.
Speaking of technology, the hotel also offers free wifi which is surprisingly easy to connect to. Having a first name that is often misspelled and a last name with an apostrophe in it, hotel wifi can often be frustrating to connect to for me. However I was easily connected on multiple devices here.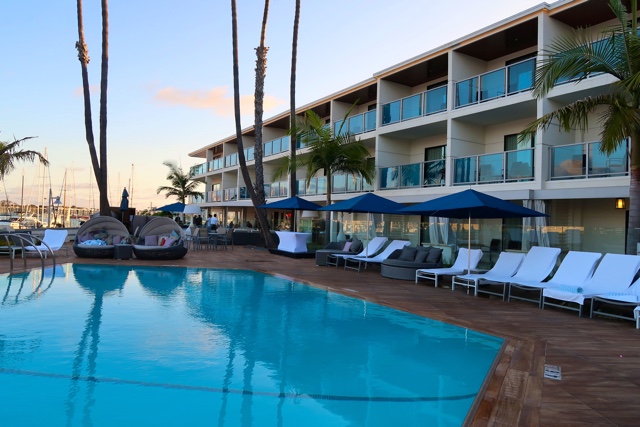 Poolside
The hotel also features a heated outdoor pool, hot tub and sun deck with views overlooking the marina. You can lounge in a deck chair or enjoy one of the cushy cabanas. The pool also features its own menu of snacks from the Salt restaurant and bar as well as a nice selection of cocktails and even bottle service. On Sunday's in the summer months they also feature a "Sunday Boathouse" pool party on with a DJ, dancing and more.
image credit Marina del Rey Hotel
Huevos Rancheros and Dungeness Crab Louie salad at Salt Restaurant & Bar
Salt Restaurant & Bar
The hotel's restaurant Salt was a very popular spot during my stay. The restaurant features a great bar area for casual dining and a nice dining room for relaxing. It also features a great outdoor dining area with the best views of the marina. On chillier nights you can also cozy up next to one of the fire-pits or snuggle into a provided blanket as you enjoy drinks. They say the menu features fresh Californian cuisine with as much locally sourced ingredients as possible.
image credit Marina del Rey Hotel
Avocado Hummus
A popular menu item is the avocado hummus. The lobster pasta sounded quite delicious to me as well. The restaurant also serves a great daily breakfast including steak and eggs. On weekends they serve brunch and bottomless mimosas and Bloody Mary's. Room service is 24/7 and the menu varies on the time of day but features many great items from Salt as well.
image by visitmarinadelrey.com
Free Shuttle
When I checked into my hotel room I was given a map of the Marina and surrounding area. One night while figuring out where to go for dinner I noticed something on the map that said "free ride route". It turns out the whole marina area, not just the hotel, offers a free shuttle around the marina. All you have to do is text them at 323-435-5000. Tell them where you want to go and they will pick you up in a small 5 passenger electric vehicle. It is a really great and convenient service. Don't forget to tip if you can. I texted them and they happened to be at my hotel right then so I ran downstairs and jumped onboard and they took me right to the Cheesecake Factory! Don't judge me, we don't have them where I live and I wanted something fast and cheap.
Bike Rentals
With Venice Beach and the Santa Monica Pier being both so close by the best and cheapest way to get there is by bike along the waterfront. The hotel also offers cute Marina del Rey bikes for a small rental fee. If you are subscribed to Bird they are often seen around the property as well if you are looking for a little scoot. Bicycles are $5 an hour, $15 for 4 or $25 for the day.
Filming Location
After staying at the Marina del Rey hotel I found out that the hotel and marina have often been filming locations for movies and TV shows. This is LA after all. The Marina del Rey was used as a motel in the TV series Dexter. The TV show Ballers with Dwayne Johnson used the hotel as a location too along with Miami Vice, CSI Miami and more. Even though this isn't Miami. Even the banana stand from Arrested Development was filmed nearby in the marina.
Next time you visit LA I definitely recommend checking out the Marina del Rey hotel. To see more from my visit watch my video review:
Interested in staying here? Pin this image for your travel planning!
 I was a guest of the Marina del Rey hotel for my stay however as always all opinions and views expressed are my own.