While visiting Maui recently I was an Instagraming machine. Whether it was beautiful lush landscapes, fruity drinks or tourists dressed in funny Luau costumes I got a snap of it. Here are some of my favorites from the trip.
Art work on the wall of the Wailea Marriott in Maui. Art by Maka'ala Palmore.
A view of the Serenity infinity pool overlooking the ocean from my private cabana at the Wailea Marriott.
Upside down jellyfish at the Maui Ocean Centre, I've never seen or heard of these guys before!
My first Mai Tai ever in Maui! 
The morning view from my room at the Wailea Marriott.
Organically grown arabica coffee at the @oofarm in Maui.
The view overlooking the Haleakalā Crater aka House of the Sun.
Hiking through the @HILandTrustWaihe'e refuge in Maui today :)
I visited the 'Īao Valley in Maui to see the 'Īao Needle. A vegetation-covered lava remnant rising 1,200 feet from the valley floor.
Matching outfits to the Luau anyone? Seen in Maui tonight at the @FeastatLele
I took a tour on the Maui #seemaui @AtlantisHawaii submarine yesterday. Not only did we see a ship wreck but we also saw a moray eel! You can see his head sticking out of that big pipe. Eeeeee!! Such a cool experience.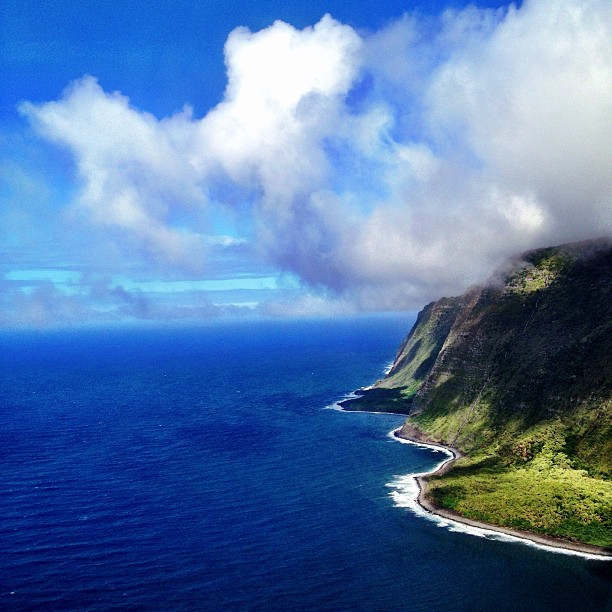 I visited the Hawaiian island of Moloka'i today near Maui #seemaui by Helicopter @hawaiianhelo. These cliffs are the tallest sea cliffs in the world, some reaching over 3,000 feet tall.