I have written about La Tomatina before and I still get questions about it so I decided to make this list of the top ten tips for attending and surviving La Tomatina from my experiences.
First a brief overview of the famous festival. Taking place on the last Wednesday of every August for the past 50+ years in the small town of Bunol, Spain a 45min train ride from Valencia.  That morning the small 9,000 person town swells with 40,000 extra people who  pack the streets waiting to throw 11 dump trucks worth of tomatoes at each other for one hour. Sounds crazy and insane, which it is but it is also a lot of fun. La Tomatina should be on everyone's bucket list and be a definite must do for everyone at some point in their life.
La Tomatina isn't for the faint of heart or for the claustrophobic. If you are planning on going and you follow my ten tips then you are guaranteed to have a great time.
1. If in Valencia depart from the Sant Isidre train station.
Luckily for me I visited Bunol the day before La Tomatina and made the mistake then of going to the main train station to get a train to Bunol. Three confused Spanish people later, I realize that I must go to a different station to get to Bunol. Odd that it doesn't leave from the main station but don't make that same mistake. Take a taxi or walk to Sant Isidre train station to get the train from Valencia to Bunol for La Tomatina.
2. Wear old clothes
This one is a given, your clothes will be covered in tomatoes (that is if they don't get ripped off of you (see tip #4). Tomato juice is extremely hard to remove, but also you will be sticky, hot and sweaty so instead of trying to clean that mess just ditch what you can. Or a fun idea is to buy a festival shirt and wear it during the fight then keep it stains and all as  your souvineer and that way you don't have to give up any of your favorite clothes.
3. DON'T wear flip flops
As soon as the tomatoes hit the ground you can say bye bye flip flops and if you are partial to your favorite pair you may end up holding them in your hand and that just isn't fun when there are tomatoes to be thrown! I even saw one person who had duct taped them to their feet and they didn't last. Go to Walmart or somewhere similar buy some cheap sneakers or wear an old pair. You will be in a slop of tomatos half way up your leg, you will not be wanting to put these shoes back on again. Also it is safer to wear sneakers so you don't go sliding under a truck or step on something that a flip flop just wouldn't protect you from.
4. Watch out for the shirt rippers
Through my small bit of research I haven't heard too much about the shirt rippers but be warned they do exist. A lot of people arrive early (see tip #5) and while wasting time until the tomato trucks drive through they might have a few drinks and may become slightly rowdy. Some of these people think its fun to rip the shirt right off your back however they can, as hard as they can. I had an aerial view of the streets before the fight and I saw anywhere from 10 to 20 guys in a gang in an open part of the crowd just attacking anyone that walked through their circle and ripping their shirts off. For the most part they only ripped guys shirts off but unfortunately I also saw them rip a girls shirt off. So pay attention and keep your head up. It's unfortunate that these few people have to ruin such a fun activity but be aware and you should  be just fine.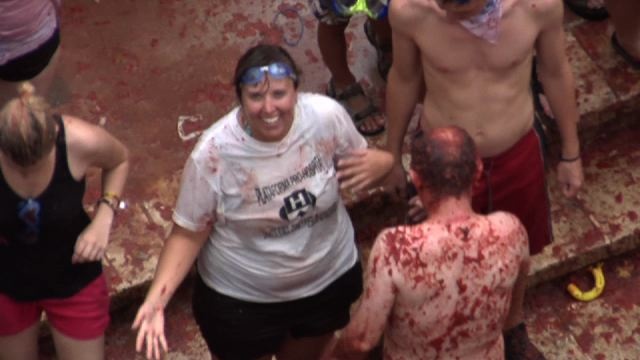 5. Show up early
The first train leaving Valencia is around 630am and gets you there in 45minutes or so depending on how crowded the train is. When I stepped off the train this small town was already full of thousands of people partying in the streets, music blaring and locals selling sangria and beer right out of their front doors. The streets of Bunol are very skinny so it is also important to show up early and make sure you have time to search and find the right spot. Near the Town Hall is one of the best locations for the fight and if you don't want to be right in the mess but want to be near by then stand in the square next to the Town Hall for great views and a few tomatoes.
6. It's a 15 minute walk from the train station.
When you get off the train station in Bunol there will be all kinds of people around but don't let that fool you as that is not where the tomato fight takes place. The main street where the dump trucks roll through dumping their tomato filled load is about a 15 minute walk (down hill thankfully) into the town. All you need to do is follow the crowds and when you start seeing buildings covered in tarps and mesh to protect them from the tomatoes you know that you are in the right spot.
7. Stay hydrated
This is a very hot time of the year in Bunol and if you show up early you want to make sure that you are able to survive the fight and have your strength to throw as many tomatoes as possible. Bring a plastic water bottle with you and you can always refill in the aqueduct located at the back of the square next to the Town Hall, but be warned people will most likely also being throwing the water on you and everyone else around, but its quite refreshing!
8. Don't bring anything with you
There will be nowhere to leave your bag and there will be no way to protect your belongings unless you stand far back from the tomato filled streets and that just isn't fun. Bring yourself, a bottle of water, a water proof camera and your throwing arm. That is it and that is all you need!
9. Smush the tomatoes
This is the biggest rule that they want to enforce at La Tomatina. No one wants to get hurt and no one wants to hurt anyone else so make sure you smush the tomatoes in your hand before you throw. Smush, throw, smush, throw, repeat.
10. Have Fun
The fight lasts only an hour as 11 dump trucks filled with tomatoes spoiled and left over from the harvest are dumped into the street and thrown at thousands of people. You will be having a good time and it will be over before you know it like all good things. Take a million photos, make some awesome videos and get messy. When the siren sounds that the fight is over either head to the near by river to wash off or head back towards the train station where you will find outdoor showers set up, then check La Tomatina off of that bucket list of yours and plan the next big trip!
To learn more about the La Tomatina Tomato Fight Festival watch my video!