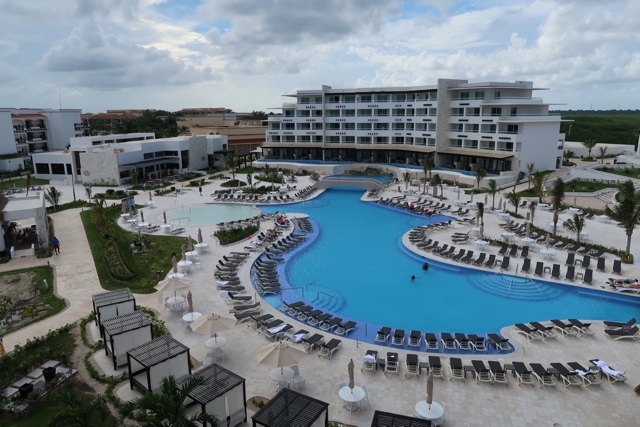 When you take a vacation down south to a destination like Mexico and the Caribbean there are a few key elements that you are looking for your hotel to have. Lots of beautiful pools, located on the beach, with delicious food and drinks. After having spent a few nights at the brand new Ventus at Marina El Cid I can tell you that it has everything you need and more.
Ventus at Marina El Cid Spa and Beach Resort Hotel Review
Located on the Yucatan Peninsula directly in between Cancun and Playa del Carmen on the Caribbean sea it is truly a stunning property. Since it is brand new it is really fresh and modern and parts of it are architecturally stunning. In my previous experience visiting all-inclusive resorts down south they are often mass produced and just kind of blah. Nothing to write home about, but that definitely wasn't the case with Ventus.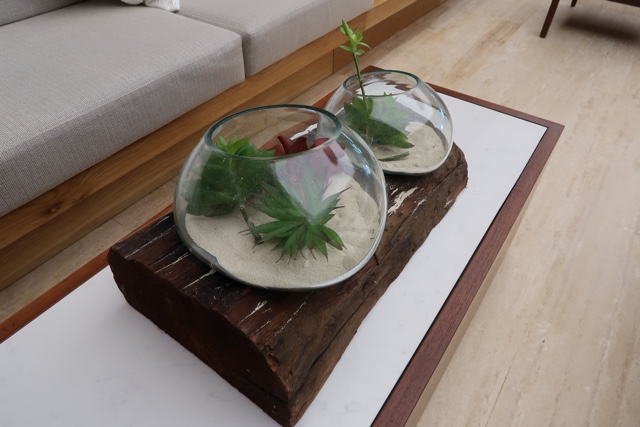 Even the planters in the lobby were pretty
Since I was visiting the very first week it opened just by chance we happened to meet the architect and designer of the property. I got to learn from them about some of their inspirations and how they put the property together. From the buildings to the very last detail like the marble tables that were chosen to be in the lobby bar. They used local Mexican made products as often as possible and tied in not only ocean elements into the property but also a bit of history. One of the restaurants is a French restaurant called Ile de France. Inspired by a French ship of the same name that had visited the area long ago.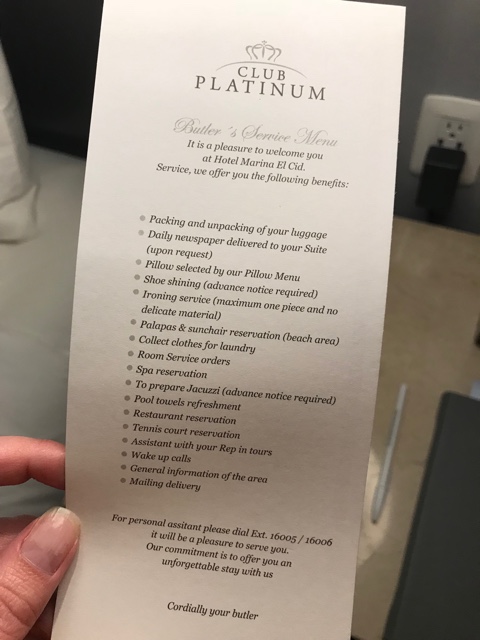 A list of some of the included platinum services 
Extra Service
While staying at the Ventus I had platinum service which is the highest service the property offers. Not only did I have an all inclusive experience like the rest of the guests but I had a few bonuses on top of that as well. The platinum service includes having your own personal butler and a pillow and aromas menu for your room. It also gives you one of the best rooms on property.
Pretty excited about the popcorn!
The butler service was so great that they often appeared out of no where just to check on me and to see if I had any requests. One day I asked for popcorn and instead of just a bag of Smartpop in my room I came back to a microwave and 4 bags of microwave popcorn. A whole entire microwave magically appeared!
The butler service also offered us golf cart rides around the entire property. This was especially great when we had to get to the marina for a boat tour and also when there was a torrential down pour.
The Rooms
My room was located in building number 25. It was a large room that was very clean looking and modern. It featured two double sinks just outside of the bathroom where you would of course find the toilet and stand up shower. Next to the sinks there were many toiletries available, everything from typical soaps and lotions to SPF and even a bug repellent lotion. It also included a loofa, extra toothbrush, toothpaste and more.
My bed was large and comfortable, and I think I might have even been the first one to have ever slept in it. That was a bonus. The TV in the room was without a doubt the largest flat screen TV that I have ever seen in a hotel room. There was also a dining area where my butler had left me fresh fruits and a nice bottle of wine as well as some flowers. Next to the table was a couch and behind it was a Murphy bed in the wall which you could pull down if there were extra guests staying with you. Much better than a pull out couch.
Sunset over my semi-private pool in front of my room
My favourite part of my room however was of course the view and balcony/patio. As soon as you stepped outside of the room there was a hammock to relax in, two lounge chairs, a beautiful view over the entire property AND my very own semi-private pool. That's right, right outside of my patio door were steps directly into my own pool. I only had to share it with a few other neighbours staying on the same floor as me.
Enjoying a fresh coconut in my semi-private pool
The pool snaked along the front of the building and looked out over the entire property. It was a great place to relax in some privacy but also to do some proper swimming if you wanted. The old guy a few doors down from me enjoyed it a bit too much though I think. He kept getting in my pictures and waving at me. Having your own private pool might be the best, but this was definitely still pretty awesome to have.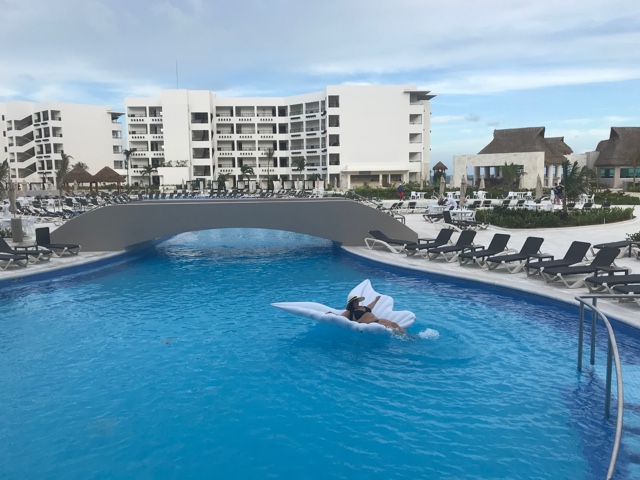 Floating like an angel in the hotel's main pool
The Pools
Aside from the semi-private pool at my room there is also one other semi-private pool and two other large pools meant for the whole property. To relax there is also two large jacuzzis as well as the ocean just a few steps away.
The main pool in the middle of the property was definitely the largest hotel pool that I have ever seen. 3,675 sq feet! It featured a couple waterfalls, bridges to swim under and a shallow kids area. There is even an area for lounge chairs to sit in the pool. You can literally lay back and relax while still being in the water. The main pool is also full service for drinks, but no food is allowed by the pool.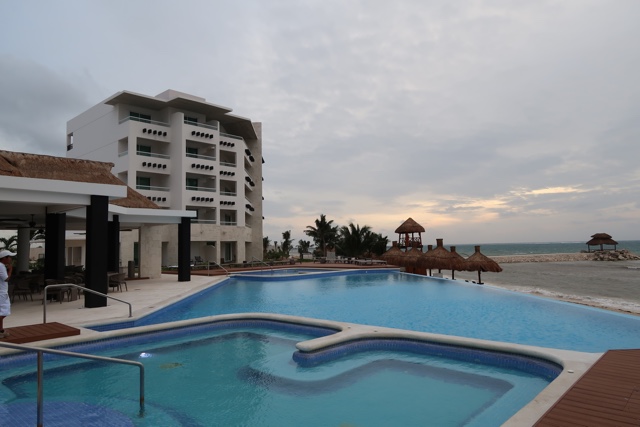 The adults only area with an infinity pool and two jacuzzis overlooking the beach
Near the beach is where you can find the other pool which is an infinity pool looking over the beach. The two large jacuzzis are located on either side of the infinity pool and this area is for adults only.  They are also located next to the main bar with chair/pool service. Near this pool you will also find a platinum lounge for platinum members. Here they can use the internet, get snacks and find premium alcohol.
You can also enjoy a massage on the beach!
Other Amenities
The Ventus is located adjoining an older El Cid property called the "Hotel Marina El Cid". Hotel guests of each property are welcome to enjoy the amenities at both. At the moment the Ventus does not have a gym or spa. Guests are able to use the facilities at the Hotel Marina which will be updated and made bigger soon for both properties. Hotel Marina also offers a few more pools and restaurants so there are many options available while staying at either property.
While there I got to enjoy a magical Kukulcan Massage which was like nothing I had ever experienced. The spa incorporates ancient Myan rituals and had me being massaged by not one but two masseuses at once. It's hard to describe the treatment, it involved jaguars and eagles, but it was awesome.
Traveling with kids? The hotel also offers a baby sitting service if you want to sneak away for a private dinner. There is also a kids club for kids ages 4-12 where they can hang out and play while supervised and also do arts and crafts.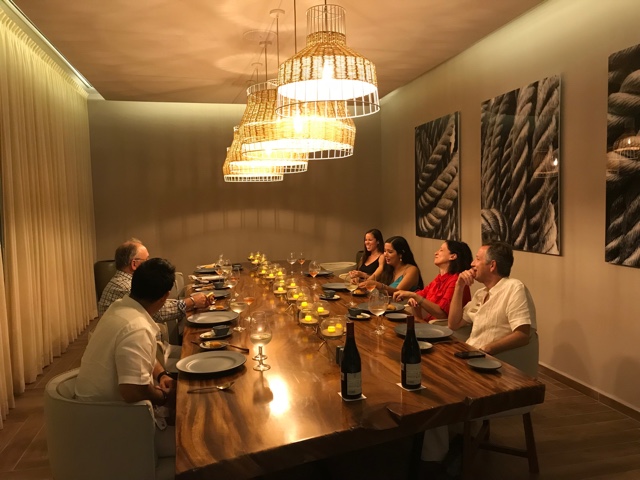 The private dining room at the Ile de France restaurant
A small part of the delicious breakfast buffet
Dining
At the Ventus as mentioned before there is a French restaurant that serves delicious French cuisine at night. They also have a wonderful Sommelier at hand to help you with your wine pairings. If you are looking for something a bit stronger, the Sommelier is also a Mezcalier and can bring you some of the finest Mezcal in Mexico.
In the mornings the restaurant offers a buffet breakfast with endless options of foods. Featuring everything from fresh pastries to meats and cheeses, all of the bacon and even churros. They also make eggs however you like, serve delicious green smoothies, mimosas and much more.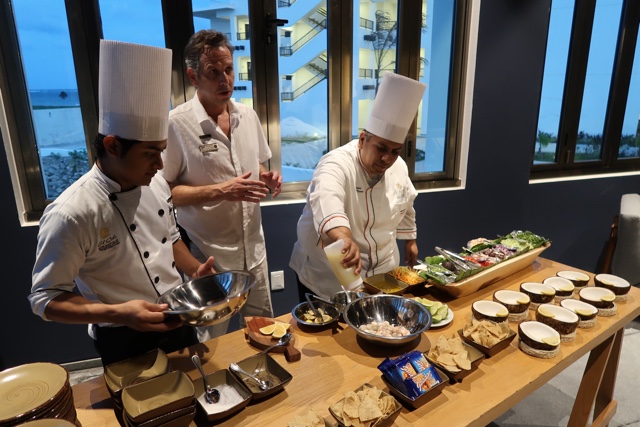 Learning how to make the best ceviche from the head Chef
You can also have food at the bar just off of the lobby called the Abnia. This is where I was given a ceviche making class which they will be offering to more guests coming soon.
Inside the Mercado de Dolores
The best crepes ever with unlimited toppings
My favourite place to dine however was at the Mercado de Dolores which is essentially a huge fancy restaurant buffet. But in the best way possible. The Mercado is set up like a food court with many different food options along with a bar and cafe. They have everything from Mexican food to Italian, Asian, seafood, healthy food and even crepes. At each counter you can help yourself to the food that is already prepared or request for items to be made fresh for you.
Once seated with your food a server is available to take your drink orders and help with anything that you require further.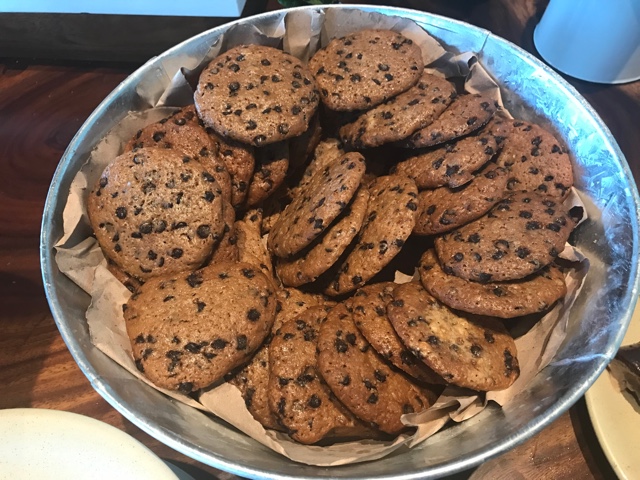 Bucket-o-cookies in the Aromas Cafe free for the taking
My favourite part might have been the crepes or that I could just walk into the cafe, grab a cookie, walk out and enjoy. You have got to love an all-inclusive that knows how to do it right. I was also very impressed by the Mercado. It was so nice inside, from the decor to the artwork on the walls and the quality of food. I had never seen so many great food options at an all-inclusive property before.
Optional Activities
The hotel can also arrange other activities for you if interested with a popular option being bike rentals to bike to the nearby town of Puerto Morelos.  Kayaks and paddle boards are also available as rentals. If you prefer a boat ride the hotel can also arrange a fishing trip or snorkelling trip for you. You can even have the opportunity to snorkel on the second largest coral reef in the world.
At night time the lobby bar often features live music. There are also family friendly shows performed near the pool in the evenings.
Pronatours can also offer you day trips to Cancun, Playa del Carmen, Tulum or Chichen Itza. They can even take you on a trip to a beautiful cenote. However the property is so nice that you might never want to leave.
To see more about the property watch my video review here:
If you happen to be looking for a great new destination to escape to in Mexico this winter I highly recommend checking out the Ventus at Marina El Cid Spa and Beach Resort.
Thank you for El Cid Resorts for having me. As always all opinions, views and full bellies are my own.