This week I've had the pleasure of interviewing Steven N. Bray who is the Producer of the Canadian travel TV series "Departures". Departures is literally my favorite travel TV show and if you haven't seen it yet you need to do so right away. The show follows two Canadian guys in their 20s as they travel the world having the time of their lives. This show is actually one of my key inspirations for starting Travel Yourself.
Here are two trailers for the show:
And you can watch Episodes now on Netflix. Hopefully you will quickly fall in love with the show too.
Before I left for Spain in August 2009 to film the first episode of Travel Yourself, I actually emailed Steven on a whim asking for guidance about this crazy project that I was about to take on. Steven responded happily and gave me a lot of great feed back and has allowed me to bother him with many questions over the past few years. I appreciate his responses and help and now I've gotten him to agree to an interview! If you have any further questions for Steven after reading this interview, please leave them in the comments and I will get them answered.
I met most of the team while at the Sheridan College Media Arts program from 1999-2002.  Scott and Andre had just got an assignment on a show called Don't Forget Your Passport, working in the sound and camera departments.  They were getting so busy with the project that they took a break from school in the 2nd year.  I was working with (producing partner) Jessie Wallace on various projects she was writing and directing.
Following film school we all went onto other projects.  I went on to work in post production, and producing a handful of short films, before getting the chance to produce my first feature film,
AMAL
, in India in 2006 / 2007.  Jessie was working on several projects of her own.  Scott and Andre were putting together corporate videos and commercial work.
Around the time I was working on Amal, Jessie was helping Andre and Scott build their company, and helped fund a trip to New Zealand to shoot their friend Ellis's wedding.  This was the genesis for Departures.  The idea was that the best travel moments are not what we see on typical "magazine-format" shows, but what happens in between when the cameras are not usually rolling.  The real life stuff, risks and rewards of travel are what were missing on TV at the time.
In the year that I was working on Amal, the other three were working on cutting the New Zealand footage into a one-hour pilot, which eventually became a selection of three of the strongest scenes.   A designer was brought on, and a nice big booklet put together.
When I came back from India, in early 2007, the Booklet and sizzle reel DVD were put into a big box, stamped with travel stickers all over, and shipped to OLN.  I came on board literally the next day, when the excited broadcast exec team called to say they love it, and wanted to meet up right away.
The next week I was back in Canada, and we were at the OLN head office with our team, talking numbers and creative.  OLN loved the style and format.  They loved Scott as host, even though he never planned specifically on being a host, but wanted to find another travel buddy for him.  Scott and Andre went and reached out to loads of their friends, past and present, and got reels from interested friends.  The network loved Justin, and that's how he came on board.
2. Did you ever travel with them while they were filming?
I travelled on about 1/3 of the episodes… India x 2, Brazil x 2, Cuba, Chile x 2, Antarctica, Vietnam, Papua New Guinea x 2, North Korea x 2.
There were two lead producers, Jessie Wallace and I, along with a Co-Producer, Darren Portelli.  At all times (except a few episodes) there was one of us out there with them, running the itinerary and logistics, and working the story lines, etc.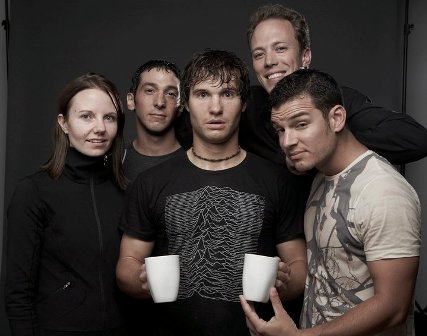 Some of the Departures crew: Jessie Wallace – Producer, Andre Dupis Cameraman, Justin Lucatch -traveler, Steven N. Bray – Producer and Scott Wilson – traveler
3. What would be your favourite and / or worst moment from working on the show?
Favourite moments are those type of travel moments I never imagined I'd be experiencing in my life.  Cruising down the Antarctica peninsula and making a snowman on the continent.  Attending the mass games in North Korea (absolutely the most amazing show I've ever seen).  Taking a random flight into the Sepik River in PNG with zero plan except to get 90km down river in a few days in hope that we will get picked up.  Scuba diving for the first time in the most beautiful Brazilian island paradise.  Hiking up an active volcano in PNG.  Each and every experience throughout India.
The moments that didn't make camera are the countless weeks / months spent back at the office in Toronto, researching, planning the trips and working on story lines with the editors.  But the hard part is all the tons of business affairs, legal, human resources and accounting that go into a show of this scale.  All the stuff that takes away from the creative of the show is the necessary evil in making a TV show.
4. As a Producer of a successful travel TV series do you have any tips for other aspiring travel video makers wanting to have the same amount of success?
See below.
5. Do you have any tips on how to pitch to Production Companies and Broadcasters?
Over the years I've received hundreds of pitches from people looking to make the next Departures.  OLN has received thousands.  Broadcasters will not touch these people's ideas with a ten foot pole.  Mainly because they like to work with people and experienced professionals they trust.  The other reason is because it's illegal to re-create someone else's work.
The key is to make it really unique and clear what you are doing, and to find an experienced producer / production company to make the contact and build the business end of things.  Keep in mind that 5 out of every 10,000 ideas get made each year, so you're battling against the odds.  It really helps to be in the industry, attend the major markets and festivals, and be in on the current trends and what each broadcaster is looking for.  Many broadcasters do not hide the " what they are looking for" but you won't find it on their website, it's inside industry trade mags and through attending the tons of local panels that go on in conjunction with all major film and TV festivals / markets.  Research and experience is key.  Not everyone can make a TV series… it takes many many years of work and story telling to even make a break through.  It took the Departures team more than 10 years each in the industry before we got a show off the ground.
 6. Which episode of Departures is your favourite?
The ones that I was a part of the trip are obvious biased choices.  It's almost like Scott and Justin are narrating my own memories of that trip, and Andre is taking the photos for me.  I'm very proud of the episodes where we really got off the beaten track and accomplished something that we may never get to see again.  North Korea and Antarctica are great examples of this and episodes I'm particularly proud of.
7. Will there be more seasons of Departures or are you working on any other new travel shows?
Right now, we decided to put a fourth season of Departures on hold, to pursue other opportunities out there, and not let the travel experience or Departures format get stale.  We wanted to end on a high note, take a few years at least, and see where everyone is from there.
Scott and Andre have just released a spin-off series
on OLN called Descending
.  It's Scott and their New Zealand pal Ellis this time around, and it all takes place under water.  It's a great show that makes the underwater world accessible to the every-day traveller.
I shot a second feature film in India in the fall of 2011, called Sidharth.  Written and directed by my long-time production partner Richie Mehta, we're aiming to release the film by late 2012.
I'm working on building and developing the distribution company Jessie and I started, selling Departures to more markets worldwide, as well as taking on more projects under our wing.
Also developing a series called "Harlistas" following the sons of renowned Cuban revolutionaries Che Guevara and Comandante Pinares. Its a motorcycle adventure across Latin America, retracing the route of Che's original ride that he did in 1952.
 Thanks for the awesome interview Steven! A lot of great info, I don't think I could of asked for more! :)
If you have any further questions for Steven or comments please leave them below or send me an email in the contact form and I'll be sure to get them answered for you.
~Cailin