Filming the scenery of the Australian Outback while on the Ghan train in Australia with the Nikon D5100
Before my latest trip to Australia I was excited to get a Nikon D5100 camera from Nikon Canada for review while on my trip. I was excited and nervous all at once. Not only was this the first time that I was going to do a lot of filming in Australia and I had a crazy busy schedule lined up but also it would be my first time shooting video with a Digital Single Lens Reflex camera (D-SLR).
Even though I learned at the age of 11 how to develop black and white film and photographs and have been taking photography courses most of my life along with majoring in film in University the new technology of a Digital SLR that shot video scared me. In University before consumer priced D-SLRs were shooting video I bought a Nikon D50, so I was use to all of the functions of a Nikon DSLR except of course for the video features.
Previous to getting the Nikon D5100 I had been shooting all of my videos on a Sanyo Xactic HD1010 camera. It is a great little hand held video camera that shoots in HD, has an audio input jack to add an external microphone (bonus), its light weight and its small size and not intimidating.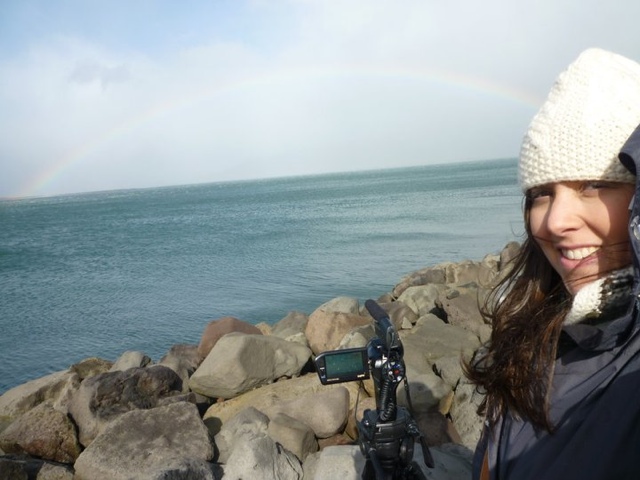 Me, filming with my Sanyo Xacti camera in Iceland
With the Sanyo however its a video camera, it looks like one and people know it. Whether you are filming a public street scene or interviewing someone they freeze up as soon as they see a video camera. That blinking red light almost tells them "start acting funny and be awkward". Also its harder to film different places, people see a camera they are fine with it, people see a video camera they start waving their hands in your face saying "no video, no video". Also the Sanyo has a smaller chip inside which records the information, creating the quality to be not as great as what a D-SLR can capture with a bigger chip inside.
Filming these past couple of months with the Nikon D5100 although I know I am still learning how to use the camera to its full potential has been quite satisfying. I am constantly being blown away with not only the quality of the photographs (obviously) but with the video. Comparing my footage together from the Nikon and the Sanyo… well there is no comparing. It makes me wonder why I hadn't jumped on the DSLR video train sooner. I believe the 17mm-55m f2.8 Nikon lens that I have been using with the camera helps out a fair bit as well.
I also enjoy that I can quickly go from photo to video and people are non-the-wiser, people see a photo camera and are fine with it and I get to be sneaky and capture video without people being awkward or telling me to stop filming.
Using the Nikon D5100 to film myself going down Katherine Gorge in Australia on a boat.
However there are some downsides to the Nikon like the weight of the camera and lens combined, it is probably 5 times as heavy as the Sanyo, but yes this is expected with a DSLR and I doubt lenses will be getting lighter any time soon. I love the Nikon D5100 specifically as it is one of few DSLRs that has a screen that flips out, perfect for someone like me who often films themselves. However I do wish that the mic input wasn't right where the screen is when it flips out. It literally blocks part of the screen which can be frustrating but thinking about it there isn't really another spot for the mic input jack, on the other side it would be in the way of your hand when holding the camera, on the back it would hit your face on the bottom in the way of the tripod mount, perhaps it could come out of the top or on the front. The quality makes up for though, I can live with it.
So D-SLR VS Video Camera – Which to use for my travel videos? I think I am now sold on the Nikon D5100 however I know there will be those moments where I don't want to lug around an expensive camera and I think I'll keep my Sanyo around for those moments.
Check out two videos shot with the D5100 here: 
The Australian Outback as seen from the Ghan train
And there are a lot more videos from Australia, Mexico and more to come.
What do you prefer? Have you used a DSLR for video yet? Let me know your thoughts! :)
Thanks again to Nikon for letting me use the  Nikon D5100 and their 17mm – 55mm f2.8  lens.