The newly opened Toothsome Chocolate Emporium and Savoury Fest Kitchen at Universal Orlando Resorts's CityWalk
The Toothsome Chocolate Emporium and Savoury Feast Kitchen (boy thats a long name) is the newest restaurant at the Universal Orlando Resort in the CityWalk and it is quite the experience! Think chocolate and sweet treats, meets steampunk in the early 19th century and you might have the tiniest bit of a clue as to what you might experience when you dine here.
Jacques and Penelope the Toothsome Proprietors 
Before getting a chance to dine here I don't think I have ever been to a restaurant with such an immersive and well done theme and background story. The proprietors of the Toothsome Chocolate Emporium and Savoury Fest Kitchen are Penelope (aka Professor Doctor Penelope Tibeaux-Tinker Toothsome) and her robot sidekick Jacques. When she was a small child Penelope's father was an inventor and he created Jacques for her so that she would always have a friend.
Penelope and Jacques traveled the world together in an airship and one day returned home to see her parents, but they had left to explore the world in search of her. From that day Penelope decided to take everything she knew about tinkering and inventing from her father and everything she new about chocolate from her mother and she would create a state of the art chocolate emporium. She would share her knowledge and love of chocolate with the world until they were some day reunited again.
Jacques selfie! If you are lucky enough you will get to meet Jacques and Penelope too when you visit
To say that Penelope and Jacques did a great job at doing just that would be an understatement and now The Toothsome Chocolate Emporium and Savoury Feast Kitchen is the "must eat at" destination in all of Universal Orlando Resorts if not all of Orlando. Here are some of my favourite highlights, from the menu to the restaurant itself and everything in between.
We had a large group so we were seated in one of the private dining rooms
The attention to detail was everywhere
The menus looked like beautiful books and are quite elegant
Selfie with Penelope as I sample the Too Chocolate Stout – they put chocolate in EVERYTHING
A sampling from their large menu of artisan milkshakes
A small glimpse at the intense milkshake menu
I got a little excited about the Brownie Milkshakes with Dutch chocolate ice cream, brownie and a milk chocolate swirl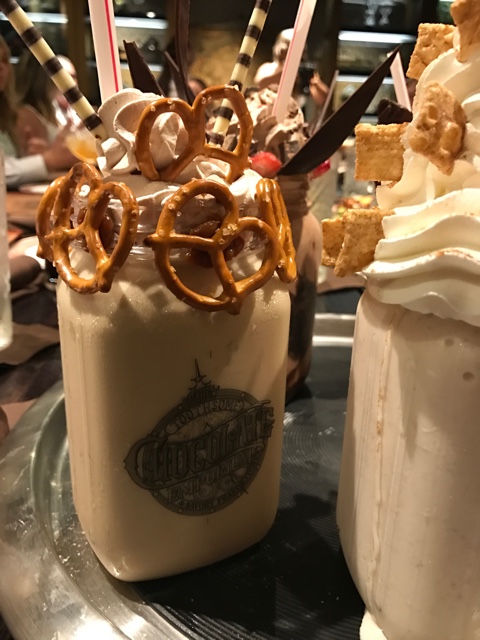 The salted dolce de leche milkshake with salted caramel ice cream, salted pretzels, fresh whipped cream and chocolate cigars
You know a restaurant is great when they suggest having dessert first. At Toothsome you can swing by for a milkshake at any time even without staying and having a meal and they pride themselves on these masterpieces. There are various versions from key lime pie to marshmallow crisp, salted dulce de leche, red velvet cupcake and more. Drool.
*Note they are VERY filling so you might want to enjoy these after your meal or on a separate occasion. Trust me you will visit here more than once.
The restaurant also features quite the drinks menu including flights of bourbon
Steampunk themed bar, Steampunk themed everything
After the milkshakes we started with a sampling of the appetizers or how they like to call them the "temptations"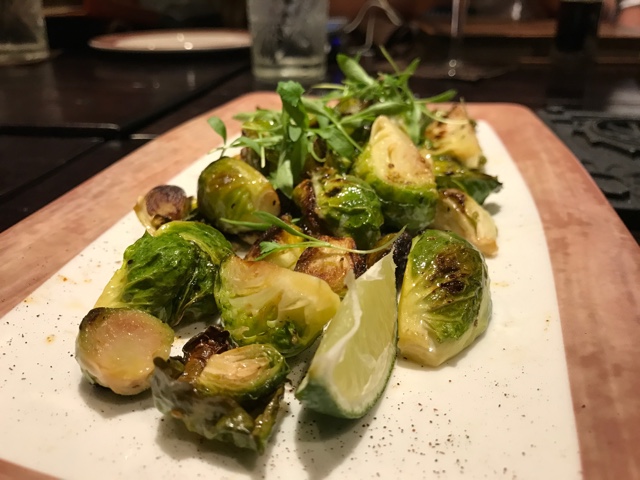 These brussel sprouts were to die for. They came with dipping sauce but I think we devoured them before we even realized that.
Next we sampled the crab and artichoke dip with cheese, spinach and baked lavosh to eat with it. Yum.
Totchos – (these did not photograph well) but they were probably my favourite. Tater tots dressed like nachos with spicy green chilli, crispy pork belly, andouille sausage and cheddar cheese sauce. Mmmm.
The upstairs booths in the restaurant with it's elegant steampunk design
The restaurant can sit a lot of people covering two whole floors of space
On the first floor there is a viewing window where you can see the milkshake artisans and pastry chefs bring their delicious creations to life
While we waited for our main courses, I ventured through the rest of the restaurant and visited the gift shop. A girl could spend a LOT of money in this place. When you come here definitely make sure you are hungry. Or maybe not and you can save yourself some money that way.
When it comes to chocolate the Toothsome Chocolate Emporium means business, they even have their own chocolate bars
Rows upon rows of delicious chocolates
The flavour reference card for about half of the chocolates that were in the display case
From steampunk themed shirts to candy in old fashioned apothecary bottles, there was everything you could imagine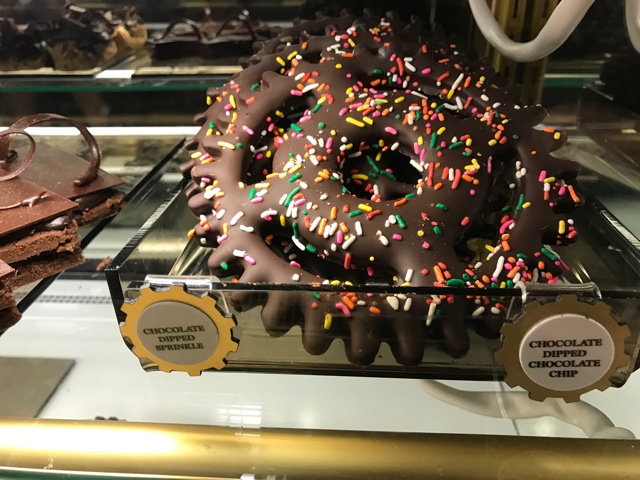 They even had chocolate dipped gears with sprinkles. No idea what it was that was dipped though? Pretzel or a cookie?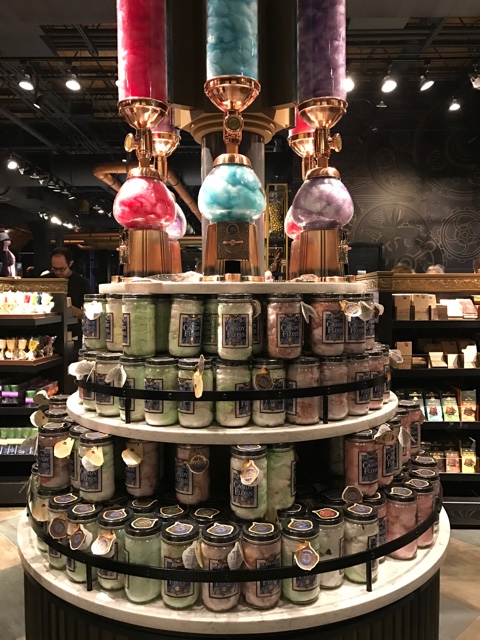 Jars of candy floss aka cotton flavoured. The green bottles were absinthe flavoured, I wonder what that would be like.
Cheddar bacon burger with tasty garlic fries
Finally our main courses came. I don't know why but for some reason I played it safe and went for a burger. The most plain burger on the menu. There were so many delicious options on the menu but I just went with the cheddar bacon burger. Bad choice on my behalf. It could have been because I was already SO full from everything else but compared to the rest of what we ate the burger fell a little flat. I had expected it to be fancier or something. The rest of the menu really goes above and beyond compared. It wasn't anything to write home about really but the garlic fries were great. Also everyone else's mains looked fantastic. Bad choice on my behalf.
Would I eat here again? 100%. Not only was the menu surprisingly moderately priced, especially for being at a theme park where you often think the cost of things will be inflated but also because of so many other things. From the milkshakes to the outfits the servers wear, to Penelope and Jacques, the chocolate shop and more the Toothsome Chocolate Emporium and Savoury Feast Kitchen was pretty much a theme park in and of itself.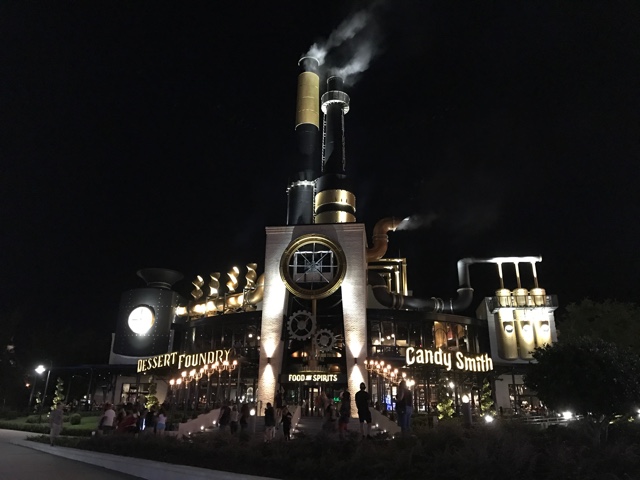 A nighttime view of the factory like Toothsome Chocolate Emporium
If you are visiting Universal Orlando Resorts, I highly recommend you come check it for yourself even if its just to swing by for a milkshake or some chocolates. If you are coming for dinner arrive early or try to make a reservation if you can.
Have you been to the Toothsome Chocolate Emporium and Savoury Feast Kitchen? What was your favourite menu item?
Thank you for Universal Orlando Resorts for having me as an official member of the Universal Blog Squad. As always all opinions, views and full bellies are my own.