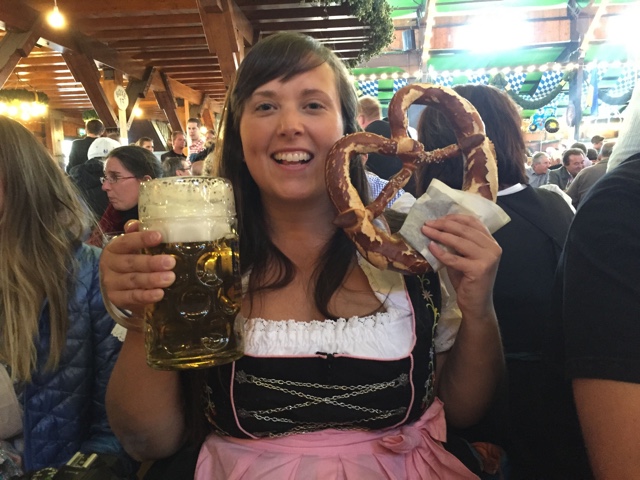 Attempting to blend in at Oktoberfest with my liter of beer, pretzel and dirndl dress
When going to Oktoberfest in Munich, Germany one typically wants to look the part and for that you need the traditional costumes of a dirndl dress for women and lederhosen pants / shorts for men. But where do you buy them?  Here are my best tips for where to buy a dirndl dress and lederhosen pants for Oktoberfest in Munich, Germany.
Not blending in so well in my normal clothes, but I wasn't the only one!
Where to buy a dirndl dress and lederhosen pants for Oktoberfest in Munich
Instead of searching for them in a costume shop or online somewhere before arriving in Germany I suggest you wait and pick them up in Munich. It is not required to wear the traditional dress but about 3/4 of the hordes of people in attendance will be wearing them. The first day I was there in normal clothes I definitely felt a bit left out. The minute I bought my Dirndl my experience at Oktoberfest was a million times better.
If you have money to burn there are a couple dirndl and lederhosen shops in Munich that are open year round. These are the traditional outfits that the locals will be wearing. They are high quality and really nice. However this will cost you about 300 Euros just for your dirndl. A dirndl is made up of a white blouse, dress and apron. Each piece is often sold separately in these shops. Proper leather lederhosen are about 150 Euro.
If you have the money and want to look like a true local check out Ludwig-Therese. They are located at 136a, Georgenstraße, 80798 München, Germany. For another option check out the Dirndl shop Leder Fischer located at Lindwurmstraße 15, 80337 München, Germany.
One of the many pop-up outlet shops near the Oktoberfest fair grounds and train station
If you are on a budget like I was and don't need a high class traditional dress I suggest searching one of the MANY pop-up Oktoberfest costume shops. Located just outside of the Oktoberfest fair grounds near the train station on the street called Bayerstrasse. These shops are not hard to miss. They have tons of ads and posters in their windows, along with millions of dirndls and lederhosen. That is literally all they sell.
Note: That oddly they don't sell any outfits or costumes in the fair grounds.
You spend a LOT of time standing on the benches at Oktoberfest,  you might want to consider wearing shorts under your dirndl
What should your Dirndl look like?
To fit in with the locals look for a dress that hits right at the knee or just below. Anything higher and it is seen as a bit crass. Short dirndls are also a big flag for being a halloween costume and not a proper Dirndl. Same goes for the really long ones that reach your ankles, none of the Germans really wear them that long. But most importantly, chose a length most comfortable to you.
Note: You actually can't buy dirndl's or lederhosen at Oktoberfest itself on the fair grounds.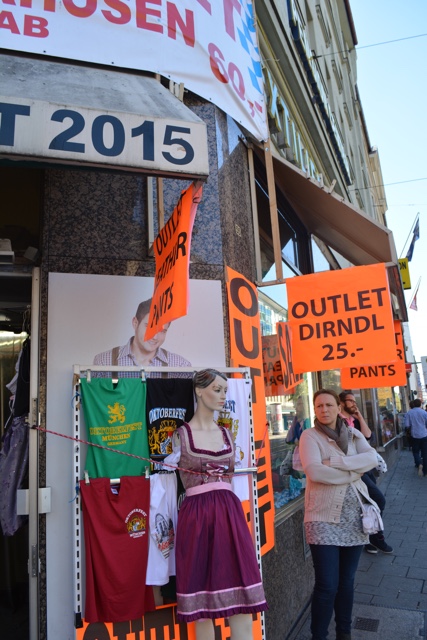 Another outlet shop full of cheap dirndl's and lederhosen
Many of these shops boast 25 euro dirndl's and lederhosen but a lot of these aren't the best of quality. Some of the dirndl's are even one sewn together piece of all three items, the blouse, dress and apron. The further you walk east on Bayerstrasse away from the Oktoberfest fair grounds the better the quality of outfits get and the price goes up to match.
I am also not a skinny European lady. I wear about a 16 US dress and for the life of me I could not find a 25 euro dress anything near that size. If you are a bit of a larger lady, keep this in mind and keep walking further down the street. You will definitely find a shop with dirndl's that fit you.
Dirndl selfie in the hallway of our AirBnB in Munich
I tried on many dresses in my search for the perfect, cheap dirndl. We kept making our way down the street until we found a shop with lots of larger sizes. Then I found the one just right for me. I paid about 70 Euros for my perfect dirndl. A bit pricey but well worth it for the experience and memories. Now I also always have a good dirndl and/or halloween costume.
Best Tips for Wearing your Dirndl and Lederhosen
At Oktoberfest you will probably wear the same dirndl a couple days in a row without having a chance to wash it. It will get beer on it and you will sit on many sticky benches in the beer hall. This is also a good reason to go with the cheaper option in case it gets ruined. Hang it to dry each night and you should be good for the next day.
I wouldn't recommend wearing nice shoes to match your dirndl or lederhosen as your shoes will get dirty and full of beer. You will also be walking a lot and standing and dancing a bunch in the beer halls so be comfy. No one at Oktoberfest cares about what you have on your feet. Wear sneakers or something comfortable and you won't regret it.
Candice and I made sure to keep our dirndls tied on the left!
How do you tie your Dirndl strings?
Once you do get your dress and put it on know that there is also a special way to tie the strings on your apron. Tied on your left states that you are single and on your right side it means that you are married or taken. Tied on the front and center a virgin and tied in the back a widow.
If you aren't a fan of dresses (like me), wear shorts under your dirndl. Women sometimes wear lederhosen as well, so that could be a better more comfortable option for you too.
To see more from my experience at Oktoberfest check out my video:
Like this post? Please pin it for later!