I was invited to an interesting event last week in my home town of Halifax. Being that I consider myself a lobster connoisseur (I have even made a video about the best lobster rolls in Halifax) I was excited to attend. McDonald's invited me to the 25th Anniversary kitchen party celebration for the McLobster!
The 2016 McLobster
What is the McDonald's McLobster you might be asking? Yes it is exactly what it sounds. Lobster on a bun at McDonald's.
One of the many tasty Lobster sandwiches sold in the maritimes, this one is from Boondock's in Eastern Passage, Nova Scotia.
If you aren't familiar with a lobster roll it is a popular food eaten on the east coast of North America from Maine to Nova Scotia. It is essentially a less classy way to eat lobster I suppose? Ditch the fancy meal and eating it with butter in the high end restaurant, instead chop it up, mix it with some mayo and perhaps some green onions and/or celery, add a drizzle of butter and throw it on a bun.
Local musician Steven McDougall puts on a show/kitchen party for the 25th anniversary of the McLobster
Yes it is pricier than a hotdog or hamburger but since the east coast has such an abundance of lobster it is a lot cheaper than you might think and of course is extremely fresh. The McDonald's McLobster is $7.99 Canadian and if you were to get one at another restaurant in Halifax it will run you anywhere from $8 to $20 in most cases.
McDonald's franchise owner Dave Murray
I myself was surprised to learn that this was the 25th anniversary of the McLobster. While there, celebrating its 25th, year I had the chance to sit down with franchise owner Dave Murray who also happened to be one of the first to test out the McLobster at his restaurant in Moncton, New Brunswick when he was a manager there back in 1991.
McDonald's employees wear fisherman's hats known as Sou'westers and lobster shirts to celebrate the 25th Anniversary of the McLobster.
Dave told me that a friend of his who was also a franchise owner, Gerry Moore and his son who was also a McDonald's manager at the time had been talking with a few tourists from New York who asked why if lobster was so popular in the maritimes that it wasn't on the McDonald's menu? Gerry was inspired and had connections in the lobster fishing industry. He came up with the McLobster and tested it out at several properties along with the location that Dave was the manager of. McDonald's liked the idea and success of the product as a seasonal item and the McLobster was officially born.
I also learned that having franchise owners come up with menu ideas like these are one of the many ways that new menu items are created. Dave also mentioned that the McFlurry was invented by a maritimer as well and now it is sold worldwide. Thats pretty cool!
A McLobster dinner for two!
Dave also told me some insider information. The McLobster typically comes out at the middle to end of May and they say is in stores "while supplies last", so there is never an official end date and some McDonald's may run out of them sooner than other. Dave specifically orders more lobster than the average McDonald's so his  stores will often have the McLobster from May into September. Because of that your best place to get a McLobster in Halifax is at the Scotia Square location, the Tantallon location at exit 5 on highway 103 or at the Spring Garden Road location.
Nicola Pitman, McDonald's Canada Menu Management Director
At the event I was also able to speak to Nicola Pitman who is McDonald's Canada Menu Management Director. I learned from her that menu items like the McLobster are changed and tweaked each season after various feedback is received. Last year I remember the McLobster being quite lemony and she told me they had had a lot of feedback on the lemon taste so this year they toned it down and added a drizzle of butter as well. They also created a new lobster roll McLobster bun for the 25th anniversary and added sesame seeds and chive to the top of it.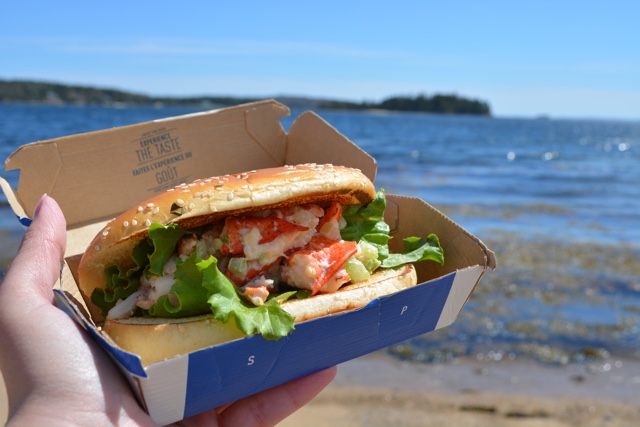 To learn more about the McLobster and its 25th Anniversary celebrations watch my video below!
Special thanks to McDonald's for feeding my lobster obsession with the tasty McLobster! All views and opinions expressed are my own.