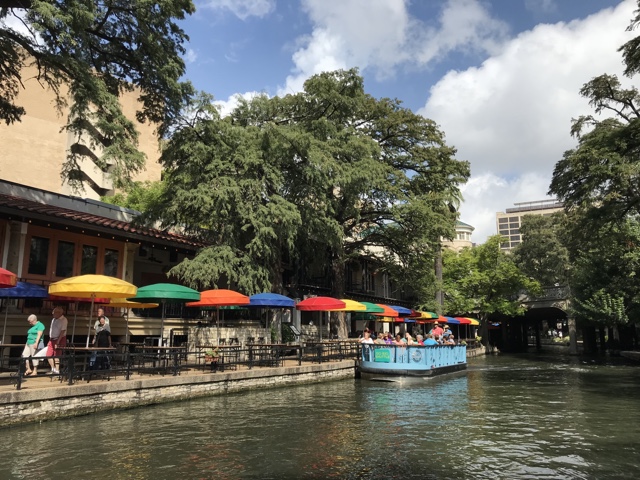 Visiting Texas has been on my bucket list for a long time. I have always wanted to try chicken fried steak and because I have really wanted to know if things truly were bigger in Texas? I recently had the opportunity to spend 5 days in San Antonio and I explored as much as possible. At first I thought that might be too much time to explore the city solo, but it turned out to be just the perfect amount. I now feel like there is still more to see as well so I will definitely be visiting again.
While there I did everything from checking out all of the riverwalk attractions, to eating a bunch of delicious food and probably the best burger in San Antonio. I also saw a the Saga light show, rode the hop on hop off bus, visited the Alamo and more. I have put together everything that I got to see and do into one post as a list of the best things to do in San Antonio today.
How to get there:
Before visiting San Antonio I was in Austin, Texas speaking at the TravelCon conference. I could have rented a car to get to San Antonio, but instead I chose the much cheaper option of taking the Megabus to the city. For just $10.50USD it got me there in an hour and a half. I was squished, and couldn't get the wifi to work but it was worth it to save some cash. Other options for getting to San Antonio of course is by plane. Being the 7th most populous city in the USA you will find numerous flight options to get you there for a good price. Find some great flight deals with JustFly, and you will be there in no time.
Looking for a place to stay in San Antonio? Click HERE to jump to the bottom for my best suggestions!
Best Things to do in San Antonio Today
1. Start the day with Texas Waffles
During my visit to San Antonio I spent a few nights at the Crockett Hotel and their buffet breakfast each morning (complimentary for guests) was the best way to start my day. Not just because there are many options of eggs, sausages, bacon, fruits, etc. but also because they have make your own waffle machines. The best part however was that they are Texas shaped waffles which I think makes them taste even better.
A delicious avocado, egg and bacon breakfast taco
If your hotel doesn't have Texas shaped waffles then the next best option for breakfast in San Antonio would have to be breakfast tacos. Texas is known for its TexMex and they serve up some of the best tacos and burritos you will ever eat and they are cheap too. For a great breakfast taco in the city check out The Original Blanco Cafe or Pete's Tako House.
2. Take a hop on hop off bus tour
No matter how "touristy" you think hop on hop off buses are, they are one of the best ways to explore a city on your first visit. They are great because you get a good lay out of the city, learn what is what, and hear a bit of history too. City Sightseeing San Antonio offers 1, 2 & 4 day tickets for a reasonable price. The great thing with their buses is that the narration is all done by the drivers live. There aren't any pre-recorded narrations that you have to strain to listen too. The drivers are very knowledgeable and directed me to a great margarita happy hour.
With my two day ticket I hopped on, did a loop and learned everything then the rest of the time got on and off as much as I needed like it was my own taxi service but way cheaper. The buses also run every 20 minutes so you never need to wait long either from 8:40am to 5:30pm daily.
A Go Rio boat cruise passes under the famous Selena bridge on the riverwalk
A Go Rio boat cruise passes under a bridge and the friendship torch aka La Antorcha de la Amistad
3. Take a River Cruise along the Riverwalk
One of the most unique things about San Antonio has to be the Riverwalk. A series of rivers and canals that cut through downtown with walking paths on either side. The riverwalk is covered in a lot of flora, vines and beautiful old trees along with a mix of restaurants and shops. It is also full of history and truly makes San Antonio one of a kind. Take a San Antonio riverwalk boat ride and tour of the river with Go Rio Cruises in a brightly colored boat at day or night to learn even more about San Antonio. The riverwalk boats offer fully narrated tours, water taxi services and at night time you can enjoy a dinner cruise aboard them as well.
Enjoying the souvenir shop at the Alamo with a Davy Crockett hat
The entrance to the Alamo
4. Remember the Alamo
You haven't visited San Antonio, Texas until you have visited the Alamo, now turned museum. Free to enter and explore, with donations accepted and a small fee for audio guides. The Alamo is steeped in a lot of history from the 19th century of the United States and iconic Americans like Davy Crockett who died in the battle of the Alamo. As a Canadian visiting it didn't mean much to me as it does patriotic Americans but it is cool to see either way.
5. See the "Alamo: The Price of Freedom" in IMAX
Don't know much about the Alamo? Then I definitely recommend checking out the Alamo movie playing at the nearby IMAX theater. Located one block behind the Alamo itself in the Rivercentre Mall at the AMC theaters. The film is 48minutes long, costs $11.50usd for adults and runs six or more times a day. Check out listing times here.  Before visiting I had heard of the Alamo and knew of Davy Crockett but aside from that I was a bit clueless as to what happened. This film gives you a good idea of everything that took place at the Alamo and why. Although there are some disputes to how exactly Davy Crockett died.
The unique lobby of Hotel Emma in the Pearl District that use to be the Pearl Brewhouse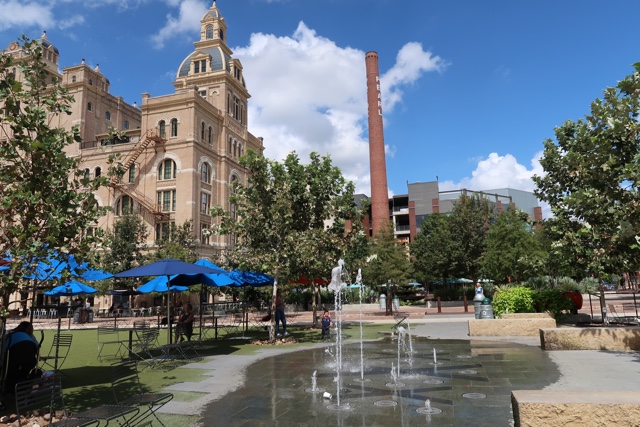 The Pearl Brewery District
6. Explore the Pearl BreweryDistrict
Aside from the Riverwalk the Pearl Brewery District was one of my favorite spots in San Antonio. Located a little north of the city centre but still downtown the 22acre Pearl Brewery District was a brewery now turned into one of the city's coolest neighborhoods. Home to 13 independent retailers, 19 restaurants, a culinary school and more it is easily accessible by riverboat, hop on hop off bus or your own means of transportation. You could definitely spend an afternoon here exploring, shopping and eating all of the delicious foods. Here you will also find the boutique Hotel Emma inside the original brewhouse dating back to 1881. Also I recommend checking out their farmers market on Saturdays and Sundays.
7. Walk the River Walk
Aside from cruising along the river make sure you walk along the riverwalk as well. The riverwalk is full of great restaurants and shops to visit and is the perfect place for people watching. Check out the Case Rio restaurant with its popular rainbow colored umbrellas, see the view from one of the stone bridges, get a little lost and grab a bite overlooking the water. Walking along the riverwalk is like it's own little world away from the big city.
The colorful Historic Market Square
Frida Kalo bags and shirts, floral head bands, and Mexican serapes for sale at the Historic Market Square
8. Visit the Historic Market Square
Home to the largest Mexican market in the United States, visit this outdoor plaza, shops, farmers market and restaurants for all things Mexican and TexMex. Grab a mango margarita on special at La Margarita. Enjoy some tasty Mexican desserts at the Mi Tierra Cafe y Panderia or grab at drink at their Mariachi Bar. Then go shopping for a bunch of fun souvenirs.

Abraham Lincoln appears in the part of the Saga light show projected on the San Fernando Cathedral
9. Enjoy a Spectacular Light Show called "The Saga"
Every Tuesday, Friday, Saturday and Sunday night at 9, 9:30 and 10pm enjoy the free award winning video art projection light show called "The Saga". Located in the main plaza of San Antonio and projected off of the San Fernando Cathedral. Through music and light the show narrates the historical discovery and settlement of the city. The show lasts 24minutes and is fairly popular so make sure you arrive early to get a good spot. There are a few seats and benches available with most people needing to stand or sit on the ground. I suggest watching the show twice to really see it all.
A memorial shrine to Selena Quintanilla-Pérez
9. Follow in the footsteps of Selena
The famous Tejano singer Selena Quintanilla-Pérez was from nearby Corpus Christie and spent a fair amount of time in San Antonio. San Antonio is also where a lot of the movie about her life starring Jennifer Lopez was filmed. Visit the bridge over the riverwalk known as the Selena Bridge, check out her star of fame in front of the Hard Rock restaurant and see the shrine to her at the Mi Terra Cafe.
The Tower of the Americas
The view from the top of the Tower of the American's overlooking downtown San Antonio
10. Go to the top of the Tower of the America's
Most big cities have some kind of building or tower that people can visit the top of for views of the city below. Like Toronto's CN Tower, and the Space Needle in Seattle, San Antonio has one too. The Tower of the Americas. Standing 750 feet tall the viewing deck and restaurant above give you great views of the Alamo city. Included in your ticket price you can also enjoy a 4D movie experience called the Skies Over Texas that flies you above and around Texas.

The Buckhorn Saloon 
The Buckhorn Burger with loaded jalapeno bacon cheese fries – the best burger in San Antonio
11. Enjoy the Buckhorn Saloon, Museum and Texas Ranger Museum
One of the reasons I first went to the Buckhorn Saloon was because I was told that they had the best burger in San Antonio. I arrived and it was a pub with two museums attached and a cafeteria style ordering system for food. I was starting to think there is no way this place makes the best burger ever. Then literally out comes the most delicious burger ever. Definitely go here for the burger and stay for the Buckhorn Museum and Texas Ranger Museum.
The Texas Ranger Museum is home to a lot of interesting artefacts and history about Texas Rangers. From old badges to guns, photographs and more depicting the Texas Rangers over their 100 year history.
A taxidermied baby giraffe and hippo at the Buckhorn museum
The Buckhorn Museum is home to the largest private taxidermy collection in the US with over 520 different species of wildlife. It features everything from a 78 point buck to a baby giraffe, black rhino, narhwal tusk, polar bear, a gorilla, hundreds of antlers and more. This place was cool at first and then it just got really, really sad. I felt bad for all of the animals, definitely don't go here if you are vegan or a member of PETA.
Amongst them both is also a weird circus freaks and illusions area. Interesting. Known as the Carnival of Curiosities and the American Sideshow. Avoid this if you have a weak stomach.
A Chihuly glass ceiling at the San Antonio Museum of Art

Roman statues that have seen better days
12. Visit the San Antonio Museum of Art
Take in some culture and visit the San Antonio Museum of Art (SAMA). One of my favorite pieces was the Chihuly glass ceiling, I love all of his work, and this was really beautiful to see. The museum is made up of two wings, with several floors of art on each side. They have everything from current pieces of art all the way back to Greek, Roman times and even an Egyptian sarcophagus. Another beautiful item that is a must see is the Tibetan Medicine Buddha mandala made of sand. One of only four sand mandalas in the US.
San Antonio's main square and the San Fernando Cathedral
13. See Davy Crockett's Tomb
The San Fernando Cathedral is a beautiful building to see but it also holds what is believed to be the remains of Davy Crockett. Just inside the door to the left you will find a large marble box and plaque that states itself as being his final resting place. His remains are also believed to be here with the remains of William B. Travis, Jim Bowie and the other defenders of the Alamo. Many people don't entirely believe it is their remains as everyone who died at the battle of the Alamo was said to have been cremated together, Mexicans and Americans. So how could you know who was who. But either way they are somewhere in the city if these aren't them. It's kind of cool to visit the tomb of such a well known American hero.
A bunch of delicious Mexican desserts
14. Dine at the Mi Tierra Cafe y Panaderia
Located in the Historic Market Square the Mi Tierra Cafe y Panaderia is a must visit. Inside you will find the Mariachi Bar, a delicious Mexican bakery and a full sit down restaurant serving the best Mexican eats. The interior decorations are a little bit kitsch and beautifully colorful. At Mi Tierra they also have a gorgeous constantly growing mural of historic Latino figures. Often this room is closed, so ask your waiter to see it and they will show you. In the dining room with the murals you will also find a shrine to Selena Quintanilla-Perez.
La Margarita Mexican restaurant in the Historic Market Square
A Mango Margarita and the best free chips and salsa ever
15. Have a drink or two at La Margarita
Grab a mango margarita and the best free chips and salsa you will ever have at La Margarita. The La Margarita restaurant is also where the original sizzling fajitas were invented. They are the reason fajitas sizzle in restaurants around the world and make everyone want to order one. You can't beat their drink prices especially at happy hour which it always seems to be, definitely make sure you visit.
16. Try the steaks and BBQ
You are in Texas so of course you have to try what they are most famous for, steaks and BBQ. For me I was in search of a chicken fried steak and I enjoyed a tasty one at the Saltgrass Steakhouse along the Riverwalk. Smothered in a white gravy, it was heavy and a bit chewy but still delicious nonetheless. If you are looking for some of the top BBQ restaurants in the city serving up melt in your mouth brisket and other delicious items check out Augie's BBQ here or B&D Ice House here.
Al Pastor Tacos at La Gloria in the Pearl District
Dark chocolate olive oil sea salt ice cream sandwich from Lick
Adventurous Kate enjoying a 3lb cinnamon roll from Lulu's
17. Eat a bunch of delicious food
This is an easy suggestion of course as it is what we are always in search of right? Aside from the previous mentioned burger and margaritas and other food I have talked about so far an honorable mention goes out to these items as well. Searching through instagram definitely helped me find some of these tasty treats.
18. Get Around town by scooter
San Antonio is pretty walkable or bikeable. Nothing downtown is really more than a short uber ride away. However in the past year a new form of transportation has popped up like in many other large US cities, the electric scooter. Both Bird and Lime scooters can be found everywhere in San Antonio. Download one of the apps, search for a nearby scooter, scan the code, hop on and go. Be careful thought. Watch out for pedestrians and street traffic. When done with the scooter place it in a spot easy for the next rider to find and not in the way of other people. I was too afraid to ride one myself.
image from Google streetview
19. Get those instagram shots
San Antonio has a bunch of beautiful murals and artwork across the city that are perfect for the gram. Go in search of the Greetings from San Antonio mural at 2718 N St Mary's St. Or another interesting piece of art in the city is the world's largest Virgin Mary mosaic. It literally looks like a Virgin of Guadalupe candle with a lit flame on top. Find it at 1301 Guadalupe St. on the back of the Guadalupe Theater. (FYI this might be in a shady part of town).
Find even more beautiful San Antonio street art with this list here.
After listing over 19 of the best things to do in San Antonio today I probably haven't even covered half of what you can do in the city. Hopefully this will inspire your next trip to San Antonio, let me know what I forgot and what I should add to my list for next time!
The Best hotels in San Antonio
Now you know everything to see, do and eat in San Antonio but where should you stay? Here are my top three hotels in downtown San Antonio:
The Crockett Hotel is one of the best located hotels in the city. Located directly behind the Alamo, next door to the Rivercenter Mall and just a couple of blocks away from the riverwalk. It is also extremely affordable, has a pool and includes complimentary breakfast. To learn more click here.
A white chocolate raspberry scone and hot chocolate at Hotel Valencia
Hotel Valencia Riverwalk is the first ever boutique hotel in San Antonio and just completed a $10million renovation. One of many riverwalk hotels it is located just around the corner from the main restaurant and shopping area of the riverwalk. It is in a great location and is tucked in a bit away from the noise of the riverwalk. On site they have an Argentina restaurant called Dorrego's that you must try. In the mornings they offer guests the best tasting scones and specially made coffee's and teas. To learn more click here.
Hotel Emma at Pearl on the Riverwalk is the more upscale and funky of the bunch. the hotel exists in the building that use to be the brewhouse for the Pearl brewery. The hotel is a little bit outside of the city center but not too far. It is walkable to many attractions or is a quick scooter, uber or water taxi away. You might stay here and never want to leave. To learn more click here.
Wherever you stay and whatever you do in San Antonio you are bound to have a great time.
If you liked this post please give it a share or pin it for later!
My trip to San Antonio was partially supported by Visit San Antonio, the Crockett Hotel and Hotel Valencia. The rest was all me. As always all opinions and views expressed are my own.