While in Dublin to celebrate St Patrick's Day this year I may have ventured to the Guinness Storehouse on more than one occasion….
Trying Guinness Foreign Extra Stout, sold in various parts of Africa.
On my first visit I was thrilled to visit the Guinness Connoisseur Experience bar, the MOST exclusive Guinness bar in the world. While there not only did I get to enjoy the Connoisseur Experience, but I got to try various types of Guinness from around the world and I also got my own private lesson on how to pour the perfect pint of Guinness.
Mark McGovern, the Guinness Storehouse's Media Relations Manager showed me how to pour this tasty nectar "just right" in six easy steps. I was quite pleased with my capabilities however I have yet to learn how to make a clover in the foam on the top. I hear that takes a lot of practice.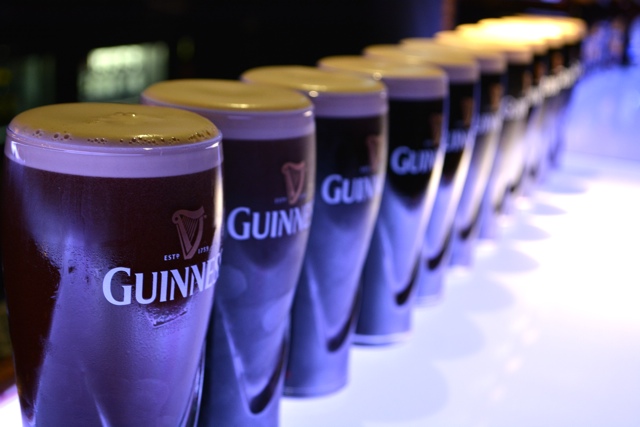 Practice makes perfect when it comes to learning how to pour the perfect Guinness.
The six easy steps to pour the perfect pint of Guinness are as follows:
Step 1: Use a Guinness branded glass that is clean and dry. (Very important.)
Step 2: Hold the glass at a 45 degree angle with the nozzle near the painted harp on the glass. Never touch the class to the nozzle.
Step 3: Fill to the top of the harp slowly straightening up the glass as you go.
Step 4: Place the glass on the bar for 119.5 seconds to let the surge/nitrogen settle and to allow the creamy head to develop.
Step 5: This time push the tap backwards to allow a smooth flow of beer to come out of the nozzle and top the glass up just proud of the rim.
Step 6: The last and best step…. you are going to have to watch my video to find out what it is!
Sláinte as the Irish say and enjoy your Guinness! :)
Thanks to Mark for inviting me to the Guinness Storehouse, I could probably live there… and to

Ireland Tourism

. As always all opinions and views expressed are my own.