While on my trip through Indonesia I was the most active on Instagram that I have been yet and I actually had quite a lot of fun with it. Aside from playing around with the filters of the app itself I also edited some of my photos with the Camera + app on my iPhone and I think some of them came out pretty awesome. Here is a photo essay of Indonesia as seen through my favourite Instagram photos.
Our first few days were spent living on a Klotok river boat in the jungles of the Indonesian Borneo aka Kalimantan to the Indonesians. There we visited a reforestation camp and a few Orangutan rehabilitation camps operated by Orangutan Operation International.
Some of the food I ate on this trip was out of this world. Looked great and tasted even better. I enjoyed this fish dish at the  Amanjiwo Resort in Borobudur, Indonesia.
A scary looking mask to ward of evil spirits in the Keraton palace we visited in Yogyakarta, Indonesia. I loved the contrast of all the colours including the ceiling.
The view of Mt. Bromo (smouldering to the left) with the perfect looking volcano Gunung Batok next to it and the taller Semeru (Java's tallest peak) in the very back as seen from a peak of the craters rim called Pananjakan which contains everything. One of the best places in the world to watch the sunrise.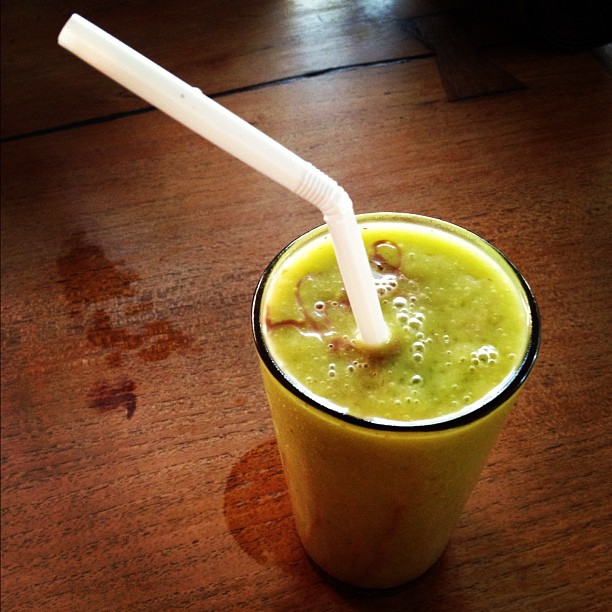 I had heard of this drink a few times but didn't believe it was true until it was sitting right in front of me. Avocado juice with a chocolate syrup. Sounds like one of the weirdest things in the world but it was so delicious!
One of the highlights of the trip for me was visiting Borobudur. The largest buddhist temple in the world, at every angle there was another amazing photograph waiting to be taken.
One of my number one goals in life has always been to see an active volcano and at Mt Bromo I got to see just that. There wasn't any lava or magma to be seen but the steam and foul smell of sulphur were good enough for me.
A performer beautifully dressed at the Ramayana Ballet we watched one night in Yogyakarta, Indonesia.
Fried bananas!! Almost everywhere we went in Indonesia we were being served bananas in some form or another and the fried banana was of course one of my favorites.
For my first time ever I got "lei'd" on arrival in Bali, Indonesia. It happened again a few more times after this one and was always such a nice welcome to a new place.
Once we made it to the island of Bali we took a day trip to Ubud, recently made famous by the book and film "Eat, Pray, Love". Aside from eating some delicious food and doing some shopping we also fed some monkeys like this guy in the Sacred Monkey Forest.
On our last day we were treated to a 90 minute massage in Bali at Taman Air Spa (Air in Indonesian actually means water and is pronounced differently.) Such a gorgeous spa.
Surf lessons at the Pro Surf school on Kuta beach in Bali. My ankle (still sore from breaking it a few months back) kept me from participating in the surf lessons, but they definitely had a great time.
A gorgeous sunrise in Bali, at the popular Potato Head Beach Club, one of my favourites from the whole trip.
Are you on Instagram? Leave your username in the comments below. If you aren't following me on Instagram yet, please check out my profile: CailinONeil