At the end of October, beginning of November 2012 I found myself visiting South Africa for the first time. If you have been following along from my multiple safari posts, you might already be aware of that. This trip was basically a dream come true for me. I have always wanted to visit South Africa and especially go on a safari but never in my wildest dreams did I realize that I would be going in 2012 let alone anytime in my 20's.
Over the next few weeks I will be uploading a couple South Africa videos to YouTube and posting many posts here about my trip and experiences. For now I will show you my "Highlights of South Africa" video and a few pictures and stories from my trip, I hope you enjoy!
HIGHLIGHTS  
 1. Going on Safari
We flew from Johannesburg to the And Beyond Safari Ngala Game Reserve for 4 days and 3 nights where we got to go on not one, not two, but six Safari Game Drives. We stayed in amazing accommodations at the Lodge and Tented Camp, we ate like Kings and Queens, slept like babies and were constantly in awe on Safari at the beautiful landscapes, sunrises, sunsets, and the wild animals that let us get close and didn't eat us. I'm honestly considering working as a guide at Ngala now… for reals.
2. Learning the History of the Country
South Africa is a country with a tumultuous history and while in Johannesburg we visited the Apartheid Museum, Liliesleaf Museum, and the Constitutional Court all along with having a fabulous tour guide (Robin) who he himself had a part in some of that history to help us learn about the country's past. It's a learning experience that I think everyone should take part in when visiting South Africa and lets hope it is a history that is not relived anytime soon.
 3. Taking the Blue Train
After taking the train in past years through part of Canada and from one end of Australia to the other I was excited when I saw the Blue Train was listed as an item on our itinerary. I actually hadn't heard of this train before but quickly learned that it is one of the most luxurious trains in the world. Even though my room didn't happen to be one of the ones that has a full sized bathtub I was blown away by the food, service and also had a great time enjoying the Cigar lounge. There isn't anything much cooler than hanging out with good friends on a luxury train, in South Africa, in your finest clothes, drinking from an open bar and enjoying a nice stogie now is there?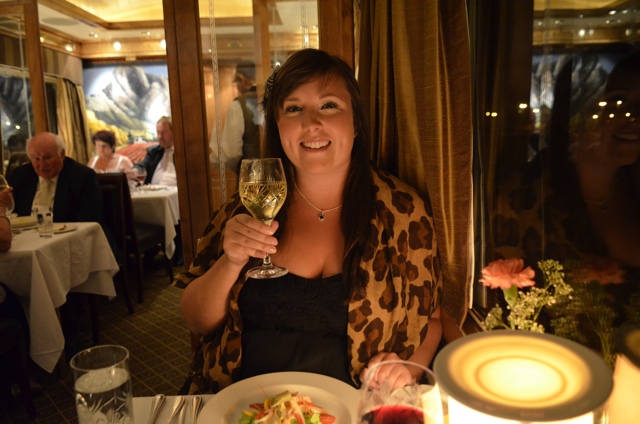 4. Visiting Johannesburg and Cape Town
It isn't really a trip to South Africa until you have visited Johannesburg and Cape Town. Johannesburg is the countries largest city, which also happens to be the largest city in the world not built near a river, lake or ocean front and is also home to the worlds largest man made forest.  Cape Town, one of three capital cities in the country is also the country's biggest tourist destination, my guess is partly because of Table Mountain National Park and the gorgeous coastline that the city sits on. A unique fact about Cape Town, it is also home to the Cape Floristic Region, one of six recognized floral kingdoms in the entire world (and also the smallest) is found right here in this city and surrounding area. Both cities are full of culture, friendly people, great food, shopping and so much more. I do think I fell in love with Cape Town the most, I'm an ocean girl I need to be close to it, sorry Johannesburg.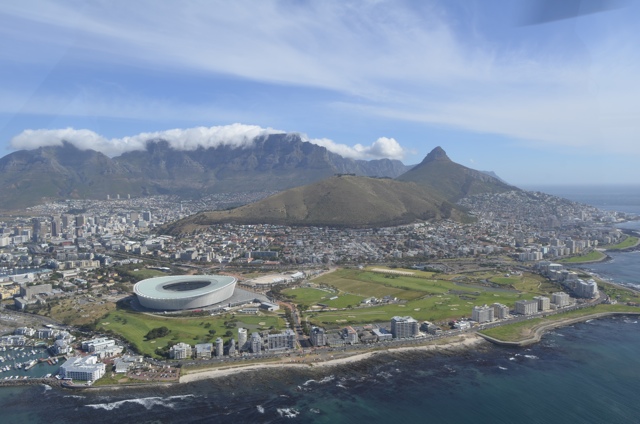 5. Penguins, Helicopter rides and blokarting
I only wanted this list to be of five things so these items are getting all crammed together. Bam. I have seen penguins a few times in Zoos but never had I had the chance to se them in the wild until I visited, South Africa. Found on Boulders Beach in Cape Town and the surrounding area is a colony of over 3,000 penguins and you can almost walk right up to them. There are board walks and paths you must stick to for the colonies safety, but let me tell you that that is close enough to these cute little wobbly birds. While in Cape Town we also had a chance to visit SANCCOB a sea bird rehabilitation centre where we met Rocky a resident pet / penguin and this is where I got the chance to pet my first penguin. Pretty awesome.
Following along with things being "awesome", in Cape Town we were told we had a one hour drive to get to lunch then we turned a corner and were told there was a change of plans. As we continued to drive a helicopter came into view. We were surprised with a helicopter ride! I had never flown in one before so let me tell you I was more than excited, especially because we got to fly over such a beautiful city, a great way to experience it for the first time.
One of the last things we did on our trip was go blokarting. Described basically as sailing on land, I was a bit nervous to try this but after I got going around our track set up in a parking lot near the beach I actually had a lot of fun. It was a bit of an adrenaline rush as you can get going really, really fast. Luckily I survived!
Have you ever traveled to South Africa? What were some of your favorite highlights? Which things might you like to do?