Hanging out by the piece called the "Cultural Girls"
Without a doubt the best way to explore the UNESCO World Heritage city of George Town (aside from eating) is to go on a walking tour of the city in search of its colourful street art. The street art of George Town, Penang, Malaysia is some of the best and coolest that I have seen anywhere else on my travels.
In 2012 for the George Town Festival the Penang Island Municipal Council commissioned a young Lithuanian artist Ernest Zacharevic to create multiple murals, paintings and interactive 3D art around the city. Not only did it bring some colour to the city streets but the street art also encouraged locals and visitors to explore the city more by foot and has since also inspired many other artists to create pieces around the city.
A school group poses in front of the Kids on a Bicycle 3D painting
When I visited in April 2014 not only did I find the original street art by Ernest Zacharevic but I also found a bunch of cat street art as part of the 101 Lost Kittens Project. Created by Thailand artist Natthapon Muangkliang, and Malaysian artists Louise Low and Tang Yeok Khang to heighten awareness of stray animals in the city which was part of the 2013 George Town Festival. As well there are wrought-iron caricatures through the city that give history and information about each street that they can be located on and there was even various street art around the city featuring the minions from the Despicable Me movies which might also be works by Zacharevic.
There are various maps available to show you where to find the street art and you can pick one up at most hotels or you can find one quickly online. I picked one up called the "George Town Exploratory Map" that showed me where the majority of the street art could be found.
Unfortunately some of the original artwork has been destroyed by weathering or humans however there is always more appearing. Here are some of my favourite pieces: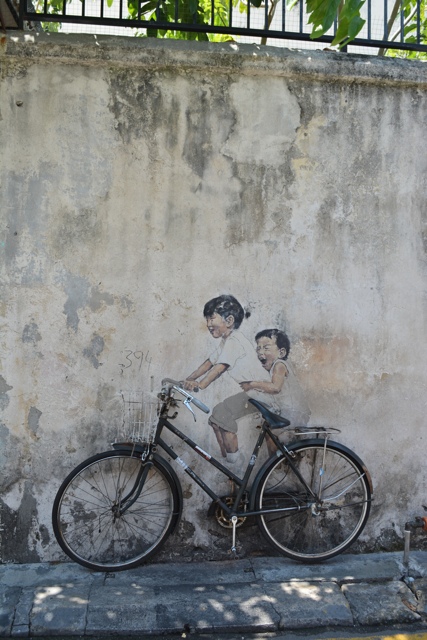 "Little Children on a Bicycle" 
One of the most popular pieces, so many people come to pose with this 3D mural it was actually really hard to get a photo of it without someone else in the picture.
Where it can be found: On Lebuh Armenian near the corner of Lebuh Pantai, not far from Skippy the big orange cat.
"Reaching Up" or"Almost There!"
This piece is of a little boy reaching up towards a window. Originally the wall by him was all white and at his feet was a chair sticking out of the wall that he was meant to be standing on. Over time the wall has gotten dirty mostly from people trying to reach with him like this lady and I think it is safe to assume that is also how the chair was destroyed.
Where it can be found: On Lebuh Cannon near the corner of Lebuh Acheh
"Brother and Sister"
This mural is said to be depicting real life memories of a man known as Mr. Au as a child along with his younger sister reaching out of their front window towards a bicycle that their parents use to ride selling dim sum and baked goods. Through my research this also seems to be one of the lesser known pieces of street art without much about it being found online.
Where it can be found: On Lebuh Armenian near the corn of Lebuh Victoria just a block away from the Chew Clan jetty.
"Brother and Sister on a Swing"
Where it can be found: On a side street off of Lebuh Chulia. It is off to the right if the jetty is behind you. At first it wasn't immediately evident where it was but then we saw people gathering near it and found it.
"The Boy and his pet Dinosaur" and "The Boy and his motorbike"
Both of these pieces sit side by side on Lebuh Ah Quee however sadly you can see now that from the building deteriorating that there isn't much left of the boy and his pet dinosaur.
Where it can be found: On Lebuh Ah Quee near the corner of Lebuh Pantai.
"Kungfu Girl"
Kungfu Girl or Little Girl in Blue is one of the larger of the murals.
Where it can be found: On Jalan Muntri just a couple doors down from the camera museum and not far from the popular cat cafe.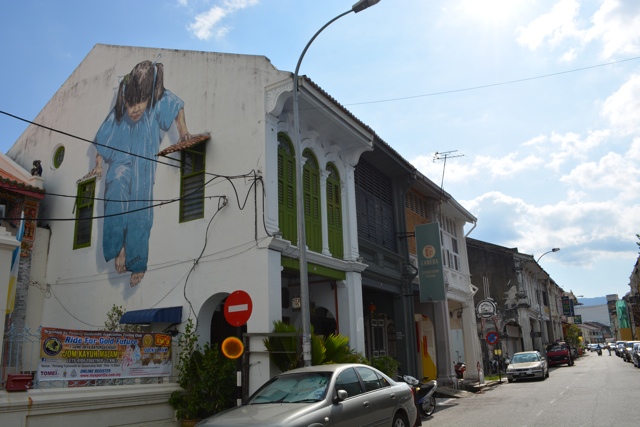 "Kungfu Girl"
"Skippy Comes to Penang"
This large orange cat is part of the 101 Lost Kittens Project which is meant to heighten the awareness of stray animals in the city. This painting is actually of a cat named skippy that was a rescue and had a deformed leg. Also just next to skippy as you can see below there are also a few other cats made out of string that are also part of the same project.
"The Giant Rat"
In a funny juxtaposition around the corner just out of eye site from Skippy is a Giant Rat. The rat was painted after skippy by a different artist and is one of the many "bonus" pieces of artwork that can be found around the city.
Where it can be found: On Gat Lebuh Armenian near the corner of Lebuh Pantai.
"Please Care n Bathe Me" or "Two Kittens in a Tub"
I wouldn't of found these two cute little guys if a nearby vendor hadn't pointed them out to me. They are located in the same alley way/ driveway as the Big Rat. Just walk down to the end and they are there on the right.
Where it can be found: Down the alley way by the big rat just off of Gat Lebuh Armenian.
"102nd Cat Mural" or the little blue bicycle cat
This kitty can be found outside of a bicycle shop just across the street from Skippy. He was made after the 101 Lost Kittens Project was complete.
Where it can be found: Gat Lebuh Armenian across from Skippy
"The Awaiting Trishaw and Paddler"
This mural is the largest of them all in Penang and depicts one of the city's popular rickshaw's or "trishaw" and the owner "paddler" taking a rest and waiting for is next fare. This image is on a building that actually sits just across the street from the main Trishaw waiting area in the city. Note: This also seemed to be a sketchier part of town.
Where it can be found: On Jalan Penang to the right of Jalan Muntri (if you are facing Jalan Penang) on the far side of the building on that corner. Best seen from the parking lot next door.

"The Real Bruce Lee Would Never Do This"
This one is a bit hidden away but my map told me it was located where I was so I kept searching and I walked down the alleyway/driveway of a building and found it located on the back of the building DIRECTLY behind the boy on the motorbike and the boy with the pet dinosaur. Same building just on the far side of it.
Where it can be found: Off of Lebuh Ah Quee down the alleyway/driveway to the left of the boy on the motorbike.

"Little Blue Kitty"
This little guy is located below the Bruce Lee Mural and he is staring up at Bruce Lee who is karate kicking his two cat friends hoping he isn't next.
Where it can be found: At the bottom of "The Real Bruce Lee Would Never Do This" mural.
Street art type paintings inside the Moustache Houze a trendy cafe on Lebuh Campbell.
"Ah Quee?" wrought-iron street art and an alarming minion
This wrought-iron piece of street art is about Kapitan Chung Keng Kwee, one of the wealthiest and most powerful men in 19th century George Town and it is based on the work of artist Reggie Lee. The work of art depicts a european visitor meeting him for the first time and not being sure how to say and spell his name. Ah Quee.
Where it can be found: On Lebuh Ah Quee (which was named after Ah Quee after donating his house to the municipality).
"Procession"
This piece of wrought-iron street art depicts locals celebrating the year of the Tiger. The Tua Pek Kong Henoh float that they carry is said to wash away bad luck and bring good health and wealth. A confused tourist who obviously enjoys safaris or animal hunting anxiously watches as it passes by.
Where it can be found: On Lebuh Armenian
There are many more pieces of street art to find and explore in George Town aside from just these, and the best part is that they are free! So get out there on foot or by bicycle, get lost and explore and find them for yourself.