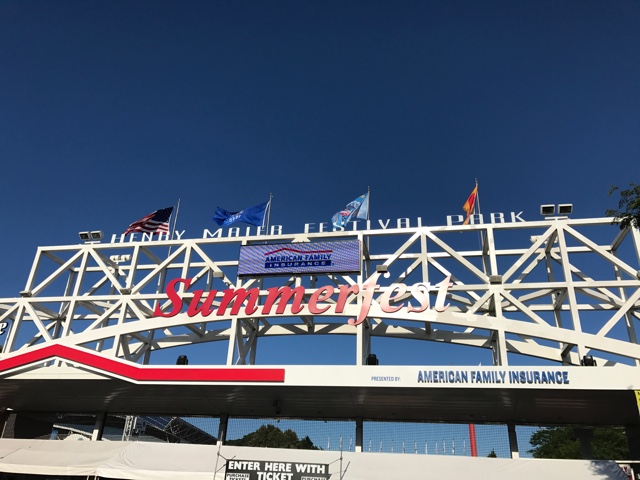 The Summerfest music festival has been taking place in Milwaukee, Wisconsin every summer for the past 50 years. Taking place over 11 days, it holds the Guinness World Record title for the World's Largest Music Festival. The festival happens along the Lake Michigan waterfront at the 75-acre Henry Maier Festival Park with 800,000 to 900,000 people in attendance to see over 800 acts perform 1,000 performances across it's 11 stages. If you have never heard of it, that can sound quite overwhelming, but also quite awesome. To prepare you for your first Summerfest ever I have created the First-timers guide to Summerfest in Milwaukee.
I went for the first time this summer (2017) and spent two days at the festival. While there I had the chance to see at least 8 performances and got to eat tons of festival food. From my experience, here are my best tips before going to Summerfest for the first time. Things I learned and things I wish I had known that will hopefully help you have the best time ever at Summerfest.
Make a plan before you go
I couldn't stress this enough. Go through the lineup on the website and make a list of the band names you want to see, their performance times and locations. Then make a plan of attack and schedule for your time at the festival to maximize your experience. If you want to see a big act in the amphitheater you need a specific ticket to see them which costs extra, so make sure you get that way in advance.
Be sure to triple check the performance times and locations each day and follow Summerfest on Twitter for updates. When I was there Sheryl Crow was supposed to perform at 6:30pm, but I noticed the website changed her time to earlier the day of. I went to the information booth to confirm but they told me, no she was still on for 6:30pm. However they were wrong and for some reason she had been moved to earlier. If I had believed the website and/or checked their Twitter I might not have missed her. But know that set times can change daily.
Since Summerfest is spread out across such a large area use the festival map and plan out where each performance is. That way you can give yourself an idea of how long it will take to walk to each one so you don't miss a thing.
Wear Good Walking Shoes
You will be covering a lot of ground at the festival, walking a bunch and most likely standing at each performance so make sure you have on good walking shoes. The whole area is paved so the hard ground can be tough on your feet to be standing on for long periods of time.
Canadian (yay!) David Myles who is from my hometown plays at Summerfest 2017
Arrive Early
If you are seeing an act in the amphitheater you will have assigned seats so you don't really need to get there that early unless you want to beat the crowds. However if you are seeing a large act at one of the other stages plan to be there at least 45min to an hour ahead of time so you can get a spot.
At Summerfest there are open benches in front of every stage instead of just standing room only areas. (see photo above). The benches are great for during the day when more mellow performers are on that you can sit and enjoy and for just relaxing. At night when the big acts are on, it's a different story. The benches are an absolute nuisance because people stand on them to watch the show, meaning no one else can see the stage.
My first night there I didn't realize this. I ran from the Future concert that was halfway through so I could catch the end of DNCE. When I got there however it was impossible to see them because everyone was standing on the benches. You couldn't even see the tops of their heads, so I had to settle for watching them on the big screen. That was a bummer, you want to see them in the flesh, not on a huge TV.
It would be really great if Summerfest could either 1) make a rule and enforce it that people are NOT allowed to stand on the benches or 2) remove them each night before the big performances so everyone could enjoy the bands. It really bummed me out, but at least I learned that for the next night when I made sure to arrive early enough to get a spot on a bench as close to the front as possible. Although doing that made me miss seeing another band I had wanted to see.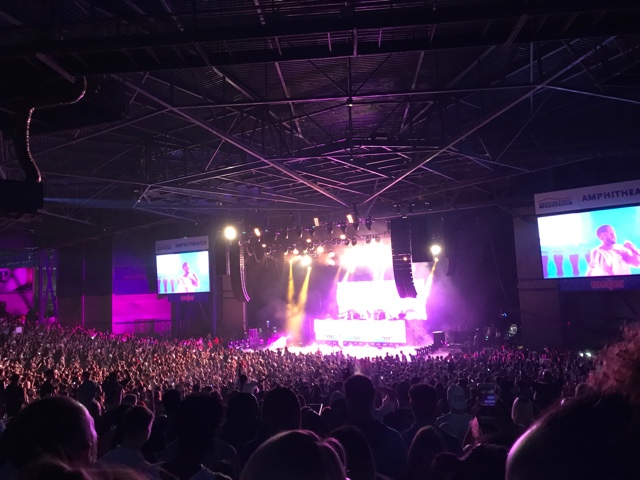 Big Sean puts on an awesome show in the amphitheatre at Summerfest 2017
Amphitheatre tips
If you are going to see one of the big acts that is performing in the Amphitheater make sure you get your tickets well in advance. When you are doing seat selection if there is nothing available in front go for the middle part of the middle section. This section has the best viewpoints to the stage, it has assigned seating and it is also covered by the roof incase of inclement weather.
Bottle caps
This might be an odd tip but it might also be the best one. Everywhere that serves you food at Summerfest removes the bottle caps from your drinks and throws them away! For fountain pops they don't give you lids either. I asked why this was a thing and was told it was done at the request of the bands so that people can't throw heavy bottles of pop or water at them. For the 99.9% of people that would never EVER do that, this is slightly inconvenient when you are trying to juggle your drink and food or when you don't want to drink it all right then. So my tip is… shhhh… bring your own bottle caps!!…shhhh don't tell them I told you…
I managed to get an awesome spot for Walk Off The Earth who were my favourite performance over the two nights I was there
Uber and Lyft
Ubers, Lyfts and taxis will be your best bet to get to and from Summerfest if you are staying somewhere that isn't in walking distance. Uber even has designated drop-off and pickup areas at the festival. It was pretty easy to get dropped off and to grab an Uber to leave from there during the day. However at the end of the day when all of the acts have finished it is very hard to get one, because everyone else is trying to as well. Each night I had to wait about an hour or more before finding one that was available or one that didn't cancel on me.
Money
Some of the vendors are cash only and often cash is the fastest way to buy things anyway so make sure you bring some with you. There are also ATMs all over the festival grounds if you need more. It is also great to have on hand to buy merch from your favourite artists. If you feel uneasy about carrying cash around you can also buy Summerfest giftcards that work at a majority of the food vendors.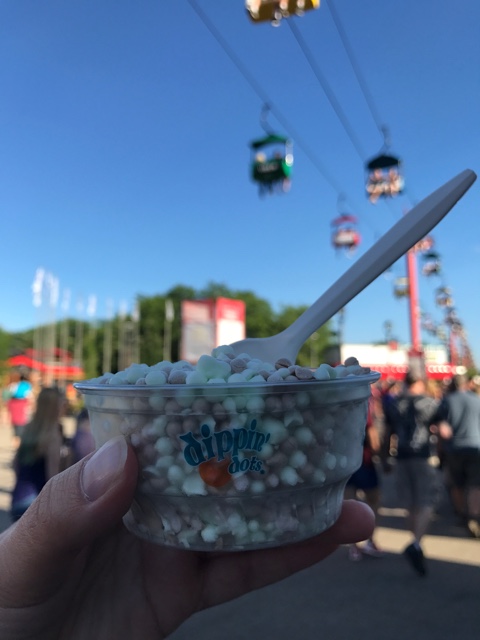 Mint chocolate chip dippin' dots! The best!
Eat All of the Food
I didn't even get a chance to put a dent into all of the awesome and crazy festival food that was available at Summerfest. Next time I would probably even arrive a few hours early each day just to sample all of the delicious, whacky and unhealthy things that there is to eat.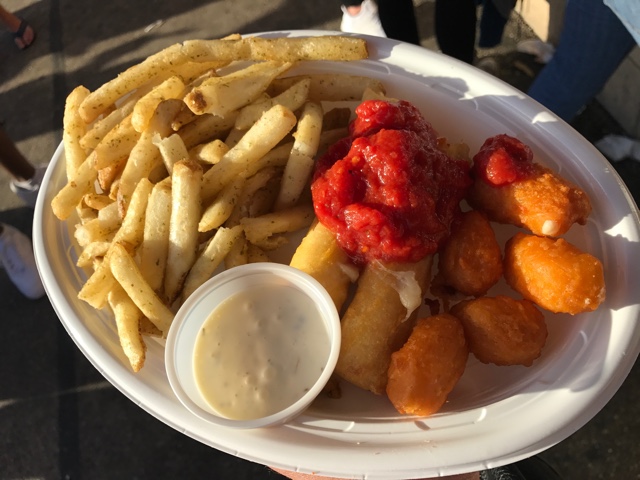 Saz's famous sampler platter at Summerfest
I did get to enjoy Dippin' Dots, popcorn, and mini doughnuts, somewhat typical festival foods. I also had a sampler platter from Saz's which is apparently a MUST try at Summerfest. The sampler platter featured cheese curds (of course), mozzarella sticks that were like in a spring roll wrapper instead of crumbed and garlic fries. A heart attack on a plate basically, but of course so good.
I can not resist mini donuts
Other tasty food items available are roasted corn on the cob with a bunch of different toppings, BBQ meats, burgers, pizza, pretzels with crazy toppings, nachos, hotdogs, tater tots and so much more.
Stay Charged up
Don't forget to bring backup batteries for your phone as you are sure to be taking lots of pictures and videos of your favourite bands. Also know that because there are so many people in one spot there is a good chance the cell phone service won't be that great (especially in the amphitheater). If you are separating from a group try not to rely on your phone 100% for meeting back up again and instead arrange a time and location to meet just incase.
Take a break and soar above the crowds on the Summerfest Skyglider
Don't Stress Out, Have Fun
With so many different acts performing it can get stressful trying to see everyone that you want to see. Combine that with fighting through the large crowds to get from point A to B it can make for an intense experience. Take time to breath, sit and enjoy the atmosphere and do some people watching. Also very importantly, don't forget to have fun, do some dancing and sing your favourite songs at the top of your lungs.
Have you ever been to Summerfest in Milwaukee? What else would you recommend to make it the best experience ever?
Special thanks to Visit Milwaukee for inviting me to this awesome music festival. As always all opinions, thoughts and full bellies are my own.