The majority of the hotels in Maui are out of this world awesome, but have you ever considered visiting Maui and renting a condo instead?
Of course there is nothing like being in a place like the paradise that is Maui. Staying at a lush hotel with people waiting on you hand and foot, making up your room every day, cooking your food and bringing you drinks, however as awesome as this is we all know that this can be a bit pricey.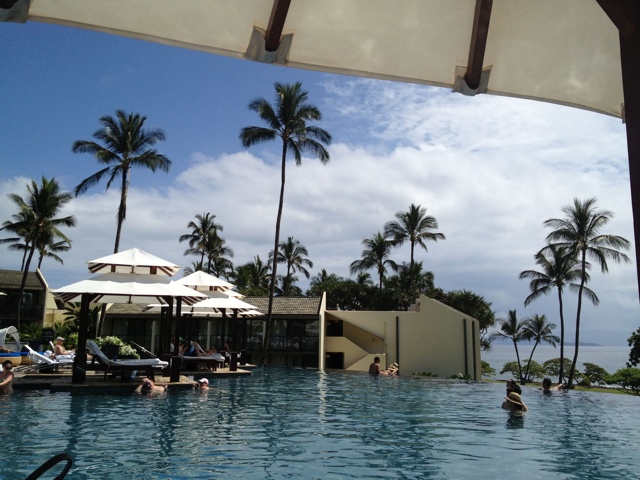 The view from my private cabana at the infinity pool at the Wailea Beach Marriott Resort & Spa. Gorgeous, but it comes with an understandable cost.
If you are planning on staying longer than a week, renting your own condo might be the cheaper option you are looking for. Not only is it most likely cheaper nightly, but also you are able to cook for yourself, wash your own clothes, its a great way to meet locals (that live in the condos around you) and you can experience what it is like to live like a local in paradise. Who wouldn't want to do that?
Consider pampering yourself at a hotel for a few nights and then renting a condo to stretch your dollar a bit further.
When I visited Maui earlier this year I stayed at two awesome hotels – The Wailea Beach Marriott Resort & Spa and The Napili Kai Beach Resort. After my itinerary was finished for the trip I was on with the tourism board I decided to stay a few days longer and I booked a condo rental in Kihei at the Sunny Maui Condos at Kihei Bay Vista.
Sunny Maui Condos own 12 units at 60 unit Kihei Bay Vista property so the nice thing about booking with them instead of an independent condo owner was that if anything were to go wrong with my condo they could easily move me to another. They also have a long and positive history renting condos and the added bonus of a full time customer service manager rather than just a property owner that might not have time for you when you need something fixed.
Centrally located in Maui, Kihei is just down the road from Wailea, 20 minutes from the airport and about half an hour away from Lahaina. My condo was across the street from the beach and was a short drive to grocery stores, great restaurants and a local favourite for tasty shave ice.
Windsurfers at Kalepolepo Beach across from my condo in Kihei, Maui.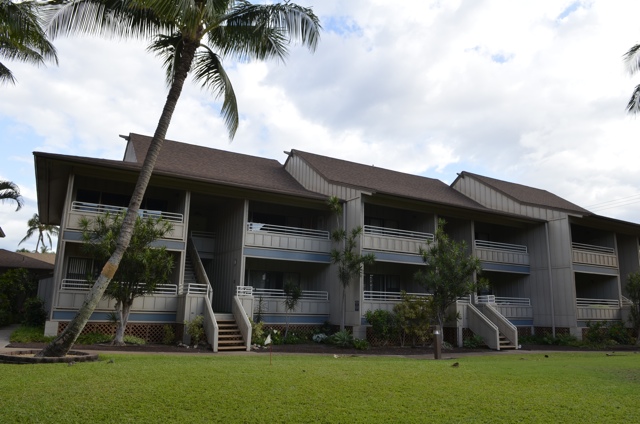 Kihei Bay Vista Condos.
My condo had a nice Lanai aka patio.
Inside the condo was a nice living room and dining room with couch and TV. There was also ceiling fans and an AC to keep the place cool on hot days.
Where I stayed was a single bedroom condo that was nicely decorated, giving it a homey feel.
There was one full sized bathroom with a separate toilet and shower from the sink, which is always nice so more than one person can get ready at once.
BONUS: The condo came with a washer and dryer set, and soap for washing.
The property also had a gated pool and hot tub area for condo residents only.

A shared BBQ area and a great place to mingle with fellow condo dwellers.
The condo also came with free wifi, parking and beach supplies like beach chairs and beach towels and like a hotel there was also a safe to store your valuables in. The condo staff that I met with were very friendly and responded to emails quickly. Another added bonus was that the door to the condo didn't need a key to lock but actually had a numbered keypad so I was able to arrive at whatever time I needed to without having to plan to meet someone to get the key.
I did miss having a waiter bring me drinks poolside and getting room service to my room but staying in a condo in Maui offered a whole other experience and helped me save some money. This was my first time staying in a condo/rental while traveling and I would definitely do it again, especially if I was back in Maui.
Have you ever rented a condo on your travels? If you have any further questions about my stay leave a comment below or send me an email.
Special thanks to Sunny Maui Condos for hosting my stay.