If you are a fan of film and TV and are in love with the magic of it all then the Warner Bros. Studio Tour should be at the top of your bucket list. Located in Burbank, Los Angeles on the edge of Hollywood it is a must do for all movie and TV fans visiting the city. I was beyond thrilled to recently take the tour, here is my Warner Brothers Studio tour review.
Warner Bros Studio Tour Costs and Descriptions
There are three to four tour options available depending on the time of the year. The basic tour costs $65 USD (bought online) for adults. The tour consists of  2 hours of a guided tour via a tram and then time to explore studio stage 48 which highlights various parts of film & TV production.
Other tour options include the Classics tour for $75 USD per guest. This tour highlights the golden era of film and TV from the beginning up until the 1970s. For the ultimate movie and TV buffs I definitely recommend looking into the Deluxe tour. A bit of a higher price at $265 per guest this tour takes 5 hours. It includes everything from the basic tour as well as a fine dining lunch, a visit to the costume department, props and a lot more.
During the Halloween season the Warner Brothers Studio also offers a "Horror Made Here: Festival of Freights" tour. This features a few scary mazes featuring characters from your favorite horror films like Pennywise from "It". You can also see costumes, props and more from the brain of Tim Burton, some crazy haunted mazes and a lot more. This tour is offered only on select nights in October and prices vary from $76 to $86 USD.
It is recommended to buy your Warner Bros Studio tour tickets well in advance. You can purchase them online for the best rate HERE.
The iconic WB water tower 
Best Tips for a Warner Bros. Studio Tour
While visiting I took the regular studio tour. It is recommended that you arrive for your tour 15-30mins in advance. Check in with your tickets and you will be assigned a card that will be called when it is your time for the tour. While waiting there is a bathroom available as well as a Starbucks in the waiting area.
The tour begins with a quick video introduction on the history of Warner Brothers with some funny bits by Ellen Degeneres. Guests are then taken outside by their guide where you get on a studio tram and your tour begins. During the tour pretty much no video recording is allowed but you can take photos in many spots. They will be more than sure to tell you when no photography is allowed.
Throughout the tour you will be getting in and out of the tram a few times and often the tram you are riding in changes, so be sure to keep your belongings with you at all times. Tour routes also vary due to 1) How many tours are happening at that time. 2) The filming locations of current productions that might close down certain areas. 3) A million other reasons.
An outside view of the Alibi Bar from "Shameless"
Highlights of the Warner Brother's Studio Tour
During my tour they were filming the 9th season of Shameless so unfortunately there were areas of the backlot that we couldn't drive through. I had hoped to spot some of the cast as I am a big fan of the show, but no luck. Celebrity sitings are not uncommon however so keep your fingers crossed and your eyes peeled.
Driving through the backlot one moment was as if we were driving through the streets of New York and the next Rosewood, Pennsylvania through the sets of "Pretty Little Liars". Our tour guide was very knowledgeable and could answer many questions about things that had been filmed there. We also learned some movie magic secrets. All of the buildings in the NYC set had missing door knobs and street numbers as each different thing that films there uses different ones each time.
The popular bandstand from "Gilmore Girls'
There were many other exterior locations that we saw as we toured around the backlot as well. We saw spots featured in the "Gilmore Girls", the exterior of the house from "Fuller House", "Shameless", "La La Land", locations from "Friends" and more.
Costumes for Aquaman and the Flash
It was cool to drive through the backlots and see all of the famous exteriors but the best parts were when we got to get off the tram and explore a bit closer. One of the buildings we stopped at housed the "DC Universe: The Exhibit" which was full of various costumes worn by your favorite super heroes.
Gal Gadot's blue dress from Wonder Woman
On display when I visited were the costumes from the main members of the Justice League. You could get up so close to Batman, Superman, Aquaman, the Flash, Cyborg and yes of course Wonder Woman. Wonder Woman even had her own section for her own film with costumes and props from other characters in her story like Steve Trevor and Antiope. They also had the stunning blue dress she wears with sword down the back and all.
Original costumes for the teachers at Hogwarts and the sorting hat from the Harry Potter films
Upstairs from the DC exhibit were even more surprises. There were costumes and props from the Harry Potter films including the Triwizard cup. You could also be sorted by the sorting hat. This level was basically all things JK Rowling. There were also costumes and props from the first "Fantastic Beasts And Where To Find Them" film. You can check Newt Scamander's costume as well as bread shaped Nifflers,  Erumpents and Demiguises from Jacob Kowalski's bakery.
Baked Nifflers,  Erumpents and Demiguises from Jacob Kowalski's bakery
What is inside the big studio buildings and sound stages?
Aside from filming exterior shots on the backlots, some of building facades also have working interior spaces too for filming. The majority of the filming at WB however is all done inside of the huge studio buildings / sound stages. A cool feature beside the entrance to each studio is a large plaque on the wall listing each tv show or film that was ever shot in that building.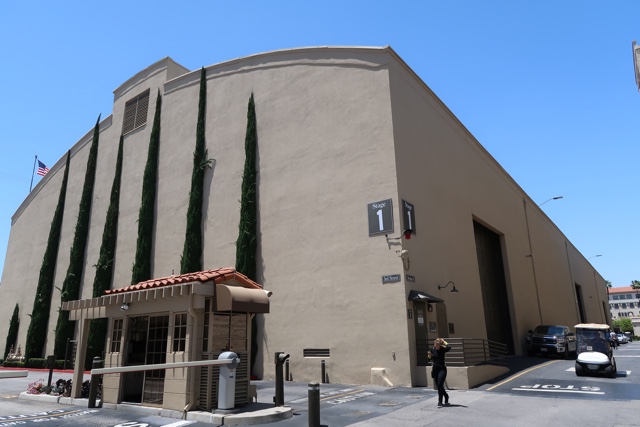 The famous Stage 1 at Warner Brothers
One of the studios that we got to visit was where they film "The Big Bang Theory" with a live studio audience. Inside we saw both apartments featured in the show and the famous broken elevator and stairwell. Unfortunately no photos were allowed inside and the show was on hiatus during my visit so we couldn't get to close to the hot sets either. It was still cool to see and I was AMAZED at how small the sets were. I didn't think they were real they looked to small. It's amazing what camera tricks and angles can do.
The Batmobile from Batman and Batman Returns
As we drove around we also got to see the exterior of the large props department. It would have been amazing to go inside, but that option is only included in the longer Deluxe tour. Right next to it however was another exhibit area that we were able to enter that was full of a bunch of Batmobiles from over the years, to celebrate 75 years of Batman. This was like a history display of the evolution of the bat mobile from all 7 Batman films. There were Batmobiles from the Michael Keaton days all the way up to Christian Bale. This also included Jared Leto's pink car from when he played the Joker most recently.
Learning about the Post Production filmmaking process
Our tour finished with us being dropped off at the Warner Bros. Studio Stage 48. Opened in July 2015 Stage 48 adds a whole other experience to your WB studio tour experience. Entering the Stage right away there is a cafe called Central Perk (like in "Friends"), where you can stop and grab a drink or bite to eat. Then continuing on through the experience to the left you will find the actual Central Perk Cafe set from "Friends". You can sit on the famous couch where you can get a pro photo done by a WB team member. If you are lucky you might even get to participate in a script reading for a scene in the show. They will film you and edit it together with the cast of the show like you were actually filming with them.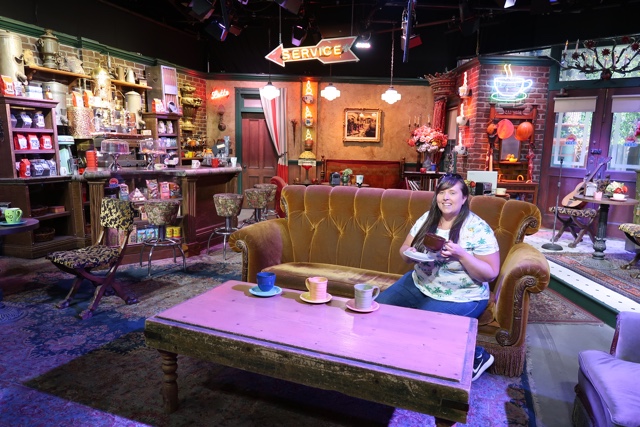 Hanging out at Central Perk
(Note: You can get a really nice pro photo done by the WB staff on the "Friends" set. They will also take photos for you with your phone/camera. BUT staff are not allowed to take photos with your own camera with the Central Perk Cafe sign in the shot. If you are there solo ask someone else in line to take that picture for you if you want it.)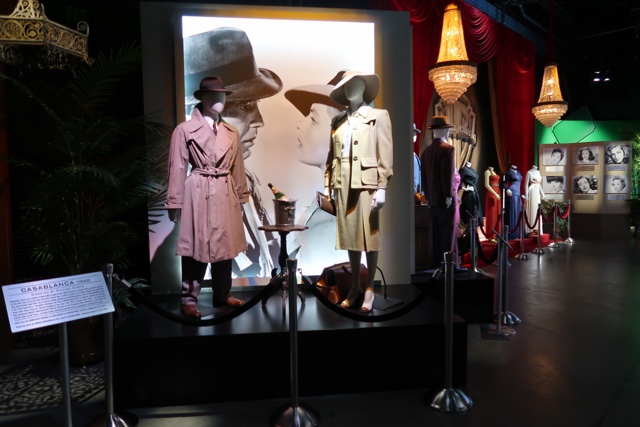 Costumes from Casablanca
Stage 48 also features wardrobe pieces from various films. While I was visiting there was a temporary exhibit of the ball gowns from "Oceans 8" as well as the necklace that they steal in the film. They also had many costumes from classic films from the past on display like "Casablanca".
Here you can also learn how films and TV shows come to be. You can learn about screen writing, casting, postproduction, production design, sound and green screen work is done. As well as ride a broomstick from Harry Potter films and then be put into the film digitally.
I won my first Oscar!
There is also a room full of Oscars, Emmys, award envelopes and other awards. If you are lucky you can have the chance to hold an Oscar yourself.
Exit through the gift shop
One of the best parts at the very end of the whole experience and tour  was the gift shop. In the Warner Brothers Studios gift shop you can find some unique souvenir items related to your favorite films and TV shows that you might not be able to find elsewhere. From "Ellen" t-shirts and sweaters to Nifflers from "Fantastic Beasts", various "Big Bang Theory" T-shirts, a "you're my lobster" cup from "Friends", "Harry Potter" wands and robes, items from "The Lego Movie" and a lot more.
The Warner Brother's Studio Tour is a great value for the price with everything you get to see and learn about. If you are a fan of movies and TV and have any kind of interest in how they are made I definitely recommend this tour. Buy your tickets online HERE for the best price.
These were the highlights of the tour in the summer of 2018. Often exhibits change and new things are added so your experience may vary.
While visiting WB I stayed on the coast at Marina Del Rey Hotel.
Special thanks to Warner Brothers for hosting me on this visit. As always all opinions and views expressed are my own.