Maui and Oahu are the two most visited Hawaiian islands and having visited them both I can see why. I can't decide however which one might be better than the other because they are both unique and have some great attributes different from the other while of course having many similarities as well. Instead of making a post on which one you must see over the other here is a post of things that I consider to be the best of Maui and Oahu.
Maui
Maui was the first Hawaiian island that I ever visited. Probably known best for its scenic drive called "The Road to Hana", I have actually visited the island twice now and have yet to take that drive. I did however once drive fully around west Maui (where most car rental places don't suggest you go because of the narrow, winding roads and common rockfalls) and was in awe of its beauty, even on a rainy day as I went in search of the best banana bread on the planet.

The view into the crater on the top of Haleakala
Haleakala
Maui is basically two islands/volcanos/mountains fused together and on the east island (east Maui) the volcano is called Haleakala and parts of it have been turned into Haleakala National Park. Standing over 10,000 feet tall it's peak is above the clouds and it is a popular spot to visit on the island. You can hike through its crater, see the most amazing sunrises, go horseback riding and also ride a bicycle down the many switchbacks on the road.
Downtown Lahaina
Lahaina
Maui doesn't really seem to have one main downtown area but it does have various small towns with the populations from 11,000 to 20,000 people. One of the most popular areas is Lahaina on West Maui. Lahaina is home to lots of restaurants, shops and touristy things, it is located near many hotels and resorts and it is also where you can catch the ferry to Lanai or book a sailing, fishing or submarine tour and more. It is also a great place to grab a shave ice from Local Boys and enjoy it under the huge Banyan tree in the park.
Goats feast as they are milked at the Surfing Goat Dairy Farm
Surfing Goat Dairy
A fun way to spend your afternoon in Maui if you want to explore and get away from the beautiful beaches is to go for a visit to the Surfing Goat Dairy. Here you can take tours of a working goat farm where you can feed baby goats, learn about milking goats and trying it for yourself as well as learning all about how goat cheese is made. While there you can also sample a flight of goat cheeses and try some of their very best that they have to offer and then you can load up on a bunch in their store to take home or even indulge in their gourmet goat cheese chocolate truffles.
 
Sailing in a re-made Hawaiian Sailing Canoe
Sailing
There are many different water activities to do in Maui like sunset cruises, whale watching and more, which is of course to be expected on a Hawaiian island, but Maui has a few extra treats compared to others. Tours are available to take you snorkelling or scuba diving at Molokini a unique crescent shaped volcanic crater just off the coast of Maui. You can also arrange a sailing tour on a Hawaiian sailing canoe. There are roughly only 20 of these boats left in all of Hawaii and there is only one on Maui and it offers sailing and snorkelling tours that are quite unique compared to a regular sailing tour.
Other fun activities in Maui that you can do is take a helicopter ride around the island or over to the sea cliffs of Molokai, visit an organic farm for a tour or go to the Ocean Vodka distillery and enjoy an amazing meal and show at the Feast of Lele Luau.
Maui hotels that I recommend: Kaanapali Beach Resort, Napili Kai Beach Resort, Wailea Beach Marriot Resort & Spa.
Oahu
I visited Oahu for the first time last year and although I didn't get to explore the whole island I did get to go on some driving adventures and really enjoyed soaking up the sun on the ever popular Waikiki Beach. Oahu is the most populated of all of the Hawaiian islands and is home to just under one million people with roughly a third of them living in the Hawaiian capital city of Honolulu on Oahu. One of the things Oahu is best known for is Pearl Harbour and the USS Arizona Memorial that you can visit.
The view of Waikiki Beach and Diamond head from the Royal Hawaiian Hotel
Waikiki Beach
Oahu is also known for its beaches and amazing surfing with one of the most popular beaches being Waikiki beach for its location in downtown Honolulu, near by to lots of great hotels and restaurants, and really the heart of the city. It is also known for the overlooking impressive view of the tuff cone of the popular Diamond Head. On Waikiki you can also go surfing and paddle boardinging, go sailing, snorkelling and so much more.
Purple Ube pancakes from Yogurstory in Oahu
Aloha Food tours
While in Oahu I was beyond excited to go on a food tour and I was able to line up an afternoon with Aloha Food Tours and we ate a ton. It was a great way to learn not just about the typical Hawaiian food that you might be served at a Luau but also other typical tastes like spam masubi or loco moco and also just interesting eats while learning about parts of the Honolulu food scene. It was really a tasty and informative experience, that I would recommend to anyone.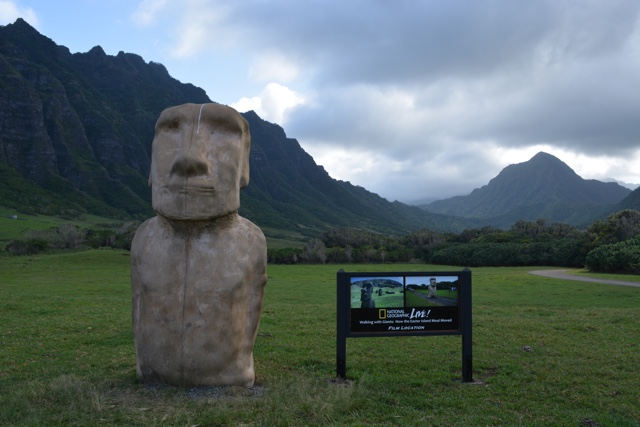 Part of a National Geographic show about Easter Island was filmed at Kualoa Ranch
Kualoa Ranch
Outside of the city north of Honolulu away from the hustle and bustle and out into nature is Kuala Ranch a 4,000 acre private nature reserve. At Kualoa you can go horseback riding, go zip-lining, take an ATV tour and even do a food tour of food grown and harvested on the property. The highlight for me however was the Premiere Movie Sites VIP Tour as the ranch is quite often the filming location for many TV shows and movies. Everything from Lost, to 50 First Dates, Hawaii 5-0, Jurassic Park, Jurassic World and a bunch more have been filmed there. On the tour they show you locations from each film and it was really cool to stand in the same place as some of your favorite movies and shows.
The front gates at the Iolani Palace
History
Aside from visiting Pearl Harbour and the USS Arizona there are a few other important places where you can learn about the history of Oahu and Hawaii as a whole on the island. One place I recommend is the Bishop Museum, which is full of some amazing Hawaiian and Polynesian history. They have everything from surfboards from the popular surfer Duke Kahanamoku who was the first to make the sport popular to the 'Ahu 'ula feather cloak that had been given to Captain Cook in 1779 by a Hawaiian chief which was finally returned to Hawaii in 2016. You can also visit the Iolani Palace which was a royal residence of the Kingdom of Hawaii in the 1800's. You can get a tour of the building and see how it was decorated and used back then, being that it is the only Royal Palace in the US it is quite interesting to visit.
Oahu is of course also probably the best place to go shopping in all of Hawaii as the shopping district in Waikiki has pretty much every store imaginable, definitely be sure to bring your wallet and shopping shoes.
Oahu Hotels that I recommend: The Royal Hawaiian and the Outrigger Waikiki Beach Resort
Have you been to either island? Which did you like more? What were you favourite things to see and do?