Last week I flew to Adelaide in South Australia from Sydney to take a train called The Ghan with Great Southern Rail to the city of Darwin in the Northern Territory. It was a journey that lasted 3 days, 2 nights and 54+ hours and it was quite the experience.
The following is a photo essay from my journey, stay tuned for a travel video from the trip coming soon.
About to board the Ghan in the city of Adelaide in South Australia.
Taken from near the back of the train this is probably one of the pictures I am most proud of.
The sky in the middle of the outback is so big as funny as it sounds, it reminded me of my Cross Canada Road Trip that I went on last June with my friend Candice.
The sunsets were made up of spectacular colours that filled the sky.
I wonder if "Red sky at night, sailors delight" applies in the middle of the Australian outback no where near an ocean?
Typically dusk and dawn is when you have the best chances to see wild kangaroos and other animals, however I didn't see any wild roos on this trip.
A shot of the beautiful Queen Adelaide Dinning Room that I got to eat in every day.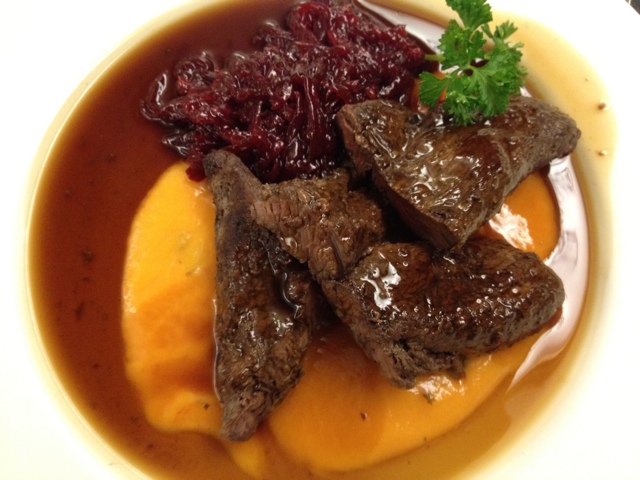 I did however see some Kangaroo on my plate! One of the many meals I ate on the train (yes it was delicious!)
Each night after dinner I would come back to my room and find my bed pulled down and made with a delicious chocolate to eat!
After we passed the Tropic of Capricorn and went further north past Alice Springs I started seeing these gynormous termite mounds dotting the landscape. 
In the Red Class on the train you got to eat in the Matilda Cafe and I loved the vintage green colour of the hallway.
I also enjoyed walking down the corridors that were "S" shaped like a snake, it was almost like dancing when trying to walk down them while the train was in motion.
The beauty of an engine that pulls all 28 cars. Yes… I realized after I took this photo that I maybe was in an unauthorized area… but it was all for the art of the project! Silly Canadian tourist.
And of course to finish off an awesome 3 day 2 night trip on the Ghan going through the Australian outback to the top end I celebrated with a lovely glass of champagne.