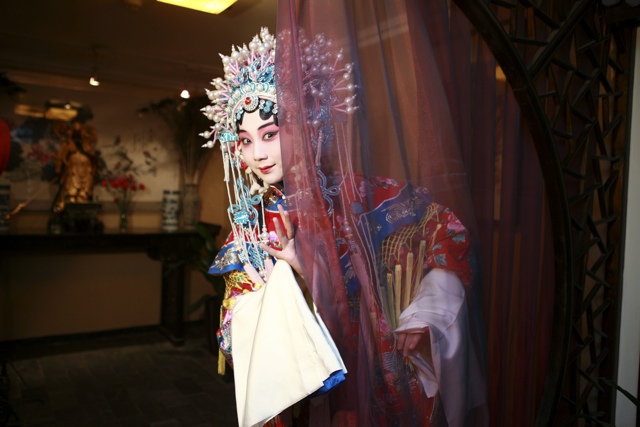 A performer from Suzhou's Kunqu Opera – photo credit Travel Suzhou
Located 70 miles west of Shanghai in China, the city of Suzhou dates back 2,500 years and is full of beautiful classical gardens, stunning architecture, UNESCO World Heritage sites, many canals and water ways and much more. In fact because of it's flowing canals it is even known as the Venice of China. This month I am excited to partner with #TravelSuzhou to not only tell you a bit about the city but also to show you how you can enter win your own trip for two to visit Suzhou.
If I were to win and get a chance to visit Suzhou myself here are my top five bucket list items that I would love to experience.
Shantang Street, one of the many popular canals in Suzhou – photo credit Travel Suzhou
1. Take a Cruise down the Grand Canal
The Grand Canal in Suzhou is 1,200 miles in length and is China's longest man-made waterway. It is also often compared to the Great Wall as being one of the most magnificent constructions in all of ancient China and is of course on the UNESCO World Heritage List. Taking a boat tour on the Grand Canal you can see ancient dwellings, stone bridges and learn about the local ways of life of the many Suzhou residents that depend daily on this great canal.
Dried tea leaves – photo credit Travel Suzhou
2. Enjoy a traditional tea along the Grand Canal
Springtime in Suzhou signals the beginning of the tea picking season in Suzhou. Visitors and locals a like can enjoy the experience from bud to glass where you get to pick and roast tea leaves, and learn to brew the perfect pot as well enjoy the final product. There are also tea festivals that you can attend in Suzhou like the Biluochun Tea Culture and Tourism Festival. However if you prefer to just enjoy it then get so involved there are also many tea houses along Suzhou's Grand Canal where you can enjoy a cup and take in the great views of the canal.
A view of the Humble Administrator's Garden the largest classical garden in Suzhou – photo credit Travel Suzhou
3. Explore a garden or three
The Chinese Garden dates back 3,000 years or more. The style is popular all around the world as well as of course in China and Suzhou is known for having some of the best, with 9 of them being declared UNSECO World Heritage Sites. Created to show the harmony that should exist between humans and nature they were originally built by Chinese Emperor's and Imperial families and then later by everyone from poets, soldiers, merchants and more. They were built as not only a place to escape to and reflect but also to impress others and for simple pleasure.
Eye of Jinji Ferris Wheel in Suzhou, China – photo credit Eason Q on Flickr
4. Ride the "Eye of Jinji Lake"
Ferris Wheel Park is home to the "Eye of Jinji Lake" which is the largest ferris wheel in all of Asia. Located at the edge of Jinji Lake in Suzhou this 30minute ride gives you stunning views of the lake and surrounding area. There is nothing that I enjoy more than a stunning view and this is the best way to see the city from above.
Silk worm cocoons at the silk museum in Suzhou, China – photo credit Flickr user iceninejon
5. Visit the Suzhou Silk Museum
Here you can learn about the history of silk in China and see how silk is made from beginning to end with the workers harvesting the silk from the silk worm cocoon to preparing and spinning the threads. If you visit in the summer months you might even get a chance to see the silk worms themselves dining on mulberry tress.
Have you ever been to Suzhou? Tell me in the comments below what you would like to see and do.
If you haven't been yet why not enter to win a trip to Suzhou for you and a friend?!?! There will be 9 winners (plus their guests) and the contest is currently open to North American visitors only and to apply to win simply visit HERE.
Here is what your trip will consist of:
The winners will receive a quintessential Suzhou experience with a sample itinerary including visits to a selection of UNESCO World Heritage Sites such as the Humble Administrator's Garden and Lingering Garden, as well as Tiger Hill, Suzhou Museum, Pinjiang Road, Silk Museum, Tongli, and authentic experiences at iconic restaurants such as Songhelou and Deyuelou. Trip includes airfare, hotel, most meals, and transportation within Suzhou.
To learn more about Suzhou follow along on social media with #TravelSuzhou and visit their Facebook page
Facebook.com/VisitSuzhou
 .
This sweepstakes promotion is a project with Visit Suzhou to help promote the contest, but all writing is my own and I have no say in the contest outcome.