New York makes me sick. Literally. Physically. Not figuratively.
I have been to New York 3.5 times (I don't normally count airport stops but a flight got canceled and I spent an unepexted night in a hotel somehere one time… so thats what I call .5).
The first time I visited was on a family vacation in 2008.
I was so excited to go to New York, I made a detailed itinerary, and we did everything possible in our 5 days there.
No sickness.
The second time I was in New York was for the 2010 TBEX travel bloggers conference. I toured my friend Candice around to places I had been before, went to the conference, met lots of new friends and finally met a lot of people that I had known from twitter and online face to face. We socialized, shared contacts, partied and drank the weekend away and had a great time.
That Monday it happened. I won't go into details because quite frankly I'm not even sure what was going on but I was on the subway with Candice and I noticed an odd water blister on my leg. I kind of freaked out about it, but we kept exploring the city anyway.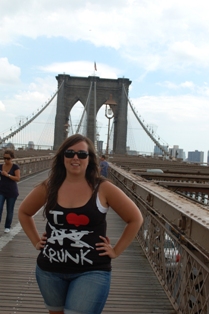 It got worse.
One became five or six or more between my two legs.
I called my mom, because what else do you do when you get sick while traveling? I went to a pharmacy, thought it might of been an allergic reaction, talked to a pharmacist and swallowed down some Benadryl… it didn't seem to do anything and it kept getting worse.
I went to my hotel, laid down tried to put my legs up, still nothing better. My flight home was the next day so rather than visit a a Doctor's office in the US or go to the ER, I slept and hoped it would get better.
The next day with it only getting worse I headed to the airport, downed some baby aspirin for the flight and tried to keep my legs up as much as possible.
When I got home, I basically went to straight to the ER. The Doctors weren't sure what was going on. Maybe a Spider bite? An allergic reaction? "Here's some antibiotics take these and head home." They told me. No swabs, no tests, no nothing. To the date I still have no idea what was wrong with my legs.
To see a photo of my leg at the hospital click HERE. WARNING slightly gross/graphic.
After a week of missed worked and two weeks of looking like a mummy with the amount of bandages on my legs and it was gone.
Almost exactly one year later I was back in New York on my third trip to the city for the Nomading Film Festival.
A day or two in the city and I notice a funny mark on the back of my leg and a warm redness around it getting bigger and bigger. This time I was prepared with antibiotics and more from my Doctor. It didn't get worse and eventually went away.
This coming Saturday I'm headed back to New York. I love that city, the vibe, the people, everything from Coney Island to the Empire State Building, the food, and more. Lets hope this time nothing happens. Please New York stop making me sick.
Have you ever gotten sick while traveling? How do you try to prevent it?